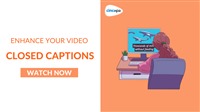 Make Your Videos Accessible – Increase your Viewer Base and Pump Up Your SEO
New web regulations and ADA compliance on all videos for external as well as internal use, now require your videos to have closed captions.
Lucky for you, Cincopa has recently launched it's new Auto Closed Captions and Captions Editor, which makes publishing accessible and ADA compliant videos for your LMS, Blog, CMS or Portal fast and easy.
Automatic Closed Captions
Cincopa has integrated speech-to-text technology that automatically creates captions for your hosted videos. These automatic captions are generated by advanced machine learning algorithms which quickly prepare your video captions for publishing or further editing. The caption service is free to all Cincopa users for all videos up to 5 minutes in length. There are great packages available to heavy users.
Closed Captions Editor
Once the automatic captions have been created you can then edit them using Cincopa's intuitive Captions Editor. Cincopa's Captions Editor can also edit captions that are uploaded manually.
Cincopa's auto Video SEO
Captioned videos increase SEO traffic by helping Search engines interpret the content within the video in addition to the title and description. Cincopa's Video SEO takes your transcription and automatically optimizes it for search engine indexing which results in a hands-free SEO boost.
Pricing
Cincopa's Auto Closed Caption is included free-of-charge on all Cincopa Plans, for high volume users, a captioning package can be added to your account (available to Corporate and Enterprise plans).
The Bottom Line
If you are not adding closed captions to your videos you are likely excluding a part of your viewers and even worse, are violating online publishing codes. Luckily Cincopa has made adding captions to your videos as accessible as your videos need to be.
📖 

Read the help article and 

🏆

 try it now on the platform.
Originally published on February 18th, 2019
, updated on July 23rd, 2019