The benefits of using video to support employee training are well known. You can use training videos for many different purposes such as making basic training skills universally available. You can also use them for training new employees and conveying expert knowledge. Here are some of the key steps to creating engaging employee training videos.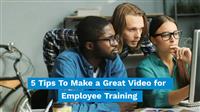 Pick your topic
If you want to select a useful, relevant topic, you need to know your audience. Find out what they're most interested in and where they need the most help. Knowing your audience is not just having knowledge of your employees' needs and wants.
It is also worth knowing how to train your staff to cater to the needs and wants of your customers. For instance, if you want to inspire a sales team, your topic could be about how to make more meaningful connections with prospects.
A video topic should preferably cover a focused, single idea. If you're battling to find a single idea, consider doing more than one video. A series is a great way to make training videos easier to digest.
Choose your format
When choosing your format, you need to consider the resources you have available. Other factors you must take into account are your timeline and what format best suits what you want to convey.
It helps to mix it up a little and use different formats to make sure that employees stay interested. At the same time, you want consistency across all your videos when it comes to your brand message, company culture. Here are some formats to consider:

Presenter video
When presenting live training, consider recording and editing it to use for future training purposes. Within a week of a training session, many employees have forgotten more than half of the materials covered.
In six months, they no longer remember most of the information. On-demand training videos allow employees access to revisit training sessions and refresh their minds whenever necessary.
Screencast video
Screencast video can be very effective when training people to use new software or a new computer system. A screencast is a screen capture of a user's actions on the computer screen, typically with the user narrating while performing the actions.
Demo video
Use demo videos to show how products, services or processes work. For example, a product demo video usually has a 'host' who shows viewers how the product works.
Animated video
Use animated video to present complex information in a simple form, with text and graphics. Making animated videos require some technical and graphic design expertise, but they offer an engaging way to convey information.
Roleplay
Roleplaying gives employees insight into what to do in certain situations. You can show employees how to improve sales calls and social interactions by using roleplaying.

Micro video
Very short videos of less than 15 seconds allow you to teach a simple process or idea when a longer video is not warranted. It may just involve some visuals and text on a screen.
Interactive video
Interactive video offers a great way to get people involved. It is more of a dialogue than a monologue. Viewers are able to make comments which sparks debate around the video content.
Create your script and storyboard
You may have a great idea for a video but you must create a script and a storyboard to get your concept on paper and make it a reality.
Distribute a fact-sheet pre-production
Circulate a fact sheet or questionnaire of one to two pages to all relevant departments. It gives internal teams the opportunity to motivate who, what, where, when and why for each training video.
Specifically, ask for input from individuals in teams with a strong connection to the voice of the customer. Teaching from the customer's perspective influences employees and the services they provide.
Create a script
When you're writing your script, you need to ensure that all the information you include is well organized and engaging. Imagine how you would explain something if one of your viewers was sitting with you.
Think about your brand and the way you'd like your audience to think about it. Consider where your audience spends time online. These three factors should guide your tone, voice, and style of conversation. Once you've written your script, It helps to read it out loud.

Make a storyboard
Your storyboard consists of simple images or sketches showing the visual sequence of the video. It doesn't matter how roughly your sketches are, as long as you are able to communicate the steps.
Download a pre-production checklist to make sure you've thought about every aspect before recording your video.
Record and edit your video
Some videos are easier to create than others. It doesn't take much to master how to do a screencast with a little bit of practice. Videos such as demo videos or roleplay videos are easy enough to create using a smartphone.
When you edit your video, you can make it more engaging in the following ways.
Use annotations
In screencasts as well as in other videos, annotations provide a way to draw attention to specific elements. You can even make animated videos more engaging with shape callouts and arrows.
Use text overlays and animations
Use text overlays to hammer home key points in your videos. Add creative movement to your video with moving text and shapes.
Use a quiz
Use a customizable post-play screen at the conclusion of a video to link to a quiz on the material.
Produce and host your video
You need to turn what you've created in the video editor into a video file. There are different video file formats and the most commonly used format is MP4.
Hosting makes your video available to viewers. Making it available on YouTube or Vimeo has the advantage of reaching a wide audience but the disadvantage is that many distractions can make you lose viewers.
If you only want your videos to be seen by those in your company, you can host them on your internal website or your Learning Management System (LMS).

Many organizations find it best to using a video hosting platform. When considering a platform for hosting training videos, you need to consider the following:
Is the hosting secure and unlimited?

Are there flexible options for recording and editing?

Is video streaming possible on any device?

Does inside-video search require tagging or not?

Are there detailed user-level video analytics?
Some video platforms offer video chaptering. This allows employees to get an overview of longer videos and it enables them to jump to a specific section.
You will need to track engagement with your video content and keep improving your strategy. If you notice that employee viewership decreases when watching certain videos or chapters, you must question why.
A final word
Training videos may be mandatory but they don't have to be boring. Don't think that because they aren't designed for customers they don't have to be high quality. If you produce poor-quality training videos, you won't capture or keep the attention of your employees. Create engaging, informative videos and your whole workforce will thank you for keeping them on their toes and helping them to gain the knowledge they need.
Will a short video be able to convey all the information you need to impart to viewers?
Add Chapters to Your Videos and Build a Gallery of Knowledge
Record Videos for Team Training, Customer Support, or Share Expert Knowledge all with Cincopa's RecTrace
Screen Record Your Videos with Face-cam and Voiceovers
Originally published on April 18th, 2019
, updated on November 30th, 2020