Video subtitles play an important role in video marketing. In particular, they have a lot to do with SEO, affecting it both directly and indirectly. A direct effect is achieved by helping search engines to 'read' the video and rank your content higher by certain keywords. Indirectly, subtitles improve SEO by expanding video engagement, increasing video watch time and time on your website. If you aren't using video subtitles yet, this article will help you to learn how exactly subtitles add value to your video marketing, and how easily you can add them to your video with Cincopa.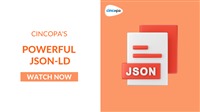 Subtitles are important for video SEO
Google (or another search engine) is unable to actually watch a video. The only information it can crawl is text associated with it (for example, video title, description, keywords, annotations, calls-to-action). With subtitles, your video's keyword depth increases – your content gets indexed even by keywords that don't appear in tags, titles, or descriptions, but present in subtitles.
Boost your SEO with JSON-LD  – Promote your Video across the web
Video embed code is what exposes your online video directly to search engines and plays its role as a considerable SEO factor. That's why Cincopa supports JSON-LD – a new, super SEO-friendly embed code standard. Briefly, JSON-LD loads the embedded video on a webpage faster and helps search bots to scan it more thoroughly. Video subtitles coupled up with the power of JSON-LD automatically work for better discovery of your video content in web search. And that's right what you need for effective promotion.
More reasons to use video subtitles
Adding subtitles allows people to watch video even when the sound can't be played: for example, during work time in the office, in public transport, or late at night. Subtitles give more options to people who want to view your content anytime they want.
Making your content accessible to those who can't hear normally. According to statistics, around 14% of adults aged between 45 and 64 experience some problems with hearing. Of course, providing such people the opportunity to enjoy your content will be a plus for you.
Some social media platforms like Facebook and Twitter auto-play videos without sound in the news feed. That shouldn't mean less engaging video experience for your viewers if you're using video subtitles. The text they can see in the video player helps them to understand your topic better and motivates them to view the full video with sound.
Attracting foreign viewers. Make your content competitive by expanding video outreach to more locations. With video subtitles, you can translate your video to an unlimited number of languages and allow your viewers to choose the one they are most comfortable with.
Easily add subtitles to your video with Cincopa
Adding subtitles to your video can be really easy. If you want to use subtitles or closed captions follow these simple steps:
Prepare your subtitles in a special .srt or .vtt format beforehand. Cincopa supports a specific file format and markup for video subtitles. If you feel you can hardly do it yourself, take advantage of freelance services like Fiverr, where you can find cost-effective, professional assistance.
Go to "Assets" and choose the video to add subtitles to;
Click on "Preview & edit" in front of the required video;
Select the "Subtitles & CC" tab;
Set the language for subtitles you're going to upload;
Upload your video subtitle file;
Get the ready video with subtitles.
Now, you know using video subtitles can increase your marketing strength, improve your video SEO and make your video content competitive. Go ahead! Add new shiny subtitles to your online video and let us know how awesome they look by adding a link in comments!
Originally published on March 22nd, 2017
, updated on July 23rd, 2019