New Ways to Upload Your Stored Media to Cincopa Galleries
Cincopa enables you to create, embed and manage rich media presentations using a simple wizard that makes the process extremely easy, friendly and fast. You may build stylish and impressive slideshows, establish image galleries, video players and other rich media displays in merely a few minutes, and then add them to any webpage or social network without using a single line of code. With all the technical process given to you on a silver platter, your biggest concern is to find and upload the media files. The traditional way is naturally, uploading files from your own devices such as your desktop or mobiles; however, Cincopa has found a way to make the uploading procedure even more efficient and user-friendly. You are no longer limited to your own devices; from now on, you can upload rich media files directly from Facebook, Instagram or your Google drive accounts.
Upload from Facebook
Numerous people use Facebook on a daily basis. They share photos and videos with their friends piling up huge amounts of valuable materials they can use for other objectives such as rich media presentations.
Cincopa saves you the hassle of downloading those files to your computer in order to upload them again to your galleries. Via a click of a button you may now upload from Facebook any media file you wish to include on your displays. All you need to do is push the Upload-from-Facebook button; login using your Facebook account and select the files you would like to add to your Cincopa galleries. The application will automatically perform any other necessary action.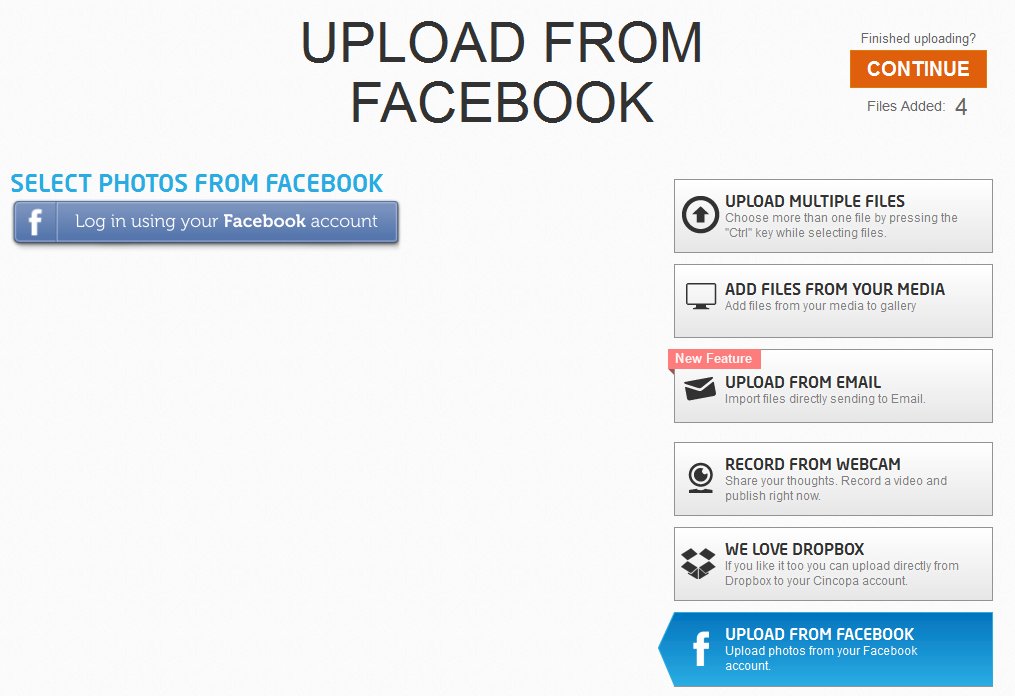 Upload from Google Drive
Google drive is one of the most reliable and popular free storing services available on the web. Millions of people use it as an economical storage for their rich media files, avoid burdening their private devices. Cincopa new upload feature allows you to abstain from using your computer as a middleman and offers you a new and convenient way to upload from Google Drive any desired file. Click on the Upload-from-Google Drive button; allow Cincopa to access your Google drive account and select the files you wish to upload.
Try uploading from Google Drive
Upload from Instagram
Instagram is a social channel that enables users to take photos and share them instantly online from their portables. Cincopa has developed a new feature that allows you to share those photos in your multimedia presentations without the need to download them first to your computer. Upload from Instagram is the perfect solution for Instagram users that like to use their photos for additional purposes. The procedure is super easy; push the Upload-from-Instagram button, login to Instagram and choose photos. The simple wizard will do the rest, including any required conversion or resizing of your photos.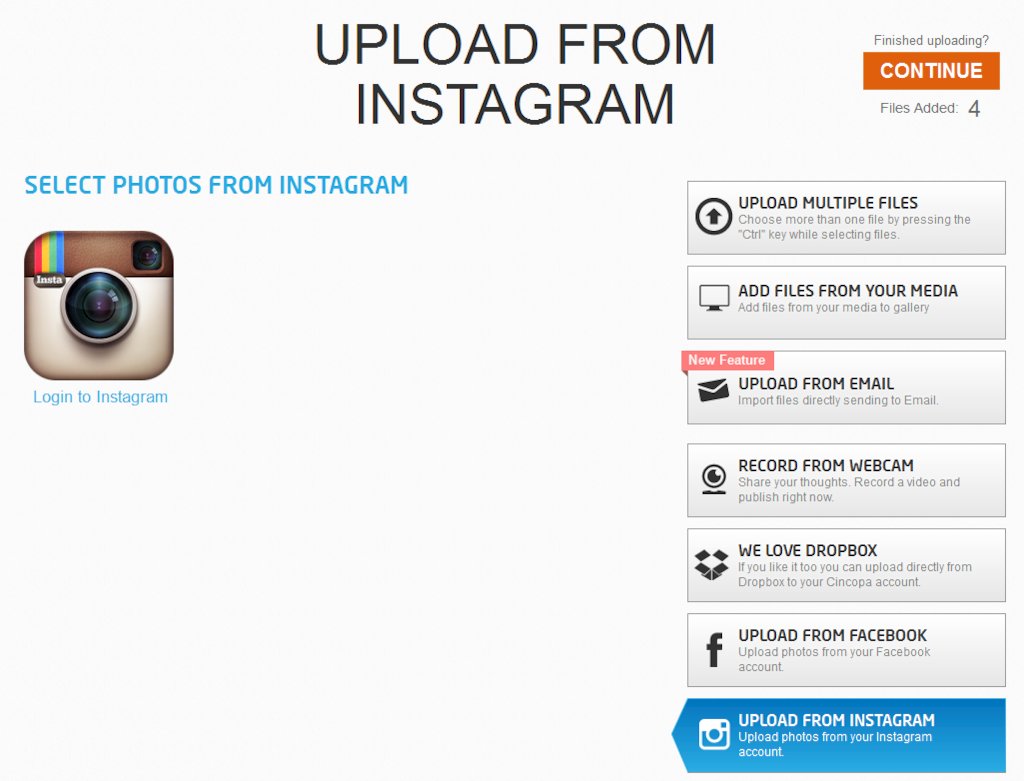 Online Photo Backup - One More Benefit for the Road
Many people use their Facebook and Instagram accounts as photo storing services, and forget to provide themselves with a backup plan. Cincopa indulges you with a unique backup solution. Once you subscribe to Cincopa's 50 GB storage package, you may use your account as a safety net. Use the new Cincopa features to backup Instagram photos or backup Facebook photos without wasting time or money on external storing services and without overloading your own devices.
More Articles :