Add Interaction To Your LMS Software Using The Most Advanced Tools
Professional video, audio and image hosting for education
Increase knowledge retention
Using multimedia for education transforms the learning process into an engaging experience. Cincopa provides a full set of professional tools to host, organize and publish interactive materials online. Visualize your lessons with vivid slideshows, charts, audio lectures, video tutorials, add cue points, customize player controls and layout. Cincopa lets you showcase your content in beautifully-designed stand-alone media galleries, embed it to your website, use it with Moodle, and display it on a big TV screen with the help of a Chromecast device.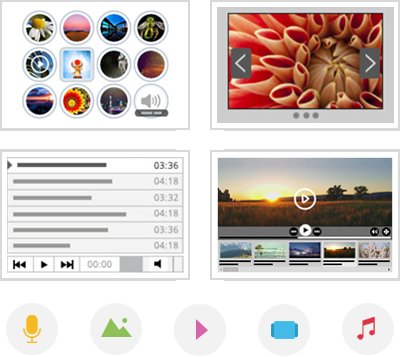 Interact with Students via Email
Whenever you need more online/offline educational event subscribers, an online video announcement can do it for you in the most effective way. With built-in Lead Generator, your viewers will see a pop-up email form right in the video player. They can submit their contacts, including email address, first and last name. Gate your content if to make the educational video available to registered viewers only. All form submissions are saved automatically to a specified email list with your email delivery provider (like MailChimp or Constant Contact). More details about your subscribers can be obtained from Cincopa Video Analytics: viewing stats, engagement, activity time, browser version, operating system, country, and IP address.