Cincopa's Video Channel is a perfect way to create a distraction-free, measurable video space where your audience can learn about your products, solutions, services, and company without being exposed to unwanted ads.
Embed it inline or as a popup embed to grab your audience's attention.
All you'll have to do is create a Channel, pick the videos you want to showcase, set them into categories, customize your channel's colors, text and header video, and grab the embed code.
Voila –  you have a professional video channel, right on your website!
Creating A New Video Channel
1. Click the "New Gallery" button on the platform.
2. Select the Channels template.


Video Channel Customization
Your video channel comes with numerous, built-in customization options which are adjusted via the left side customization section.
The customization section will be visible when creating a new Channel.
It can also be accessed after a Channel is created by navigating to "Galleries", and clicking the customization icon of a Channel item.
Header Cover Customization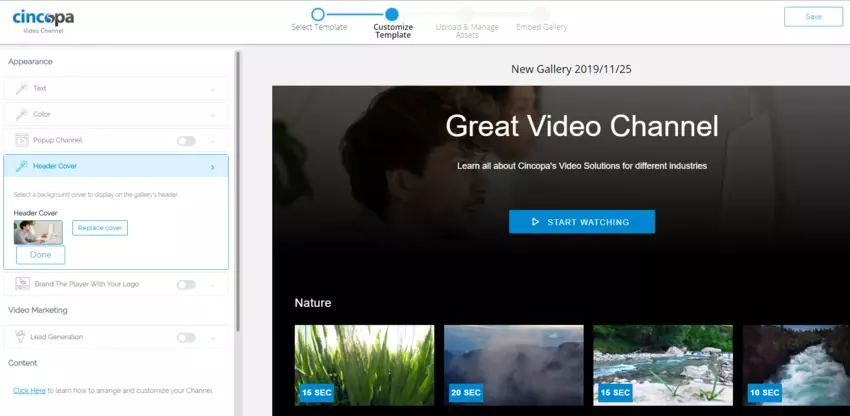 Change the Text, CTA & Fonts Customization
Cincopa's Channels let you add text and a button to your channel's header which will be visible to a viewer each time the channel first loads.
We went ahead and set the default "Start Watch" call-out, but you can change it to "Start Watch", "Play", "Begin Your Cosmic Journey" or whatever comes to mind.
There is also the possibility to replace fonts that will match your brand.


Channel Theme Color Settings
Cincopa's Channel theme color is customizable to fit your own brand guidelines and colors.
The color channel will apply on the header CTA button, video player theme color, and video thumbnail play icon.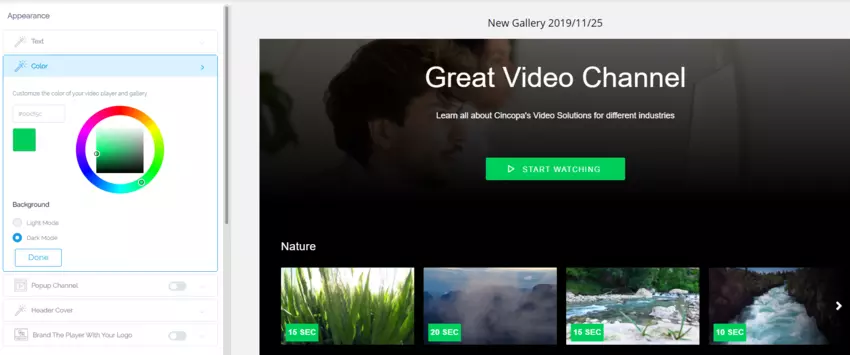 Branding the Video & Player with Your Logo
To further brand the experience, you can add your logo to the video player, which can be made clickable (optional) and lead to a URL of your choice.
(e.g. https://www.company.com/contactus)
The same can be done with an on-video logo watermark which can be made clickable, as well.

Popup Channel
This feature allows you to choose how you want your viewer will see the channel.
Our recommended option is the Video Thumbnail, as with this option, when a viewer clicks the video, it will play in a pop-over configuration, so the viewer could focus on your video.
You have the option to go with our default settings (fixed size) or change to responsive or played with the width.


Capturing Leads with On-video Forms
When active, all of the videos on your Channel will be gated appearing immediately after a viewer clicked the header button or on a video.
Once the lead form is submitted, all of the videos will become "ungated" and available to watch.
Lead Form Types:
You can gate your channel to capture new leads and send them to your email list, CRM and marketing automation platform by activating "Lead Generation".
Cincopa's Lead Generation supports standard form, custom form builder and MAP forms.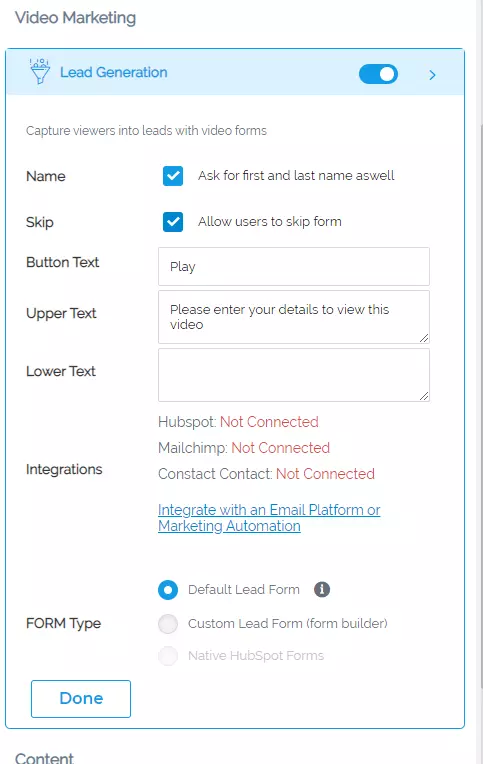 Adding Videos to Your Channel
Saving Your New Channel
Once you're done customizing your channel, you can hit "Save & Next". Don't worry, after you add videos you can always return and customize by retracing back to this wizard step. Conversely, you can navigate to your "Galleries" page on the top navigation and then click the cogwheel icon (customize gallery) of that particular channel.

Upload, Select and Manage
In this step, you can upload new videos using the various uploading & migration options, or you can select videos from your existing asset library.
Grouping Videos into Categories
A major part of the channel experience is grouping videos together to showcase them based on their topic.
This is done by by using tags.
For example, we'll add the tag "training materials" to one group of videos, and "new product updates" to a second group.
Don't worry about how the tag names appear – this is naming is internal.
During the next step, you can manipulate how viewers see the various category names:

Arranging Groups & Customizing Categories
Return to the customization section, (✓) check the categories you want to display and overwrite the way the categories will be displayed (e.g. videos grouped under the "product videos" tag can be shown as "Q2 2019 Product Updates").




Embedding & Sharing a Channel
Navigate to the Share & Embed step to copy your embed code.