How to access Global Settings
Once you are logged in, click on the profile icon in the top-right corner of the home page and then select Account Dashboard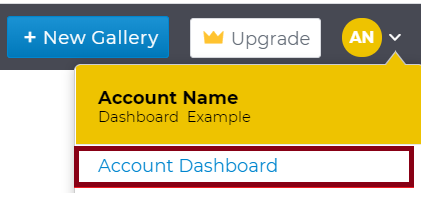 Once you have access to the Account Dashboard select the Global Settings option on the menu that is displayed on the left-hand side of your screen.

After you make any changes in this section you must click on Save Settings on the top-right corner to save the changes.
Let's look at all of the options individually (additional screenshots have been included at the bottom of the post):
Account Name:
The name of your account or team

Global Player Color:
Selecting a color will set a uniform color for all video players under your account. You can modify the colors on the SharePage to match your branding. Viewers who are comfortable with your brand colors will be presented with familiar imagery on the page, which can help them feel at home. To use this feature, simply enable the 'Global Player Color' and then choose a color that best suits your needs.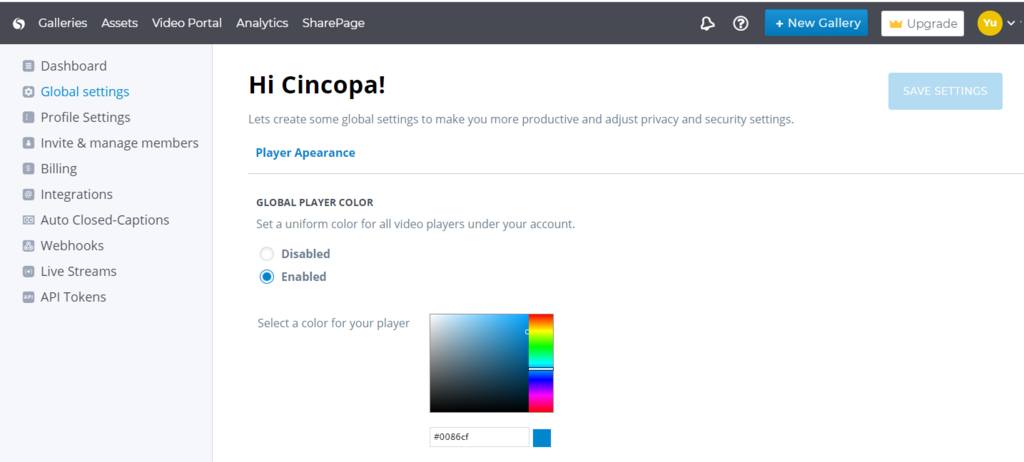 Branding right-click URL on your player/gallery:
An additional way to emphasize your branding is by adding your personal URL and text to the player or gallery right-click. To activate this feature select the 'Enabled' radio Button option to add your own company branding when the user right-clicks on your player/gallery, populate text, and URL fields.
Note: this feature available only to corporate and enterprise plans

Filter IP Numbers:
This option allows you to filter an IP address or multiple IP addresses from gathering analytical data. This can be especially helpful to prevent data from being created during testing. For example, if you filter your own IP address then the analytics will not consider your views in the total views which means you are getting a more accurate reading.

Note: Valid values are singular IP addresses or IP ranges (i.e. 10.0.0.1 – 10.0.0.2)
Anonymize IPs:
Enabling this will only partially record the IP addresses for all your video viewers. Cincopa will still record video analytics and detailed heat maps but we won't record the full IP addresses for each viewer. This means you will not be able to view the IP address of the viewer.
To enable this, all you have to do is check the Activate checkbox.

Domain Lock:
This option allows you to block your media files from being embedded on a specific domain.
For example: If you block xyz.com from access your media files then the admin from xyz.com will not be able to embed your Cincopa media files.
By default, your media can be embedded on all websites. You may globally restrict which domains your media can be embedded on.
To Enable this, simply move the selector to the enabled position and then enter the domain name. You can customize the message to be displayed when the gallery is locked, or use a default message.