Unlocking the Power of Insights
Welcome, CincoTube enthusiasts, to an exciting update in your favorite video-sharing platform's arsenal: the new Analytics Module! 📈

Analytics are an important factor in any content strategy. You want to be able to track who is watching your videos, how they are interacting with it and where they are dropping off. With CincoTube's new feature – Analytics you're able to see detailed analytics including : views, engagement and plays. As well as detailed heatmaps that identify where users are most likely dropping off and replaying – all down to the individual user!
In this blog post, we'll dive into what this module entails, how it can benefit you, and, most importantly, how to harness its potential. So, grab your popcorn (or maybe a notepad), and let's explore CincoTube's latest feature.
CincoTube's New Analytics Module
Drumroll, please! Introducing CincoTube's New Analytics Module, a powerful tool that takes your video experience to the next level. But before we get into the how-tos, let's first understand what this module brings to the table.
What is CincoTube's New Analytics Module?
Analytics are the secret sauce behind successful content creators. They provide you with insights into your video performance, audience engagement, and so much more. With CincoTube's Analytics Module, you can now access in-depth video analytics right at your fingertips.

Types of Insights You Can Now Access
1. Viewership Statistics
Get a clear picture of how many people are watching your videos, and track this data over time.
2. Audience Engagement
Discover which parts of your videos are most engaging and where viewers tend to drop off.
3. Demographic Data
Understand your audience better with demographics like location, and IP addresses.
4. Playback Locations
Find out where your videos are being watched, whether it's on CincoTube or embedded on other websites.
5. Device Breakdown
See which devices your viewers are using to watch your content, from desktop to mobile.
Now that you know what's up for grabs, let's get to the exciting part—how you can use CincoTube's New Analytics Module to your advantage.
How You can Use CincoTube's New Analytics Module
Accessing these game-changing insights is as easy as a few clicks. Here's a quick guide on how to unlock the potential of CincoTube's Analytics Module: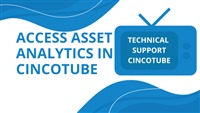 Step 1: Open the Asset Page
Navigate to the asset you want to analyze.
Step 2: Locate the Analytics Icon
Look for the shiny new Analytics icon on the asset page. It's designed to be super user-friendly and recognizable.
Step 3: Click on the Analytics Icon
Once you spot the Analytics icon, give it a gentle click. It's your gateway to a treasure trove of data!
Step 4: Dive into Analytics
You'll be whisked away to the Video Analytics tab on the asset modules page. Here, you'll find a dashboard filled with all the juicy insights you've been craving.
And that's it! You're now equipped with the power of CincoTube's New Analytics Module. Use these insights to refine your content, engage your audience, and elevate your video-sharing game.
So, why wait? Start exploring the world of analytics and watch your content thrive. Happy analyzing! 🚀

Originally published on September 14th, 2023