SignalPath
SignalPath elevates
Pendo in-app assistance
with Cincopa

Customer since




2019

Industry


Healthcare technology


Region




North America
SignalPath is the premier clinical trial technology partner for research sites and sponsors, focused on improving the ease and efficiency of trial execution and management.
Supporting over 2,500 trials across 250 sites and 3,000 active users, SignalPath is the industry standard that addresses key pain-points in the conduct of trials.

When existing solutions won't cut it for customers and employees
SignalPath creates videos that facilitate and empower two separate viewer groups; the first being its employees, and the second, its customer base.
The former is comprised mostly of part-time contractors whom require short video tutorials.
Ranging between 1-4 minutes long, these how-to videos are instrumental in onboarding new employees and are critical in keeping ther workforce up-to-date with the company's rapidly developing product.
Prior to Cincopa, SignalPath hosted its tutorial videos on its LMS.
To watch them, employees would have to engage in an often long and inherently convoluted bureaucratic process.
This included contacting a superior, identifying a system administrator, extending viewing rights to said employee, creating a user and unique password, etc.
However, problems extended beyond initial access to the LMS.
Once through to the internal system, many employees would fail to navigate toward the desired video, due to the LMS's poor interface and weak usability.
Often needed to solve acute problems in real-time, the laborious path to watching a video was proving entirely inefficient.

Pendo.io: A new player enters the arena
The existing approach was lacking in regards to SignalPath's second viewer group, i.e. its customers, as well.
As with the aforementioned tutorials, videos geared toward customers were uploaded to SignalPath's LMS.
With the company adopting Pendo.io, SignalPath would have the former's advanced in-product guidance software at its disposal
With the company adopting Pendo.io, SignalPath would have the former's advanced in-product guidance software at its disposal.
Traditionally, platforms which adopt Pendo make use of its walkthrough feature. Users are guided to click on a series of icons; the latter prompt text bubbles containing short instructional messages, through which a user of a said SaaS platform can learn how to operate it.
Effective in itself, SignalPath was interested in providing its customers with a solution that would streamline adoption and comprehension at far higher levels.
It became apparent that video would have to be at the core of the desired solution.
Instead of users clicking on an information icon only to be met with text bubbles, SignalPath was set on its customers being presented instructional videos.
In addition to making this possible, the desired solution would have to provide SignalPath personnel with an easy and intuitive experience on the backend. Videos would have to be uploaded, managed and analyzed in a way that would work seamlessly with Pendo.

Cincopa emerges as the perfect video mediator
Following a thorough vetting process, SignalPath identified Cincopa as its ideal solution; providing it with the desired embeddable video solution that would work seamlessly with Pendo, along with successfully addressing the issues with employee-related videos viewed via LMS.
Satisfied with its adherence to strict security protocols, SignalPath delegated the task of creating a unique video environment to Cincopa.
Thanks to Cincopa's API, SignalPath employees can now view tutorials and other informative videos by arriving on designated video landing pages.
Along with providing a sleek, intuitive and easy-to-use interface, Cincopa-hosted videos can appear with closed captions.
The latter is critical in SignalPath's compliance with Section 508 of the Rehabilitation Act of 1973.
Most importantly, customers can now click and watch pop-up video tutorials while within SignalPath's platform.
Appropriate SignalPath personnel easily upload instructional videos to the company's Cincopa account.
Immediately presented with an embed code, SignalPath Pendo administrators then navigate to the Guides section on their Pendo account.
After an instructional pop-up notification is created, an editor box is opened. Here, SignalPath personnel can paste the embed code.
Cincopa-hosted videos blend-in seamlessly with Pendo's backend Adding Activity tool. This enables SignalPath video uploaders to enhance the viewing experience by customizing the pop-up box the video will appear in; they can select company font for the short text titles appearing at the bottom of the video, and choose a brand-consistent color scheme.
When customers engage with the SignalPath platform, they will be prompted to click on the small "i" icons placed beside elements and CTAs SignalPath personnel feel require further context or instruction.
When customers click on the notification icon, a video will appear, hosted by Cincopa.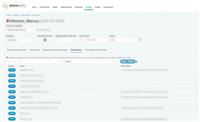 Here's how it looks like from within Pendo.io: Customers are prompted to click on the information icon (the 'i' within the grey circle). Right away, a Cincopa-hosted video tutorial pops up. Users can click on the icon at the bottom to watch the video in full screen.
SignalPath's decision to rely on video for customer instruction perfectly complements Pendo's value proposition.
With information consumed through video boasting exponentially higher retention rates, customers are far more likely to become intimately familiar with SignalPath's interface during their first visit to the platform.
First Time Views have maintained a steady, near-optimal ranking, leading to a coinciding dip in Repeat Views. An additional result is users' Average Time on Guide extending considerably.
It is clear that the video guidance provided by Cincopa has, and continues to enable SignalPath's maximization of Pendo's offerings and capabilities.
SignalPath's choice to rely on Cincopa to host these instructional videos is a strategic one.
With many companies in a similar positions compromising on free options (e.g. YouTube), SignalPath sought out Cincopa, knowing that it would facilitate a far more immersive viewing experience.
Unlike with YouTube players, SignalPath viewers do not have to deal with distracting ads and irrelevant recommended content. Additionally, the viewing experience remains exclusively within Pendo; viewers will not be clicking on an icon that will see them bouncing outside of the platform.
Of equal importance are the analytical data Cincopa provides SignalPath regarding individual viewing of specific videos.
With all relevant information pertaining to video engagement easily-available on the Cincopa analytics tab, designated SignalPath personnel can see exactly how each of their customers are interacting with a given video.
Where a customer was, when he or she watched a video, what device was used to view it, how much of a single video was watched and the number of times it was engaged with;
all of this data is readily-available via Cincopa Analytics.
Here's what you see on Cincopa's analytical dashboard
SignalPath plans to begin incorporating additional Cincopa features, such as Cincopa Channels and Cincopa Video Online Course. The former is an immersive, Netflix-like video environment, where viewers are driven to binge on videos, whereas the latter is a video playlist, perfect for keeping track of viewers' viewing progress.
Both features are as easy to implement as the Cincopa video solution currently used by SignalPath. Once the Channel or Video Course is created, all that's required is copying and pasting the embed code in the designated area within Pendo.
Finally, SignalPath plans on incorporating in-video pop-up quizzes. A powerful tool relied on by training and development video creators, quizzes are an engaging way to gauge customers' engagement and overall retention levels.
"Knowing that it was expected of us to provide customers with in-app Pendo support led us to seek out a solution that would support video, as well.
The flexibility and simplicity of video embedding rendered Cincopa the perfect choice. Now, our training videos can reach our clients where they need it and when they need it."
Marcus Southern
Learning Experience Design