As your company grows, so does the depth and complexity of its video and general media messaging.
The number of individual video assets you field will continue to grow. At the same time, successful assets will play increasingly vital roles in multiple use cases.
Keeping your videos well-organized is only the first step towards optimizing your video strategy. You also need to leverage video content dynamically, customizing the presentation for every use case.

How Cincopa Gallery templates help drive the value of video
There are obvious differences between product promotions, customer testimonials, and educational content. The way you and your company serve these different types of content to your users has a marked impact on their effectiveness.
The right presentation can make the difference between a successful, converting video campaign and one that falls flat.
Video viewers' expectations change based on the type of content they're consuming. Serving video content to users without customizing its appearance and functionality means losing users over time.
Cincopa Gallery Templates make it easy for enterprises to rapidly deploy their video assets in consumer-specific formats. Templates include all of the use case-specific features and functionalities that users expect. Content creators can customize each gallery template to create a unique presentation – you can even erase Cincopa branding and put your own logo in its place!

Cincopa's top Gallery templates:
How and when should you use them?
Every Cincopa Gallery template serves a particular set of use cases. Enterprises, SMEs and SMBs that take advantage of these templates save time, increase user value, and ultimately drive revenue with significantly lowered acquisition costs.
Some of Cincopa's most popular enterprise video gallery templates include:
Cincopa Billboard
What should you use it for?
Product-view videos, landing pages
Billboard is ideal for product-centered videos that demand user attention. The template puts your products first, giving customers important information as they make purchases.
Organizing your videos into the Billboard template on product pages enables successful cross-selling and up-selling content to reach customers with perfect timing. You can offer users compelling content related to the purchase they are about to make, while guiding them through the sales process and improving cart abandonment rates.
This is especially useful in today's e-commerce marketplace. Since Google removed right-hand rail ads from its search engine results pages, marketers have seen cost-per-click prices shoot upward by more than 60%.
As a result, acquiring new customers is becoming increasingly expensive. Maximizing the value of each customer is the key to success in these conditions. Video engagement rates remain higher than any other medium, making banner-sized product videos a key asset for any e-commerce business.
Billboard is designed specifically for front-and-center placement. It is fully responsive, making it a powerful asset for any enterprise that needs to capture the attention of mobile users.
It also provides easy navigation to follow-up videos, so you can set a specific order of videos for customers to watch.
Perhaps most importantly, Billboard supercharges the retail experience online.
Consumers in every industry are 64%-85% more likely to purchase a product after viewing a video. Showcasing your products confidently gives your retail enterprise a leading edge in today's increasingly digital marketplace.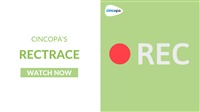 Here's what Billboard looks like!
Photon
What should you use it for?
Landing pages, sales
Cincopa's signature video player, Photon is designed to optimize the sales experience for content creators and consumers alike. This is the template best-suited for enterprises whose sales processes center around customer relationship management software.
Photon's CRM-friendly features enable enterprises to push brand awareness and make every impression count. You can customize the player to query and capture user contact data to access content – generating leads and filling your CRM through a simple form.
These features extend beyond public video lead generators, though. You can also set domain restrictions, IP locks, and even password-protected video content. This makes Photon a powerful asset for enterprises in regulated industries, where sales success requires compliance as much as it requires great content.
Photon's video asset settings build on its sales-friendly presentation, offering automatic closed captions, watermark controls, and CSS customization.
You can also set the player to float at the top of the screen while viewers scroll through the rest of your content.
This template is well-suited to personalized videos and whiteboard-style product explainers that educate viewers while drawing them closer to your brand. You can easily leverage your best-performing video assets to capture users' attention with dynamic presentation using Photon.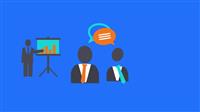 Cincopa's landing page video is presented with Photon.
We practice what we preach😉
Cincopa Video Channel
What should you use it for?
Marketing
HBOMax, Disney+, Amazon Prime, and, of course, Netflix have raised the bar in terms of video presentation and consumption. The streaming giants present viewers with an immersive environment in which they can binge on videos, distraction free. Your  video viewers will expect the same from you.
That's what Cincopa Video Channels are for.
In only a few clicks, you can create your very own Netflix-style video destination with Cincopa Video Channels.
Cincopa Video Channels eliminate any of the dangers of exposing your viewers to YouTube-embedded videos. Viewers will be guarded from unrelated content and (more importantly) Competitors' ads.
You can even arrange for your Cincopa to appear in 'pop-up' form. You can embed it on any webpage and lure viewers to click on it. Once they engage with it, the Cincopa Video Channel will pop out at them, and they can start binging on your videos!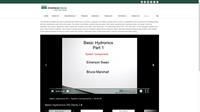 Click on me👆
Real Estate Photo Slider
What should you use it for?
Real estate sales and marketing
Cincopa's Real Estate Photo Slider template makes it easy to show properties to leads and website visitors. It supports still images and videos , allowing users to create high-quality presentations on the fly.
For organizations that sell or rent properties, visual content is key to conversion. The ability to quickly group related images and videos together and present them to potential buyers is a time-saving advantage.
This is especially true for businesses that rely on auto-generating listing content. If your portfolio of properties is constantly changing, you need a fast and reliable way to group them together, show them to potential buyers, and generate profits.
While the Real Estate Photo Slider offers obvious advantages to real estate content creators, that isn't the only use case it covers. Any company whose success relies on showing high-impact slideshow content can use this template to deliver an immersive, full-screen experience.
For example, this slider template offers a great starting point for supporting company culture videos and employee outreach content. It could support facilities management, landscaping, or events coverage.
Content creators can choose to include navigation buttons, controls, and thumbnails directly through the template's advanced options menu. Every image can feature its own caption text, making the Real Estate Photo Slider a useful option for quickly generating newsclip-style content.
The ability to combine video and still images into a single gallery makes the Real Estate Photo Slider a useful tool for creating compelling narratives. Guide users through your properties and show them every interesting point along the way with this template!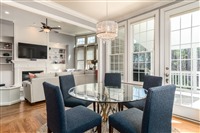 Real Estate Photo Slider in action💪
Videos by Categories
This template is perfect for:
Publishers, online training, customer success
Companies, especially enterprises with vast amount of content need, to find ways to distribute the right content to the right people at the right time. The more videos you add to your repertoire, the harder this gets.This is especially challenging for enterprises with highly segmented groups of viewers. You may not immediately know which video best serves an individual viewer's interest. But you can't throw your entire video library at them all at once.However, there is something you can do. You can categorize your best-performing videos in an intuitive grid format and let viewers decide.
Videos by Categories enables you to group video playlists according to your own parameters. You can define these categories in any way you like. This puts a powerful, versatile tool in the hands of enterprise video content creators.
Publishers can use this gallery template to showcase content to media partners. Allow partners to share content with a single click using Cincopa's OnClick settings, and make it easier than ever to choose videos from your catalog.
Corporate training initiatives are also well-suited to this gallery format. If you have multiple courses that you need viewers to complete, you can arrange them sequentially in the gallery and keep track of each individual's progress. With a few clicks, you can find out if viewers have skipped videos, or even skipped individual portions of videos.
Customer Success teams can also use Videos by Categories to make a wealth of content available to customers at once. This is great in the early period of a customer relationship, when you may not have enough information about the customer to tell which series of videos will best serve their needs. By tracking customers' engagement with your video content, you can qualify them further based on the type of content they interact with most.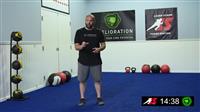 Check out Videos by Categories in action😎
Episodes Podcast
What should you use it for?
Marketing, sales, customer and employee training
Video may be the king of content, but isn't always the best choice for every customer or employee interaction. Audio can also play a significant role in marketing, sales, and education initiatives for enterprises. Podcasts, in particular, can be incredibly useful tools for user outreach. Unlike videos, podcasts do not demand the user's visual attention. They can listen while driving, working, or performing any number of simple or repetitive tasks. This can supercharge marketing initiatives designed to target people during some of their most receptive moments.
As a media format, the podcast is uniquely suited to delivering long-form content in a way that is more engaging than text.
Many marketers agree that social media videos should last no longer than two minutes for maximum impact. For podcasts, on the other hand, there is no hard limit. If your podcast content delivers an hour's worth of useful, high-impact content, you can keep your users engaged for that entire hour.
The same qualities that make podcasts useful for marketers are also valuable for sales professionals and educators. Having a quickly configurable player you can embed on any website or form allows for direct, personalized content sharing and listener analytics that scales with your enterprise's needs.

Episodes Podcast is a great way to present podcasts
Large Cover Audio Player
What should you use it for?
Marketing, sales and training
A thumbnail is worth more than a thousand words. When using audio to dive into complex subjects and drive the value of content, the ability to show users what they're getting into at a glance can be incredibly useful. Cincopa's Large Cover Audio Player does just that, giving content creators a Spotify-style banner image for every audio file in the playlist. This helps users choose between multiple audio files to find the one that serves their needs best.
For marketers, this might mean giving listeners the ability to learn more about specific products without demanding they remember the name of every individual product the enterprise sells.
For salespeople, it could replace FAQ or tutorial-style content that helps sales teams drive and qualify leads. The ability to capture and analyze listener engagement data means you can concentrate on the audio content your customers find most compelling.
For educators, the Large Cover Audio Player makes it easy to categorize audio course content visually. Users can browse through the content library and select the specific subject they wish to learn about first. You can then track their progress and personalize future content delivery based on these interactions.
The Large Cover Audio Player is useful for pictures, text, and covers alike. Its fully-responsive design makes it simple and intuitive for viewers to access from their mobile devices, making it an on-the-go solution for content consumption.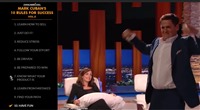 Use Large Cover Audio Player to show your audience what you'll be talking about!
Present the right media to the right people at the right time
Enterprises have tons of media that is often geared towards multiple different use cases. Content creators and stakeholders need to find easy ways to showcase enterprise media in a way that is appropriate to each use case on an individual basis.
Without a set of readymade gallery templates, it falls on content curators and development teams to create new galleries from scratch. As new use cases come up, new galleries must be created. The cycle is costly and time-consuming, with no end in sight.
Use Cincopa Gallery Templates to streamline content presentation and provide a dynamic user experience for every media use case. Optimize your video and audio content for consumption and rely on best-in-class engagement analytics to inform your content strategy moving forward.
Originally published on December 30th, 2020
, updated on July 19th, 2023