Video HTML
Fascina a tus usuarios con un reproductor de video HTML
Si tienes un video realmente bueno, un sitio basado en HTML y una audiencia potencial de usuarios, pero no tienes ni idea de cómo unir todos esas partes, Cincopa te ofrece la solución más completa. La aplicación de Cincopa te permitirá crear, integrar, manejar e incluso promover tu propio y único reproductor de video. Solo tendrás que subir los archivos tal cual los tengas, seleccionar una skin y personalizarla. Cincopa ha desarrollado un asistente simple que te guiará a través del breve procedimiento y que realizará automáticamente todas las tareas técnicas, como conversiones y transcodificación.
A los motores de búsqueda les encantan los videos y también a los usuarios; agregar un reproductor de video a las páginas de su sitio web es una de las mejores maneras de involucrar a los usuarios, enviar mensajes y atraer tráfico. No necesitas tener ninguna habilidad especial o tener tu video en un formato especial; solo unos cuantos minutos de tu tiempo y Cincopa te ayudará a establecer un reproductor de video HTML, que también podrás promover en muchos diferentes sitios y canales de medios sociales.
SKINS PARA EL REPRODUCTOR DE VIDEO HTML DE CINCOPA
You can easily customize the template using the advanced settings or with CSS edit.
CÓMO FUNCIONA

1ELIGE UNA SKIN
Abre una cuenta de Cincopa y mira las varias skins de video HTML. Personaliza cuantas skins como desees y previsualízalas en una ventana separada; luego decida cuál le gustaría agregar a su sitio.

2CARGA ARCHIVOS SIN NECESIDAD DE HABERLOS MODIFICADO
Podrás cargar un número ilimitado de videos a tu galería compatible con HTML. El software de Cincopa automáticamente convertirá y comprimirá tus archivos multimedia para asegurar la mejor calidad y la velocidad más alta posible. Podrás modificar tu galeria y reproductor de video HTML para que se ajusten a sus cambiantes necesidades, en cualquier momento, utilizando cualquiera de tus dispositivos.

3INTEGRA UN SIMPLE CÓDIGO
Para la fase final del proceso, el simple asistente te permitirá seleccionar tu método de designación. Elige la opción HTML y obtén una simple línea de código para integrarla en cualquier ubicación dentro de tu página.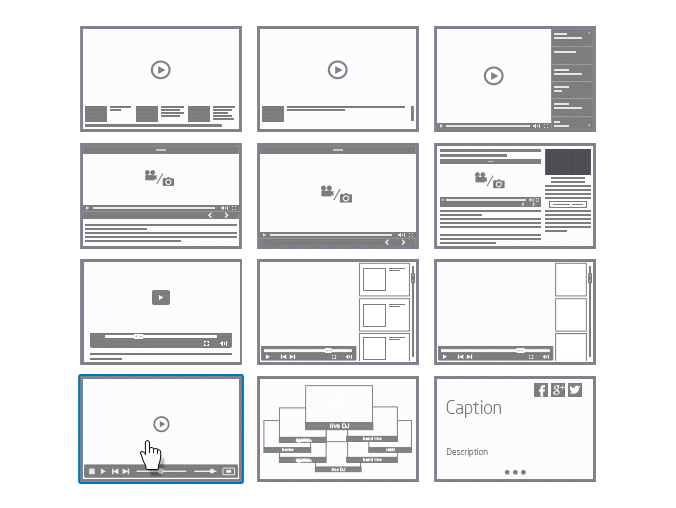 ¿POR QUÉ ELEGIR CINCOPA COMO TU REPRODUCTOR DE VIDEO HTML?
La sección de video HTML de Cincopa ofrece 17 atractivas y eficientes skins, que son fáciles de manejar, tienen un diseño responsivo y múltiples opciones de personalización, como tamaño, playlist, inicio automático, selección de fondo y más.
Carga archivos multimedia desde tu PC, dispositivo portátil, webcam o cualquier dirección URL y construye una galería de video compatible con HTML. Junto con el sofisticado widget que te permitirá disfrutar de un avanzado sistema de seguridad que asegurará protección completa de tus archivos, así como servicios de hospedaje y presentación gratuitos y extendidos, que no están limitados a la capacidad de tu servidor.
El software de Cincopa soporta todos los principales formatos de video y es compatible con todos los principales navegadores. Utiliza servidores dedicados que permiten un alto nivel de escalabilidad, confiabilidad, alta velocidad y estupendo desempeño.
CARACTERÍSTICAS PRINCIPALES DEL REPRODUCTOR DE VIDEO HTML:
17 elegantes skins
Accesibilidad – carga y descarga remota
Múltiples opciones de personalización (tamaño, color, loop, inicio automático, duraciones de buffer, etc)
Permite o bloquea la descarga de archivos por parte de los usuarios
Agrega u oculta Playlists y Menús
Promueve tu video HTML a través de numerosos canales
Optimizado para SEO
Transcodificación y compresión de archivos automática
Copias de seguridad y reportes automáticos
Escalabilidad completa
Soporta todos los principales formatos y navegadores de video
Pseudo-streaming
CDN
Hospedaje y presentación gratuito (limitado a 400MG de almacenamiento y 200MG de ancho de banda por mes)
Planes actualizados a un costo razonable
Fácil administración