Cincopa mobile video player templates are supported by almost every device: iPad, iPhone and Android
The demand for mobile video players is higher than ever, and Cincopa has had no trouble staying on the cutting edge of available technology. There is no reason why your video content should be confined to desktop PCs when the capability exists to share your media across such a huge variety of mobile devices and platforms.
Mobile Video Demos
You can easily customize the template using the advanced settings or with CSS edit.
Mobile Video Players Usage is on the Rise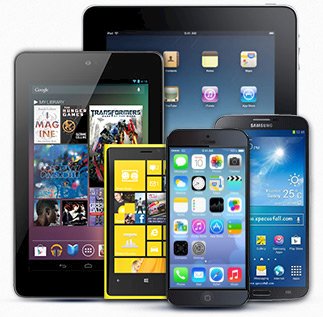 According to research, mobile video usage will rise at an annual rate of 28% over the next four years. It is estimated that by 2014, more than 500 million users around the globe will be subscribed to some type of mobile video services, or nearly one out of every ten cell phone users.
The Cincopa Media Platform provides automatic video encoding, automatic device detection, and a variety of custom applications and templates designed to make your web videos viewable on virtually any smart phone or mobile device. Embed Cincopa video player on your website to make sure your visitors will be able to view your videos on the mobile version of your website.
Video Player for Mobile Websites is Simple and Free
Cincopa makes it simple to post your videos on the web and makes sure that they will automatically render properly device on your mobile website for any mobile device your visitors are using. All you need to do is to upload your videos, create your gallery, and publish it. Cincopa handles the rest.
Automatic Device Detection
To reach your maximum audience, Cincopa's mobile video player can deal with a wide variety of mobile handsets with different frame rates, screen resolutions, screen sizes, bit rates, etc. Your mobile design website' videos can switch between HTML5 and Flash-based technologies, which means that Cincopa can adjust your streaming media on the fly for the best viewing experience, no matter the device, including
iPhone, iPad, iPod Touch
Android
Other smart phones and tablets
H.263, MPEG-4, and H.264
Delivering high quality videos on the mobile web with the best possible compression and the least amount of bandwidth can be challenging, but it's what we do. Popular video compression technologies such as H.264 standards and MPEG-4 AVC (Advanced Video Coding) can improve compression by as much 200% to 300%.
Mobile Video Player Application Features
Automatic Device Detection – switches between Flash and HTML5 for viewing mobile website on all modern smart phones and mobile devices.
Complete support – for Apple's iPhone, iPad, iPod, as well as Blackberry, Android, and many other smart phones and 3GP cell phones.
H.264 transcoding – your mobile videos are optimized for viewing on all screen sizes and resolutions with advanced video compression and transcoding.
Cloud Computing – access your videos remotely from any device which has the Cincopa Media Agent installed, including any desktop PC, mobile device, or PDA.
Content Delivery Network (CDN) - Cincopa has teamed up with Edgecast, the fastest and most reliable content delivery network on the web, in order to deliver your mobile video content quickly and reliably anywhere in the world.
API Platform – Create your own mobile video applications with the Cincopa REST API. Complete access to pre-built components, references, resources, support, and documentation.
Whether you are preparing your website for mobile design or developing your own custom applications, Cincopa is the solution for your all your mobile video projects. Take advantage of the growing market to reach more of your customers, and let Cincopa help you do it simply, quickly, and at extremely low costs.