What a CincoTube Workspace is : 
A Workspace is a virtual container within the CincoTube platform where multiple channels are created to upload content.

A workspace is either private or public.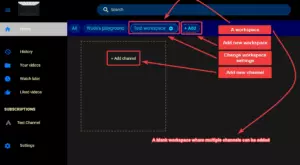 Workspace settings
General: Change Workspace Name and Description

Users: Invite users to the workspace and assign their roles.

Delete Workspace: Delete workspace permanently.
And that's it! We hope you now understand what a Workspace is and what you can do on it.