Welcome to a whole new world of productivity and brand consistency using Master Galleries.
Cincopa Master Gallery – Overview
The best way of explaining it is to use the concept of master and slave from the IT world. let's see what you can do with the master gallery.
By linking a gallery to a Master Gallery, It will take the template and customization settings of the Master.  Any changes made to the Master will be magically reflected on the Linked Gallery.
So unlike a preset, You don't have to re-apply it to countless galleries when you want to change a video player's color, add a logo to an image gallery or change the timing settings of a slideshow or even completely changing the type of template you want to use throughout your website.
Setting a gallery/player as a Master Template
Setting an existing gallery as a master template is done by navigating to galleries, expanding the gallery options and setting it as a master.
Caution: A master gallery cannot be deleted or "unmastered", this can only be done by the Cincopa support team.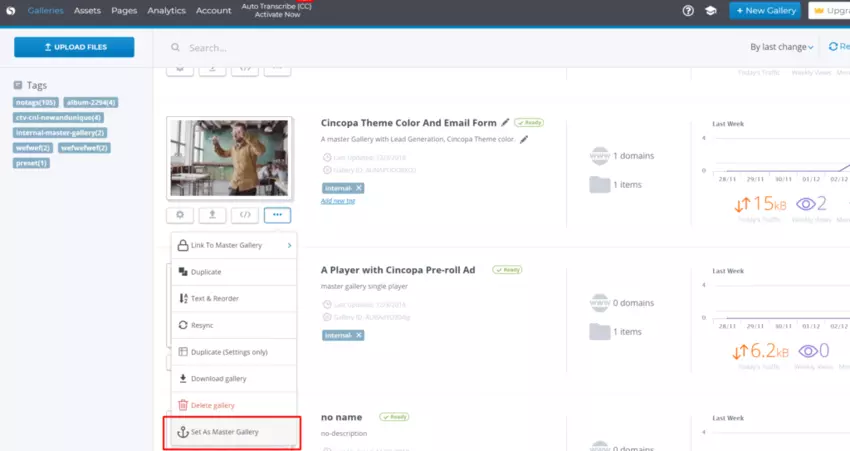 Linking an existing gallery to a Master Gallery
Now from your list of galleries, find the gallery you wish to link to a Master Gallery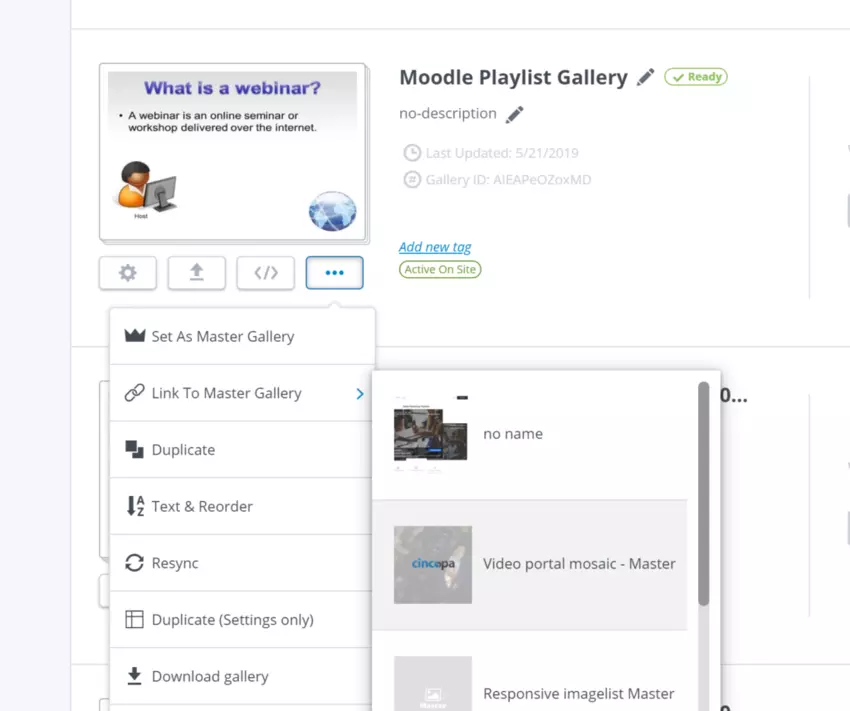 Customizing a Linked Gallery & Unlinking
Linked galleries cannot be customized as they inherit their settings from the Master Gallery. However, this link can be broken and then this gallery can then be customized like any other – this is done by clicking the Linked Gallery's customization option, there you will find an "Unlink from master" button.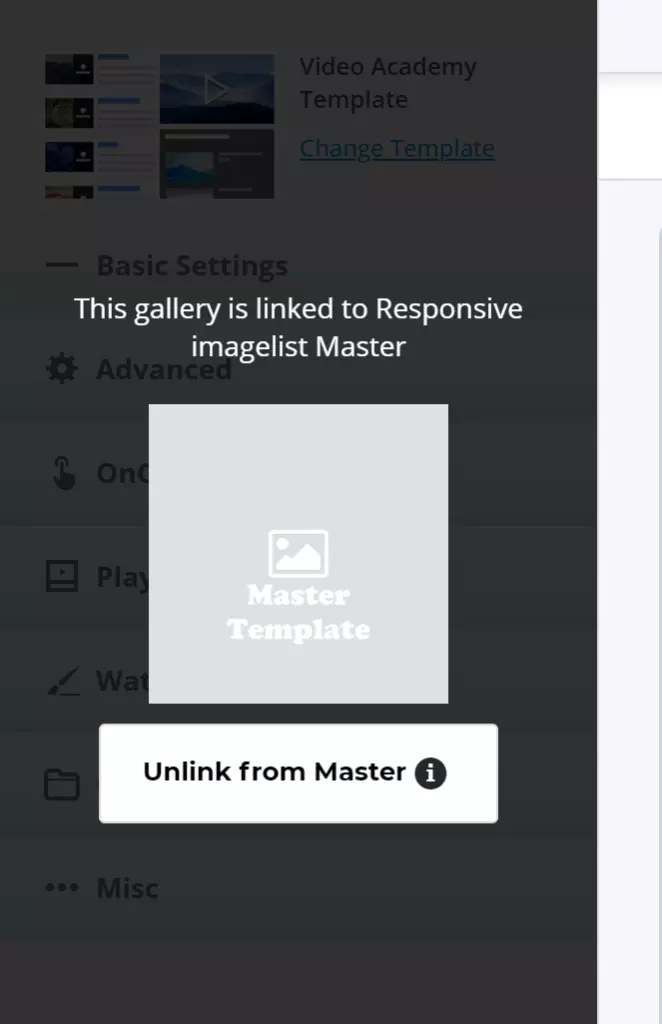 Finding your master Galleries using Search
By typing the term "master" in the gallery search option, all of your masters will be listed.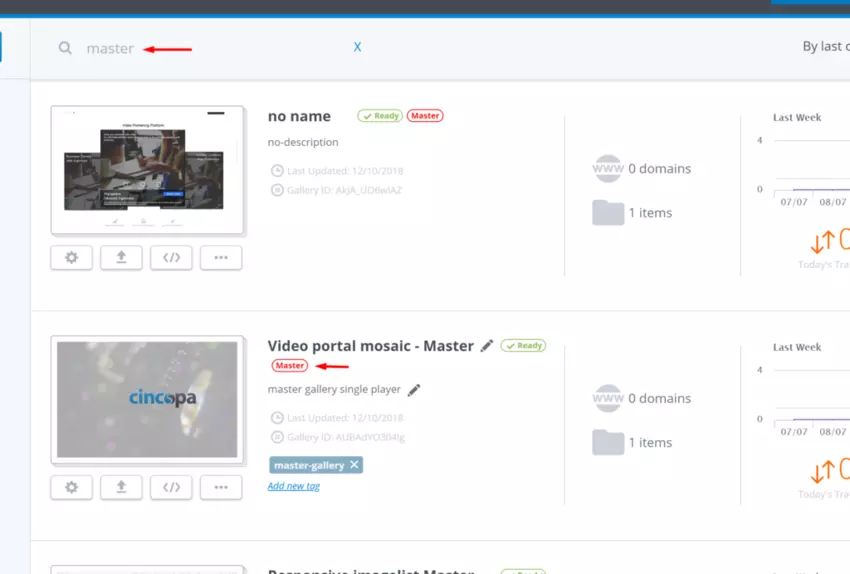 Master Gallery as a starting point for a new Gallery
A Master Gallery can also be a starting point for new galleries, which will automatically be Linked.
This is incredibly useful for enforcing constant branding and if needed, bulk customizing any number of linked galleries once the Master is modified.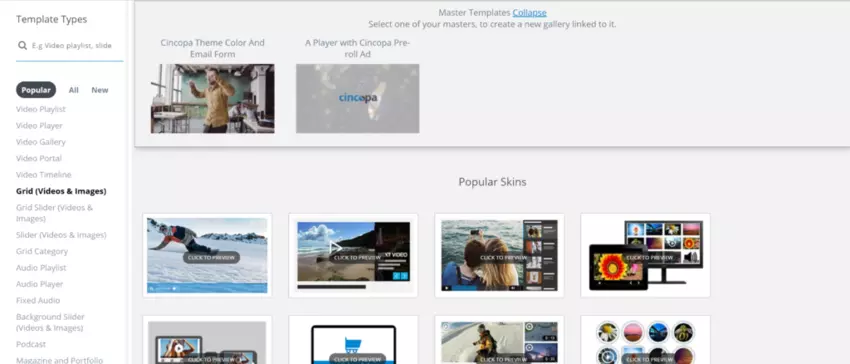 FAQ – Master Gallery Template
How do I unlink a gallery and what happens when I unlink it?
When customizing a linked gallery, you can unlink it from its Master Gallery. When that happens, It will regain its original template and customization settings.
How do I assign a new master gallery?
Navigate to the galleries view, Click the dropdown settings of the gallery you wish to assign and set it as a master gallery.
Can I delete a master gallery?
No. We restriction deletion for your own safety. If you really want to delete a master, contact your account manager. He will be able to do it for you.
Can I assign a linked gallery to a different master?
Yes. In galleries page, navigate to the linked gallery and assign it to a different Master Gallery
What happens to a linked gallery when I change the settings of a Master Gallery?
Like some kind of magic, It will change its appearance and behavior instantly.
Can I customize a linked gallery?
No, you will find the customization view locked as the gallery inherits its template and customization options from its Master Gallery.