HTML Video
Fascinate your Users with an HTML Video Player
If you have a really good video, HTML based site and a potential users' audience, but you have no idea how to link between them, Cincopa has the most comprehensive solution for you. Cincopa application enables you to create, embed, manage and even promote your own unique HTML video player. You just have to upload raw files, select a template and customize it. Cincopa developed a simple wizard that guides you through the brief procedure and automatically performs all technical tasks such as conversions and transcoding.
Search engines love videos and so do users; adding HTML video player to your website's pages is one of the best ways to engage users, convey messages and attract traffic. You do not need any technical skills or special HTML video formats; just spare a few minutes and Cincopa will help you establish an HTML video player, which you will be able to promote on many different sites and social channels.
Cincopa HTML Video Player Templates
You can easily customize the template using the advanced settings or with CSS edit.

1Choose template
Open a Cincopa account and view the various HTML video templates. Customize as many templates as you like and preview in a separate window; then, decide which one you wish to add to your page.

2Upload Raw Files
Upload unlimited video files into your video gallery HTML compatible. Cincopa software will automatically convert and compress your media files to assure the best quality and highest speed possible. You may modify your HTML video gallery and player to suit your changing needs, at any time, using any of your devices.

3Embed Simple Code
At the final stage, the simple wizard will call you to select your designation method. Choose the HTML option and get a simple line of code to embed into any location on your page.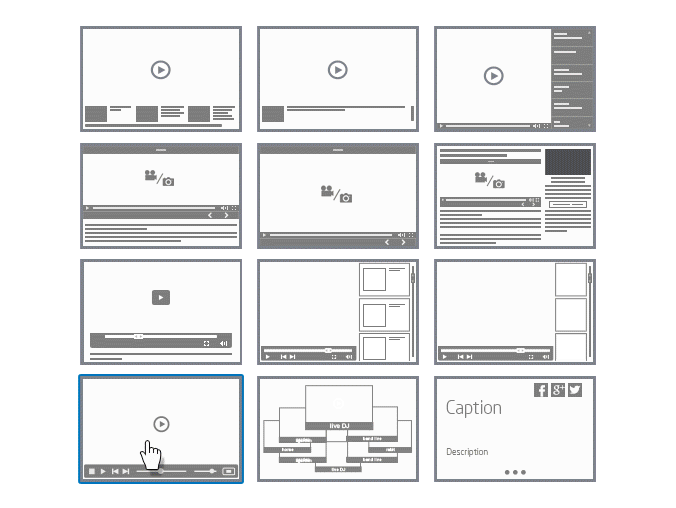 Why Choose Cincopa's HTML Video Player?
Cincopa's HTML video section offers over 40 attractive and efficient templates, which are easy to handle, have responsive design and multiple customization options such as size, playlist, autostart, background and more.
Upload media files from your PC, portables, webcam or any web URL and build a video gallery HTML compatible. Along with the sophisticated widget you will enjoy advanced security system to ensure full protection for your files, and free or extended hosting and delivery services, which are not limited to your server quota.
Cincopa software supports all main video formats and is compatible with all major browsers. It uses dedicated servers that allow high scalability, reliability, high speed and great performance.
HTML Video Player Main Features
over 40 stylish templates
Accessibility - remote upload and download
Multiple customization options (size, color, loop, autostart, buffer length etc.)
Allow or block files' download by users
Add or hide playlists and Menus
Promote your HTML video through numerous channels
SEO optimized
Automatic transcoding and files compressing
Automatic backups and reports
Full scalability
Supports all major video formats and browsers
Pseudo-streaming
CDN
Free hosting and delivery
Upgraded plans at reasonable cost
Easy management