Embedding Youtube Videos On Your Site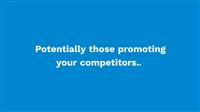 Embedding Youtube Videos On Your Site
Examining the benefits and drawbacks
YouTube may be free, but embedding YouTube links on your site comes with a price.
By clicking on the YouTube icon at the bottom of the screen, your prospects will be out of your site.
Once on YouTube, they will be targeted by personalized ads, which will more than likely include those promoting your competitors.
Get Cincopa's whitepaper examining the complications of embedding YouTube links within your site.
Key topics include:
YouTube- The Upsides: Take advantage of YouTube's audience by creating a YouTube channel (without linking to it from your site)
Beware of YouTube Wormhole:Gain a clear picture regarding the drawbacks that come with linking to YouTube from your site
Video Hosting Platforms:Learn how video hosting platform, such as Cincopa, can help keep your viewers engaged with your videos on your site