[Playbook]
Generate more leads using video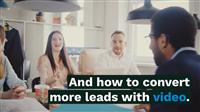 No One Ever Said "I Have Too Many Qualified Leads!"
Overview
The growth of many businesses depends on getting more and better leads, nurturing them and driving them to action, this is where video comes in.
In this guide you'll learn how to choose the right video for the right stage of a sales & marketing funnel, how to smartly utilize different conversion tactics and how to boost your paid campaign performance with video.
In it, you'll learn:
Methods to better understand your target audience
Creating the right video for the right stage of the funnel
How to utilize smart conversion tactics
Incorporate sales videos in social channels
Boost performance of various campaigns with video
Using video analytics to improve results