The Ultimate Guide to:
Grow Your Business Using Video Analytics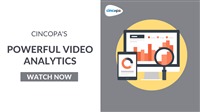 Grow Your Business Using Video Analytics
Overview
With video traffic comes a great deal of potential but in order to utilize that potential, you have to optimize and in order to optimize you must measure.
In this guide you'll learn:
Why video marketing analytics are critical to your business
Why knowing the play rate, how long viewers watch, who's watching, where the viewers are located and what devices viewers are using effects your ROI.
why you should be using a private video hosting platform and how to use analytics and A/B testing to improve results.