The Ultimate Guide to:
Building a successful video marketing funnel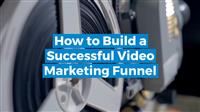 Building a successful video marketing funnel
Overview
Many successful businesses spend time building comprehensive marketing funnels to acquire leads and convert them.
Video content is one of the most engaging and shareable ways to drive prospects through each stage of the funnel.
Our Guidebook gives you the best practices and actionable insights that will help you plan a successful marketing funnel or boost the performance of your existing one.
In it, you'll learn:
What is a marketing funnel, and why it's important to your business
How to plan funnels and micro funnels
What's the best way to incorporate video into each step of your funnel
What are the benefits of different types of videos for different funnels
how to handle and increase leads from marketing campaigns using funnels
How successful funnels that utilized videos look like