Video is here to rule the internet and the data supports it. The number of people online consuming video content has gone up with countries like Saudi Arabia and Turkey having up to 95% of users watching video on mobile.
On top of that, many marketers, about 88% according to research by Animoto, state that video content offers them the best ROI.
Before we proceed, we need to answer a simple question; why not host the videos on your own site?
The answer can be as simple as bandwidth and the freedom of streaming at your will and fancy – no worries of those disturbing advertisements, other video suggestions and most importantly, Video SEO.
"You need a huge amount of bandwidth to host videos on your own site. Most of the website hosting platforms online don't offer enough bandwidth for video."
With too many requests, your site will slow down and your video marketing plans ruined. Video hosting platforms, on the other hand, are designed to handle huge amounts of bandwidth.
This makes private video hosting platforms your best bet for ensuring a successful video marketing campaign. Great video goes hand in hand with a great hosting platform.
You need to consider the video hosting platform your company will use carefully as it can affect how well your video performs.
With this in mind, we have taken the time to research and provide you with what we consider to be the 5 best video hosting platforms.
Cincopa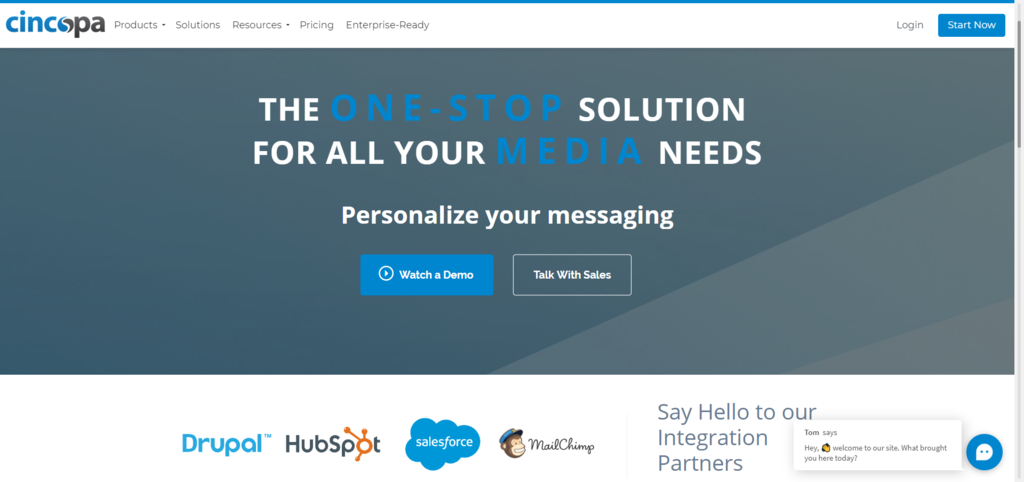 Cincopa is the more affordable option of the video hosting platforms on this list. It's cost-effective with a free tier and a paid plan.
The free tier offers 400MB storage space and 200MB bandwidth limit. The paid plan is also cost-effective with plans starting from $25 per month.
Cincopa offers a large collection of fully customizable video player templates. They have an advanced video template editor to allow you to customize the video player.
You can also customize the CSS code if you are familiar with the styling language.
"Cincopa also supports multiple media formats. You can upload videos, images, audio, and even documents."
The platform also does offer integration to Google Analytics as well as other major marketing platforms.
Cincopa offers Advanced Video Analytics data offered on the platform can also help you in your marketing efforts.
You can view heatmaps, live user feed and a detailed profile of your audience.
"Cincopa is the most powerful video hosting platform. Cincopa has been greatly useful for small businesses and individual professionals to scale up their sales and establish themselves as a strong brand in the market."
Vimeo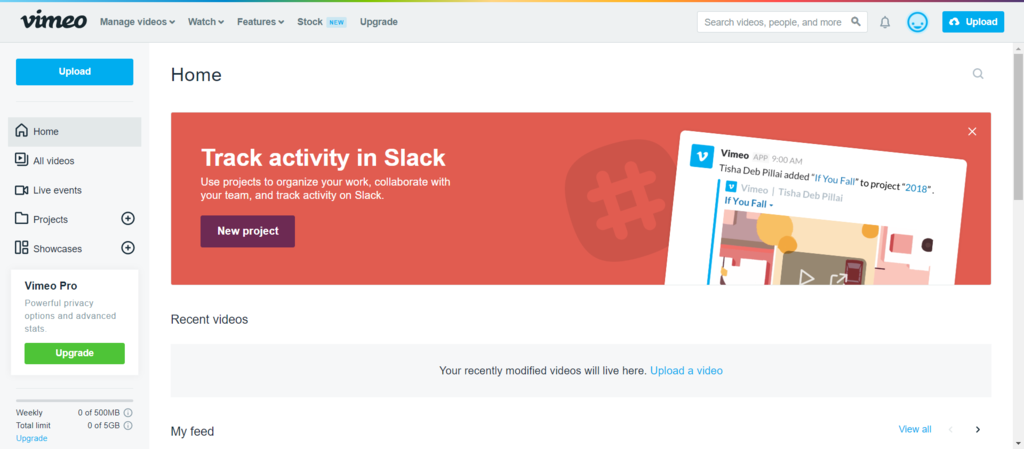 Vimeo is considered by some to be the Google Docs of video due to its collaborative features.
The site started as a competitor to YouTube trying to be a social platform for videos, but over time, it evolved beyond that.
Vimeo is great for video hosting as it allows a company to host videos and collaborate easily.
There are two versions; Vimeo and Vimeo Pro. Vimeo Pro is the best option for your company if you're looking for a professional video hosting platform.
With the pro version, video projects can be added privately. You can password protect your video and invite freelancers, team members or clients to view/review the video.
If you tweak your video and re-upload, the platform saves the previous iterations of the video.
This allows you and your team to go through all the changes made on the video. You also get access to powerful video analytic tools and time-saving video asset management tools.
Vimeo also offers an ad-free experience for all users of the platform and contains social media integration and Google Analytics integration as well.
 Wistia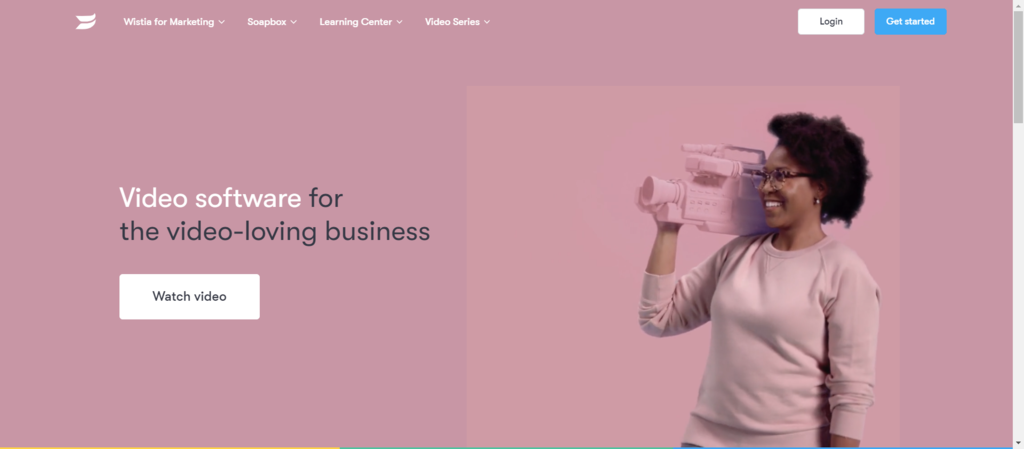 Founded in April of 2006, Wistia is a video hosting and analytics company.
It can be used by various departments within your company including sales and marketing, HR and customer support.
Wistia is made for the everyday person and is easy to use. The platform offers two tiers for its customers: the free tier and a pro tier.
The free tier provides you with access to the platform and up to 3 videos hosted on it. The fun is in the pro tier that provides you with a ton of tools for you to utilize. This pricing is quite high as well:
The Pro version – though starting at $99 – only allows for 10 free videos, which isn't a lot for SMBs. One cool feature that you can utilize on the pro version is email collectors and call to actions. These two features allow you to overlay forms or text on your video.
For marketers, this is useful as it makes your offer more compelling and persuasive.
You can also take advantage of the video heatmaps. This feature allows you to have a look at your audience's viewing sessions.
With video heatmaps, you'll be able to tell whether there are sessions that your audience rewatched or skipped in the video.
You can use this information together with the video trends feature to know what resonates with your audience and what doesn't.
Vidyard
Headquartered in Canada, Vidyard is sometimes considered the granddaddy of video analytics. The site does both video hosting and analytics but excels more on the analytics side.
They offer a suite of tools that your company will find useful, especially in the sales and marketing department.
Some of the features that they offer are such as A/B split Testing and interactive events, to name a few.
The interactive feature allows you to overlay your video with HTML5, CSS, and JavaScript to create quite interactive forms and dropdowns.
It also offers deep insights into your audience's behavior.
Data such as views, heatmaps, more associated with email marketing are brought to video marketing as well.
It's considered the best video marketing tool for a sales funnel from lead acquisition to nurturing to conversion. It's all that you need.
It also integrates with a ton of third-party tools like Hootsuite and more. One of the bigger drawbacks with this platform is in its price.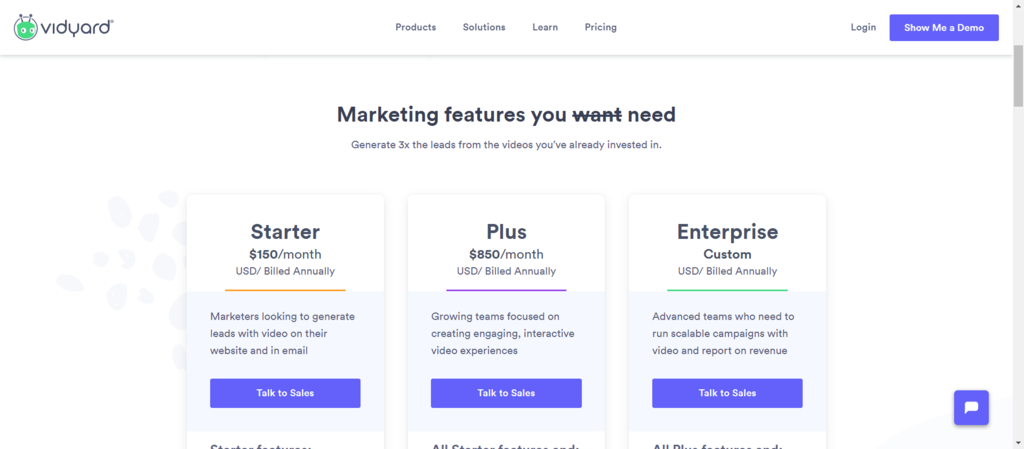 They don't have a transparent pricing structure as you need to request a quote. Their prices are also way off the chart for a small business.
Brightcove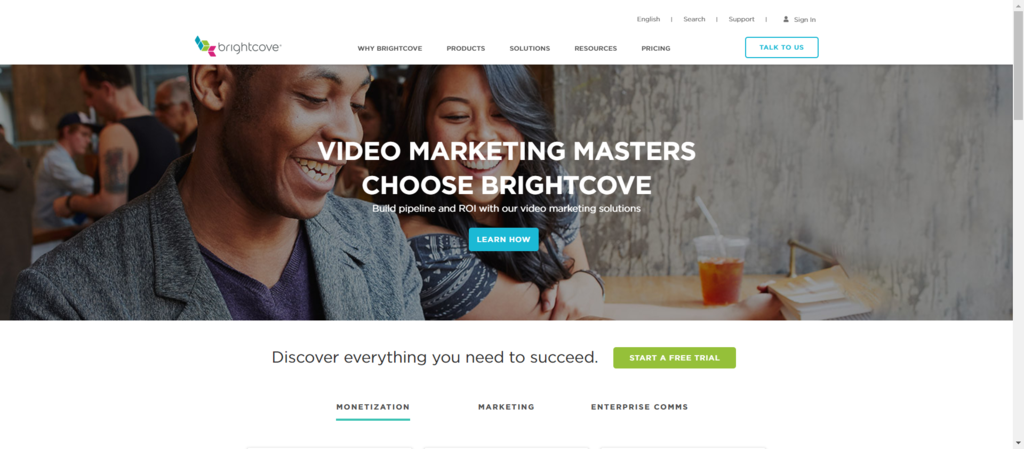 Brightcove does more than just video hosting for its clients. You could consider it a video marketing tool.
The company offers a full range of services such as consulting, strategy, on demand and design services.
The platform allows you to share your videos to social media within the platform. Your social media analytics will also be published within the platform.
This makes it easier for you to manage everything in one place. Brightcove also uses video ads and distribution to help clients monetize their content.
Many users of the platform have complained about it being difficult to use, but that's not necessarily a bad thing.
With a ton of features, your videos are bound to stand out by using this platform.
Their quick and flexible HTML5 player, plus the ability of dynamic ad insertion makes them stand out.
The best part about this platform is that it also allows you to integrate with many other marketing tools and content management systems such as WordPress and Drupal.     
Conclusion
The option of video hosting platform that you choose will depend on your needs and your budget.
Platforms like YouTube could serve you best if all you need is views on your videos with no need to pay for anything. If you need a community of other professional video makers, Vimeo is best suited for you.
Enterprises or anyone looking for detailed analytics to help drive sales and marketing operations will be best served by tools like Cincopa.