Parsons School of Design is a creative educational institution within The New School, a progressive university in NYC. It offers a large variety of multidisciplinary programs for students worldwide and uses the latest technologies for this. Parsons School motivates students to be as creative as possible, and provides them with knowledge they need to develop their artistic skills by bringing together visual design and computer science.
Cincopa is an advanced platform offering easy-to-integrate mpAPI to its users – it's a simple set of APIs using REST based methods that allow to manage almost every aspect of your online media galleries and assets. Parsons School of Design is using Cincopa API to host their images and publish online galleries onto a variety of different pages. Hosting images on Cincopa in couple with the ability to publish content with custom gallery templates works best for Parsons School, since they have tons of graphic material that needs to be uploaded all the time.
In the Student Work section, there is an amazing collection of images and photos presenting the best masterpieces created by students. To view more examples, one can click on a specific gallery thumbnail. A full slideshow will be open thereafter, which can be expanded to full-screen view. In such a way, Parsons website serves not only to promote the school and provide information for its audience, but it also becomes a collective online portfolio students may use anytime to demonstrate and prove their skills.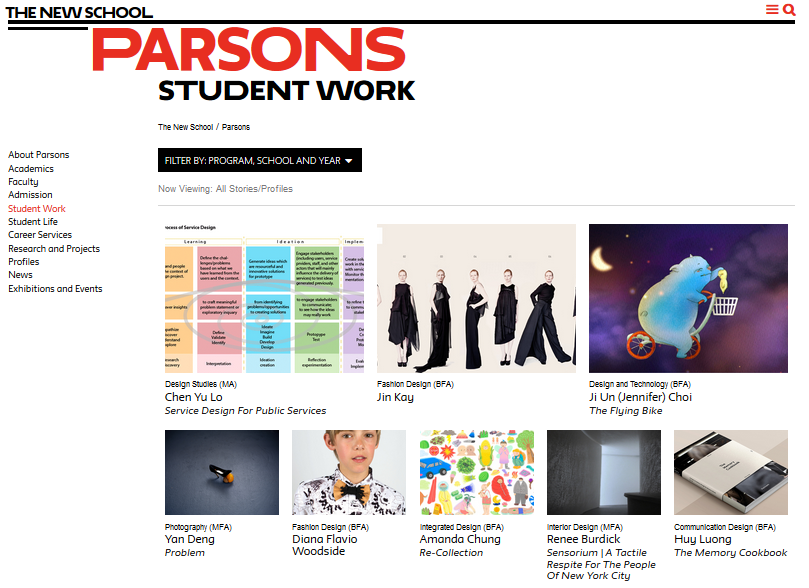 At Cincopa, we're happy to provide our reliable media platform for Parsons School that they utilize in order to enhance their online presence, improve their educational process, and inspire students to develop their skills. Image gallery API is a really awesome solution for university websites making them look more attractive to visitors and helping to promote students' portfolios.