Elevate Your Workspace Experience!
Say hello to the innovative 'Channel View' in Workspace – a game-changer designed to transform the way you and your audience interact with content. Let's dive into the details of this fresh addition and explore how it can revolutionize your video portal.

Bringing Banners to Life in Workspace
Imagine a browsing experience that's not just efficient but visually captivating. With the new Channel View feature, CincoTube offers a more immersive way to navigate through content libraries. Enabling this feature turns your Workspace into a gallery of channel banners, providing a striking background that instantly distinguishes one channel from another.
Simplifying Navigation, Enhancing Engagement
The beauty of Channel View lies in its ability to simplify the browsing process. By displaying banners for each channel, viewers can now differentiate and identify their preferred content hubs at a mere glance. This intuitive visual aid streamlines the search process, making content discovery a seamless and enjoyable experience.

How to Activate Channel View
To embark on this enhanced browsing journey, follow these simple steps: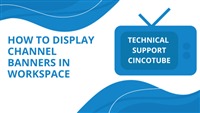 Upload Unique Banner Images:

Before enabling the Channel View feature, ensure you've uploaded distinctive banner images for each channel. This is your chance to make a lasting visual impact that resonates with your audience.

Navigate to Workspace Settings:

Head over to Workspace and access the Settings.

Customize Workspace View:

Under the General section, find Workspace View Customization. Here, you'll encounter two display options: Grid View and the brand-new Channel View.

Activate Channel View:

Click on Channel View and choose 'Show Channel Banners.' Once you've made this selection, hit Save to record the changes.
Maximizing the Potential
For an optimal experience, consider investing time in crafting engaging and distinctive banner images. These visuals serve as the face of your channels, leaving a lasting impression on your audience and enhancing the overall aesthetics of your Workspace.
The Channel View feature is not just a visual upgrade; it's a strategic tool to elevate user engagement and content exploration. Providing an intuitive and visually appealing browsing environment, it's poised to transform the way users interact with your content.
So, embrace the new Channel View in CincoTube's Workspace and watch as your content library transforms into an inviting and vibrant landscape that captivates your audience's attention. Ready to make your channels stand out? Let's bring your Workspace to life! 🌟📺✨

Originally published on November 1st, 2023