With Cincopa for Salesforce, you can use Video, Image Galleries and audio players anywhere inside Salesforce. Now, Available in the Salesforce AppExchange.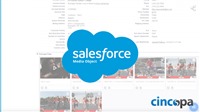 From Salesforce Chatter to Salesforce Community, To using Video & media on Salesforce custom objects, Cincopa provides you with a powerful, easy-to-use, no code required solution to engage partners, co-workers, customers and prospects directly from within Salesforce.
With Cincopa for Salesforce App you can easily:
Add native Video, Image galleries and Audio players anywhere on salesforce.
Share video in Chatter.
Get Viewing Analytics on who engaged with the content.
Enhancing your Salesforce experience with Cincopa
Cincopa for Chatter – Better communication and engagement using Video
Chatter is Salesforce's Social media platform equivalent featuring a timeline feed, public and private groups, ideal for internal communications. With Cincopa for Chatter, you can securely share videos inside chatter and offer a pristine viewing experience, just like we came to expect on the social media platforms we use every day.

Here you can see that once the preview thumbnail is clicked, the video plays in-line in the chatter timeline feed.

Cincopa Object Attach – Video & Media everyone in Salesforce.
This solution, unique to Cincopa offers Salesforce developers the ability to add video & media sharing, viewing and even recording capabilities to any object or custom object in Cincopa with a simple drag & drop Cincopa component inforcing Salesforce built-in user role permissions, bringing the benefits of private video hosting to salesforce.
Here you can see the simple drag & drop uploading widget, enabling editing for the basic video meta description.

And here you can see the additional uploading options of the widget fully supporting desktop and mobile use.

So now its easier than ever to upload, share and use video & media everywhere in Salesforce and even capture viewing analytics on engagement down to the individual viewer to get context on performance and engagement.
Install Cincopa for Salesforce today and see how Cincopa makes engaging and connecting with your audience a piece of cake. Want to learn more about the integration? Visit our Cincopa for Salesforce Page or the Salesforce AppExchange for more information.
Contact us for a live demo or if you need more information about pricing or the product.
Originally published on December 18th, 2018
, updated on April 22nd, 2019