Video and commerce have been intertwined ever since the first television commercial aired in 1941.
That first commercial was for Bulova watches. It cost the company $9 to make.
Flash-forward to today, and companies are happy to spend millions on commercial content. But television advertising is no longer the only game in town.
The power of video has spilled over into the digital world. Digital marketers are advancing video marketing strategies with greater cost-efficiency than ever before.
Instead of creating a multi-million dollar Super Bowl commercial, advertisers can now achieve phenomenal success with a minimal budget. This has created a brand-new market for video content: Upselling.
Upsell videos can be powerful revenue and conversion rate boosting tools. When done right, they cover their own marginal costs and generate long-lasting profits. Best of all, they are generally super easy to create. The secret is doing them right.

What is an upsell video?
Whenever you encourage a customer to switch the product he or she is purchasing with a similar, more expensive product, you are upselling. When a fast food server asks a customer whether he or she wants fries with their order, that's an upsell offer. When a car salesman shows off the crisp audio quality of the manufacturer's top-shelf audio system, it's an upsell.
Most people associate upselling with face-to-face interactions. But upsell videos can achieve the same results in a far more scalable way. Instead of having an employee explain the benefits of an upgrade or premium feature, your video does the work for you.
It's not surprising that content marketers report encouraging upsell video ROI across industries. Making a single up-front investment in a piece of content that generates tons of sales is simply good business.
Consider leveraging big marketplaces where videos are a mighty instrument for engaging with your audience. Facebook, as one of the largest marketplaces, is a great example. Facebook gives retailers multiple ways to cross‑sell and upsell via dynamic product ads. However, if you have something that you want to show to your audience you can also create Facebook cover videos.
How to make an upsell video that converts
Upselling is an art and a science. There are plenty of marketers, advertisers, and salespeople out there doing it wrong. If your upsell video doesn't convert, you run the risk of looking sleazy.
Learning how to start creating a great upsell video will keep your brand image spotless. To do this, you must adopt a customer-centric approach:
1. Find out what your customers' goals are
This is the all-important first step to any upsell strategy. If you don't know what your customers' goals are, you can't avoid appearing inauthentic when upselling.
Your customers are buying your products to fulfill a particular need. The better you understand that need, the greater your upsell ROI will be.
Study your customers. Don't stop at their immediate goals. Explore their larger, long-term plans and try to find out how your product or service fits into those plans.
Your upsell video needs to address those long-term goals. From your customers' point of view, it will feel like you are reading their mind – in a good way.
2. Set measurable goals for yourself and track them
Unlike face-to-face interactions, upsell videos can generate a lot of data. Capturing and analyzing that data can help you set measurable goals for upsell video performance. A great video hosting platform lets you do that.
Start watching for telltale customer behaviors. If a significant number of customers purchase one product from you, then come back a month later and purchase another one, combining those two into a premium package simply makes sense. But you have to capture that data in order to know if that's the case.
The point is to identify when customers need additional services or products. This will let you know where your current sales processes are falling short. It will also influence the way you present your upsell.
For example, if you want to tell customers that increasing their social media spend will result in more revenue if they use your software, you need to back that claim up with data. You can't just offer a "premium social media package" and expect them to understand its value on their own. If you've been tracking your customers' social media spend, then you can use that data in your argument.

3. Distinguish upsell-ready customers from the rest
The more you know about your customers, the better your upsell video will perform. "Upsell-readiness" is one of the biggest things to look out for.
Some customers have strict budgets. Others have strict requirements. Both of these customers are going to respond poorly to upsell tactics. This is where learning what your customers' long-term plans are pays off.
The best upsell video strategies focus on customers with an obvious gap in their plan. These are people who have clearly defined goals. Your product or service is part of that goal, but it doesn't achieve it by itself. Upgrades and premium features should help customers attain those goals.
Once you know who your upsell-ready customers are, you can communicate with them directly. There is no need to fear appearing pushy or sleazy. You already know they are looking for the things you're offering.
Toyota excels at this with an upsell video dedicated to Hilux pickup truck accessories. Toyota knows that Hilux buyers are outdoors-oriented people who value ruggedness and utility.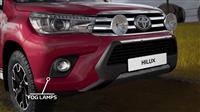 The car manufacturer's video simply shows optional add-ons buyers can choose from. There are aluminum scuff plates that keep the interior clean, and roof-mounted sports equipment racks. Nearly every accessory in the video speaks to a certain "type" of buyer
4. Center your video around an idea – not an upgrade
Even if your video focuses on upgrade options (like the Toyota example above), the main message should be an idea. In Toyota's case, the idea is that a rugged, versatile, outdoors-ready person needs a truck with the mentioned accessories.
Your upsell video can do the same thing without having to mention it explicitly. Video is well-suited for this task, since you don't have to ask your customers to imagine the idea in question. You can simply show it to them.
This can be especially helpful when upselling an already complex product or service. Your customers may not know exactly how to achieve their goals, yet. They might need to take some time getting familiar with your product before they understand exactly what they need out of it. Unfortunately, some of them will drop off and stop using it before they get there.
Imagine a video that identifies that ultimate goal and explains how to get there. Your customer will know exactly what premium features they need to achieve their goals, and will immediately start deriving value from their purchase.
Thinkific does this well by seamlessly incorporating some of its premium features into its product tutorial videos. It's immediately clear that some users will want to opt for a "Pro" subscription from the start rather than make a free account and hit obstacles along the way.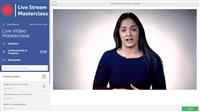 5. Use social proof to make your case
Before you go and start making your own upsell videos, consider the power of social proof. If you're going to ask customers to switch their purchase to a more expensive product, you need to showcase why that's a wise decision to make.
You could do this by simply filming yourself talking about your product. But unless you're especially charismatic, you will need some extra help.
Customer testimonials, case studies, recorded interviews, and positive press spotlights are all examples of social proof. Including these in your upsell videos helps create an aura of authority. Your customers will perceive your message as being genuine and trustworthy.
This is especially true for B2B upsells. Stakeholders might generally agree that your product or service is good, but they won't buy in unless they're sure there is no risk involved. You need to convince them that your brand is reputable, reliable, and worth the investment.
Having other people do this for you is a powerful force multiplier. You can see this effect in action in trailers for software titles, video games, and independent films . They often include a small, two-second frame showing the awards they've won (or quoting industry publications and critics). This establishes brand presence using social proof.

Where should I put my upsell video?
Business-boosting upsell videos make a great addition to landing pages or product pages, but those are not the only place they can live. Video content can make a big impact nearly anywhere throughout your sales cycle.
With the help of a good video hosting solution, you can embed upsell videos directly into the sales process seamlessly. Linking to upsell videos during the later stages of a drip email marketing campaign can generate major results, for instance.
Webinars are a great place to use upselling tactics. Webinar hosts can describe special use cases and features while showing exactly how they work. The host can then answer viewer questions in real-time. Consider adding a call-to-action at the end of the webinar for optimal results.
Customer support is another place where upsell videos can perform well. If your website has a knowledge base or FAQ section, you may be able to boost sales by embedding the right videos in the right places. Users looking for special features will go straight to the relevant document or question, and that is where you can serve them with an upgrade opportunity. If done right, you'll offer the right message to the right customers at the right time – the digital marketing trifecta.
Originally published on August 26th, 2020
, updated on August 27th, 2020