Cincopa's Video Channel is the perfect, distraction-free and  measurable area for your videos.
Channels provide your audience with the ultimate video destination. Once there, they can learn about your products, solutions, services, and company.
Best of all, prospects will not be exposed  to unwanted ads.
Embed it inline or as a popup-embed to grab your audience's attention.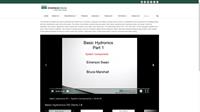 Most modern marketers and companies have a significant collection of videos.
Navigate to any 'Resources' tab on a B2B website, and you will undoubtedly come across demos, testimonials, how-tos, explainers, and more in-depth educational video content. 
Here's the problem, though:

Creating a video library to showcase videos to potential (and existing) customers and partners is only half the challenge.

You are going to want to showcase these videos in an environment that is uniquely yours,  consistent with your brand and website.
You don't want your audience disturbed by ads (potentially your competitors'), parkour highlight reels, cooking hack videos, 7-year-old musical prodigies playing Metallica drum solos, and…..
You get the point.
It's time for your own video channel

Cincopa's video channel will enable you to attract and keep your viewers on your website.
This will greatly impact your ability to capture new leads, convert viewers and educate prospects, customers, and partners.
Best of all, you will have access to advanced analytics:
You will know exactly who's watching what, how much of it is being viewed and how specific videos are performing.

All of that data will be synced with your marketing platforms.
…
Time to Go Pro
Cincopa offers your business an easy, elegant way to embed your video collections on your site without breaking a sweat.
You can attract more viewers by Channel's automatic optimization to search engines.

Your audience can binge on your content.

You can fully-utilize Cincopa's superpowers like

Automatic Closed Captions

,

In-Video Search

,

Automatic Video SEO (JSON LD)

and

Interactive Player.
Generating leads with Channels
Need more leads? Gate your entire channel's content with on-video forms and turn viewers into leads. Like with every other of Cincopa's features, the form can be connected with your email marketing platform, CRM, marketing automation, Slack, Zapier and others.
Using web-hooks you can literally send a video to the newly captured contact, wherever and whenever.
…
Looking to just share and not embed? Use a ShareLink 
Use Cincopa's SharePage to create a branded page for your Channel.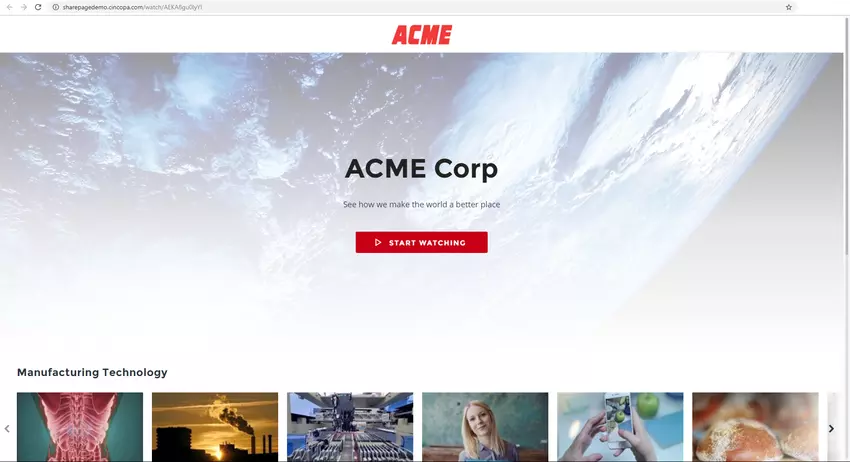 "What really sets Channels apart from, say, YouTube, is its customizing options. You can add a header image, select a theme color and text to create a unique, on-brand experience."

You can arrange the video collections into categories, brand the player's logo and colors, use custom fonts and arrange it so it fits seamlessly with your website's look and feel.
Hit the iron while it's hot with Subscribe Now
You've just wowed your viewers with a captivating video. This is a high-leverage moment; it would be a shame not to capitalize on it.
With Cincopa's Channels, you can add a Subscribe Now button to your page.
That way, anytime you add new video content, your viewers will be notified of it via mail.

Have your videos go live in primetime
The timing of your videos going live is as important as any other production element.
Therefore, Cincopa's Channels enable you to schedule video uploading in advance. This can be done for  single videos  or for a collection of videos.
All you have to do is click on the Schedule button, as seen below.

What should you use Channels for?
Customer testimonials
Webinars
Product updates
Meet the team
Company updates
Customer education
Product "how-tos"
Employee, partner and customer on-boarding
Creating your channel & going live!
All you'll have to do is create a Channel, pick the videos you want to showcase, set them into categories, customize your channel's colors, text and header video, and grab the embed code.

Voila –  you have a professional video channel, right on your website!
If you're interested, here's a step-by-step guide:
1. Navigate to Create
2. Select the Video Channels product
3. Select The Video Channel template
4. Customize the cover header and colors, and add text and your logo to the player.
5. Continue to Upload & Manage to upload, or select the videos you want to add. Group them together into categories by using tags.
6. Return to the customization section, check the categories you want to display and overwrite the way the categories will be displayed (e.g. videos grouped under the "product videos" tag can be shown as "Q2 2019 Product Updates").
7. Navigate to the Share & Embed to copy your embed code. Alternatively, you can get your branded ShareLink as an unlisted link or as an embeddable email thumbnail.
Showcase your videos
With Cincopa's Video Channels, sharing and collecting videos in a professional and highly-customizable way has never been this easy
Cincopa's Video Channels enable you to create an engaging, completely immersive experience that highlights your content and brand.
Cincopa's Channels is available to all Cincopa customers and can be experienced by newcomers trying out the platform during the 30-day trial.
Originally published on September 11th, 2019
, updated on May 21st, 2020