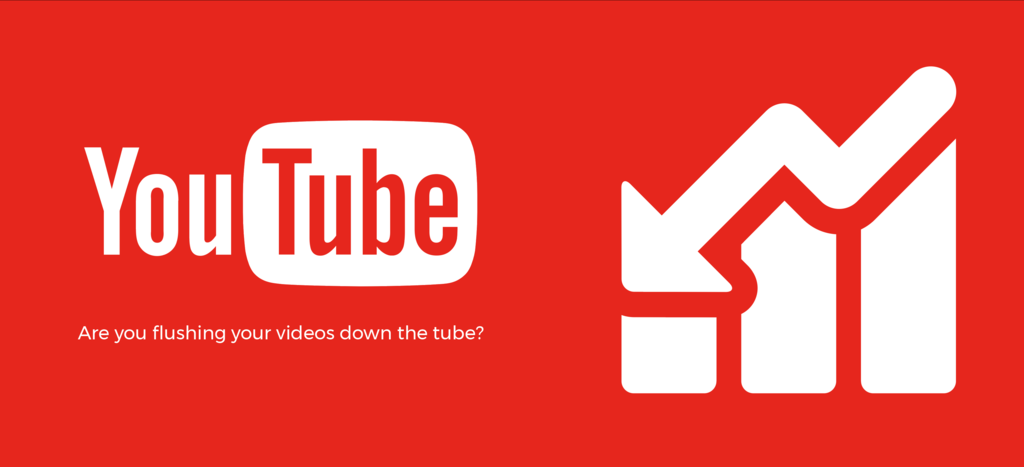 01
YouTube: When and how
YouTube is awesome. It has come a long way since the infamous early days of cat videos. It has assumed its rightful place as one of the pillars of the internet, and as the inarguable channel through which free videos can be dispersed and viewed.
You'd absolutely be making the right choice by uploading corporate videos to YouTube for brand discovery purposes.
Here's the catch, though.
When your sales team send prospect  to watch videos on your company's YouTube channel, and away from your website, they are committing a monumental mistake.
Instead, they would be far better off sending them to a controllable space; one that is hermetically-branded and consistent with your company, and that is tailored to each buyer persona. 
Let's break it down.

02
Embedding YouTube-hosted videos
One major reason Youtube is so popular among businesses is that it allows them to embed hosted videos on corporate websites, free of charge.
Free features and services are incredibly enticing, and for good reason.
However, if opting for them comes at the expense of business results, or may actually damage your company, is it worth it?
YouTube embeds are not built to unlock the capabilities of a dedicated B2B Video marketing platform.
Here are the areas in which YouTube embeds fall short:
SEO- Your mission should be to drive traffic to your site, not to YouTube.
A core tenet of any marketing strategy is driving website visitor conversion.  
Providing a customizable and on-brand experience – Your visitors expect to be met with consistent UX. YouTube does not enable you to have your video player, playlist or gallery appear synonymously with your website's design and cadence. 
Interactivity – You can't adding forms, clickable links, and call to actions on YouTube. You justifiably expect your videos to act power-lifters, not just static passive experience. That really isn't an option with YouTube.
Viewer Analytics  & Connectivity – This is the true Achilles heel of YouTube embeds.  The ability to measure your videos is completely absent. Try as might, you will not be able to draw the proper data to optimize for better results. And, it goes without saying that you cannot connect videos with your marketing or product analytics stack to make viewing data actionable.
Getting a potential lead to land on your site can be challenging and costly enough in itself. This is true regardless of whether you're using paid traffic, or have spent considerable resources on video production in the hopes of benefiting from video SEO.
Bottomline: Youtube Embeds are harmful to your demand, lead-gen, and marketing strategy.
🚾 "Fushing your video down the tube" 

When your video is a YouTube embed, you are essentially opening the door wide open for a viewer to navigate away from your website. You are are setting up prospects to fall through your fingers during a high-leverage moment. YouTube embeds will feature a scroll showcasing enticing videos your prospect can potentially click. Alternatively, your lead can click directly on the YouTube icon, which will see him arriving on the popular search engine's page. Once there, he will be exposed to ads.
What if one of these happens to be one of your competitors'? 🙄
03
YouTube Ad targeting & personalization

Google is YouTube's parent company. It has some the best personalization and cross-channel web-tracking capabilities on the planet.
They own our phones, our browsers, our search engine and have some of our era's most brilliant minds. They successfully channel all the data we generate into insights and actions in real-time to ultimately do one thing:
Deliver Ads.
And very enticing ones, at that.
It's important to remember that YouTube extends the possibility of embedding their videos on your site with an agenda in mind. This is not to say that they have are driven by some sinister masterplan. Far from that.
However, the video-streaming giant's ultimate goal is to expose people to ads and generate revenue. Those people can be your 15-year-old babysitter or your target persona in a potential $20,000/year deal.
As a rule of thumb, YouTube strives to strengthen ITS own brand and drive traffic to YouTube whether it's from google search or YouTube Embed on your website.
By pulling embed viewers from your website and back to YouTube it allows them to utilize the data regarding the visitors who make it to your site, to better personalize the ads they serve.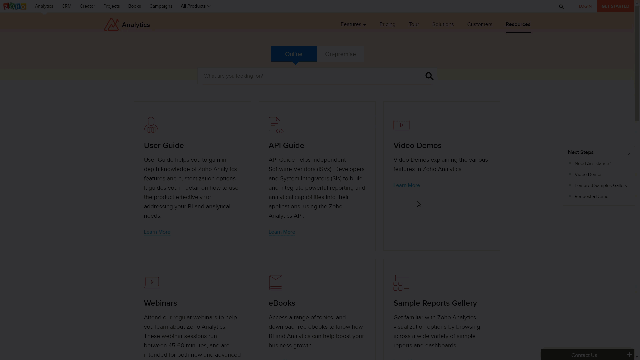 YouTube fully utilizes Google's technology.
And, on YouTube it is always hunting season.
Your visitors, prospects and even your paying customers will almost certainly be targeted by your competitors.
YouTube is free,
but it comes with a price…
04
YouTube analytics and its limitations
YouTube offers some limited metrics.
They mix stats from channel viewed content and embedded video viewed content, which makes it difficult to figure out even the most basic, high-level metrics regarding video engagement (plays, unique plays, views, etc.).
Needless to say, YouTube's analytics will not provide you with any way to discover how individual viewers interact with specific videos.
 (Click here to download Our complete guide to B2B Video Marketing Analytics and learn more about viewer analytics)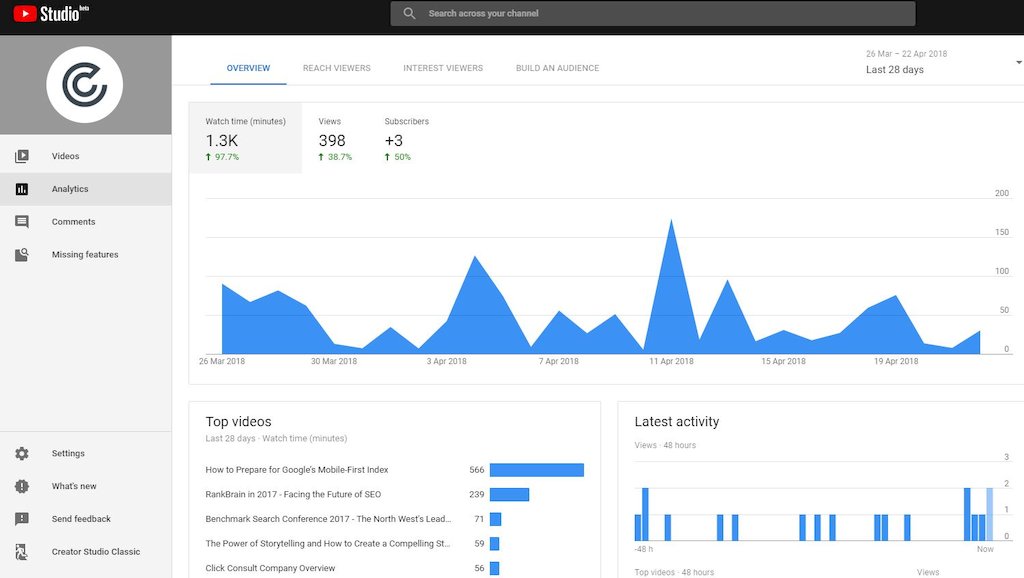 05
The solution: A video marketing platform
When you host videos on your site using a platform, such as Cincopa's, you essentially 'lock' viewers within your site. Obviously, the video must be compelling and engaging enough to hold a visitor's attention. However, by creating a controlled environment through which your visitors, prospects, and customers get to experience your videos, you will be significantly increasing the chance of them staying put.

Most importantly, you will stop wining and dining a prospect with content you invested time and resources on, only to inadvertently make it easier for competitors to take them away at opportune moments;  whether it be to YouTube itself (that views any visitor as a win), or to an actual, direct competitor.
06
Cincopa – A Video Platform For Business
An industry-leading video platform, Cincopa offers a 360 solution to host, manage, customize, publish, embed, deliver and analyze your videos – built with video marketing in mind.
Let's break some of the capabilities down:
Customization & Branding
Video Player:
Cincopa's video player can be designed to look completely consistent with your brand. Additionally, you can incorporate video forms and calls-to-action which pop up at defined instances. You will also be able to add annotation links that appear while the video plays.
Here's how the player looks in action: 
Video Channels
Cincopa's solution to keeping your visitors on your site, binging on your content. You will provide them with a Netflix-like viewing experience that is free of distractions; it is fully customizable, and embedded on your website.
Video SEO
Automatic closed captioning and Automatic SEO (JSON LD).
Video SharePage
With the SharePage you can share videos, channels, galleries, and media. You will be using a brand consistent SharePage (link) to use on your email and SMS campaigns, social posts, product marketing, and Internal communications.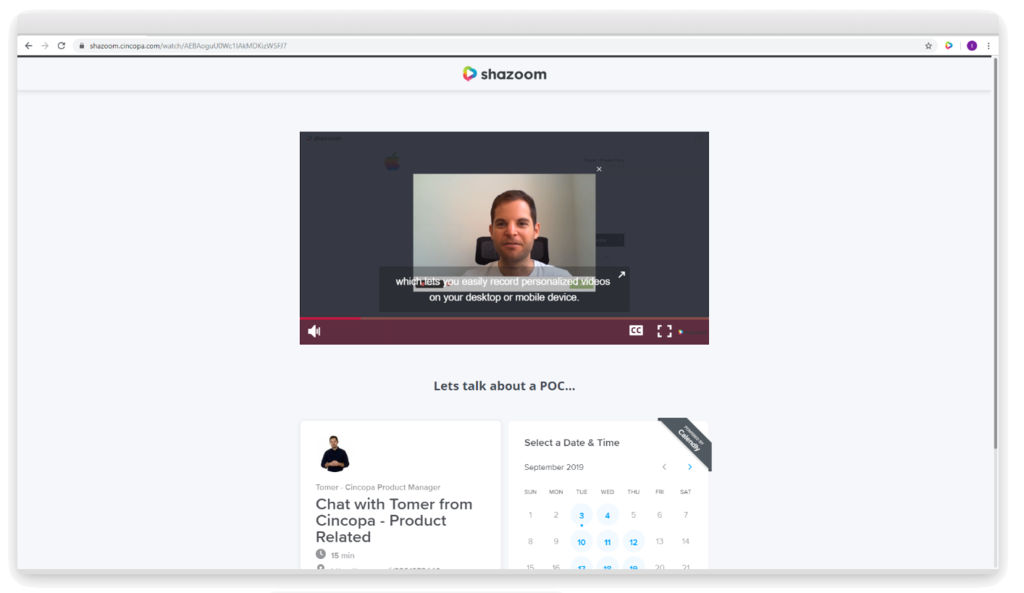 Video Portals
Remember how we lamented YouTube's ad strategy? Cincopa's Video portals were created to offer an elegant, on-brand, fully-hosted (shareable link) alternative to simply having a company YouTube channel.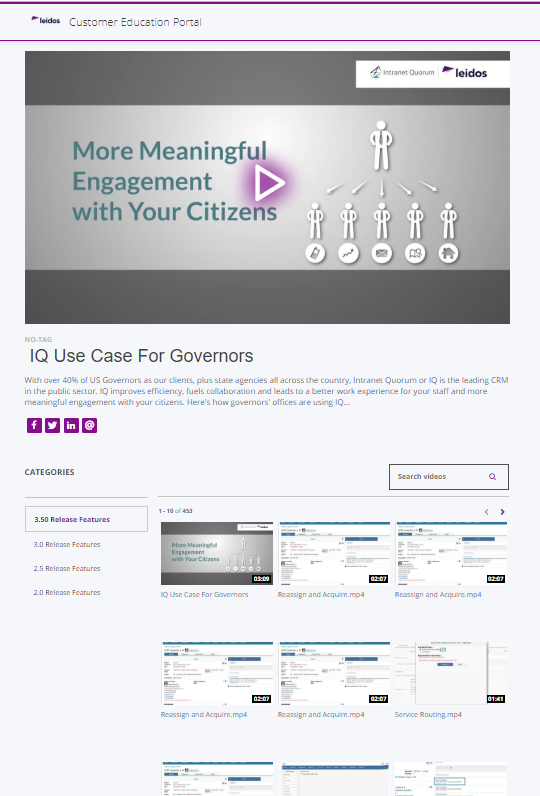 A few words about YouTube's security…
Once you've uploaded a video to YouTube, you've basically relinquished your control over it. Anyone with a link to the video, can watch it.
Even if it is unlisted and you thought it means private.
Companies that take the security of their content seriously, cannot afford to not use a private, secure video host. 
With Cincopa's Video Portals you have control over who can access and view this page. You can limit access to users, require password submission and event integrate your SSO solution.
Embedding & Sharing
Cincopa's platform is designed to provide maximum flexibility.
You can choose between embedding individual videos with a variety of configured players,  or creating and embedding playlists. Additionally, you will be able to change content, order and visual layout without re-embedding on site.
Additional features include:
Flexible embeds

A centralized way to distribute to website and social (facebook, twitter, linkedin)

CMS integration to easily work with your web tools
Video analytics
With Cincopa, your business benefits from in-depth analytics.
These help you understand how your video is performing, down to individual user behavior.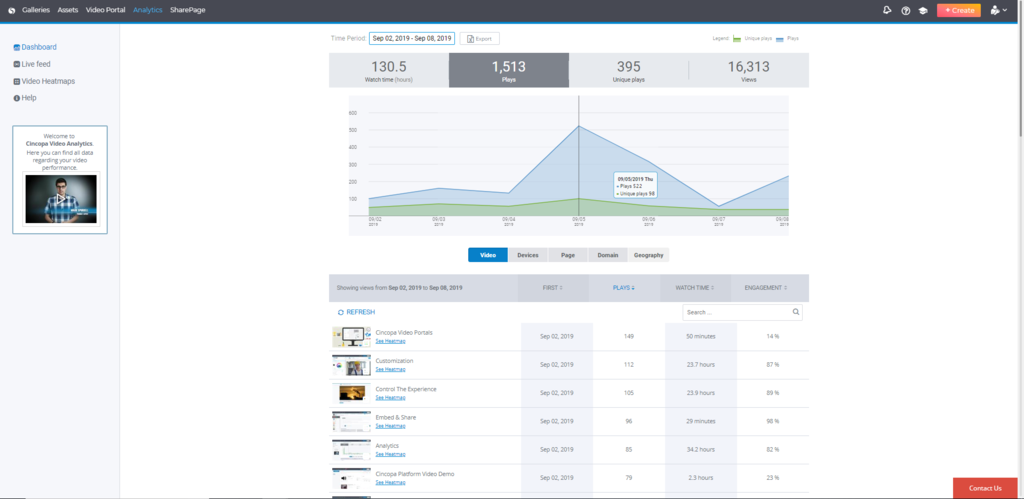 Here's a breakdown: 
Metrics : 

Understand how your embedded videos are performing on-site. 

Video Retention heatmaps:

Understand how a video is behaving, where people are skipping and where opportunities to optimize lay.

Viewer Heatmaps:

Know

exactly

who is watching, re-watching or skipping specific parts of a video. Show a small picture of an individual heatmap line of an identified viewer

Marketing Automation Integration: Sync viewing data, capture forms on video, send video emails to crush your CTR and qualify, segment and lead-score based on watching activities.
Or, in short, convert visitors to customers.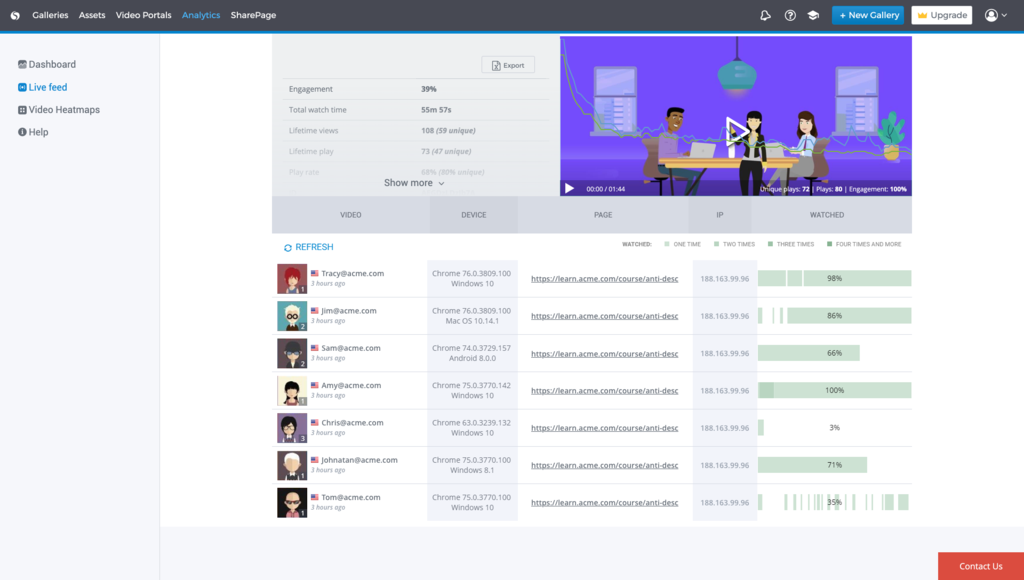 Customer success & Professional services
Have you ever tried to reach YouTube's technical support?

Well… if your not CNN or some other huge revenue-generating media partner, there are no humans you can speak with, email or snail mail to. Heck, there isn't even a  YouTube chatbot 🤖 through which you can seek automated assistance.
With Cincopa you always have real people you can talk with 🙋‍♂️ 🙋‍♀️.
You can freely seek and receive expert advice, streamline yours and your team's onboarding process, and adopt all the features which are relevant to your needs.
Cincopa even provides custom implementations and coding if you're looking to go "outside the box".
Video Sales Enablement
Remember the stop sign at the introduction? It's there for a reason.
Sales teams sharing emails with YouTube links during their outreach and sales cycles are doing themselves and their company a major disservice.
This is a double-headed no-no: 
1)This essentially is a missed opportunity to allow your sales team track-viewing. They will virtually have no way to know who's really engaged with video collaterals they are sending out, like demos, webinars, success stories, and customer testimonials.
Ideally, all this critical data needs to be uploaded directly on your CRM, so they can automate notifications, follow up emails and create follow-up tasks to talk with the buyer right after he or she completed watching 100% of a success story.
With a YouTube imbed, this is simply not going to be possible.
2)You will be missing the opportunity to send prospects your own branded video page or channel. You will be robbing them of being able to experience your videos in a controlled space, without the danger the of being exposed to competitor ads.
Why confront them with the perilous temptation of clicking on cat videos(🐈), and inadvertently expose them to recommended, and irrelevant content? You'd be prolonging the sales cycle; that is the direct opposite of videos' function during the buyer's journey.
07
Conclusion
Cincopa and YouTube are two very different platforms with very different purposes.
Each platform has different advantages and relies on different business models.
Hosting your videos on YouTube is free, it has a huge audience, your videos may perform well in search, and you have access to some tools that can indicate ROI.
In any event, it is highly recommended to upload your videos to YouTube. It's free and can only help cultivate a higher level of awareness toward your brand.
On your site, however, a proper video hosting platform will prove far more effective in converting leads.
Cincopa allows you to completely maximize your videos' lead generation and conversion potential. You'll be ensuring that the video content you worked so hard to craft serves its purpose: Encouraging your prospect to make the leap toward becoming a customer.
Stop Flushing Your Video Down The Tube