Overview
Cincopa's Closed Caption Editor is a powerful feature that allows users to:
Modify, edit and publish uploaded captions.
Review, edit and publish machine-generated captions,  produced using Cincopa's AI-powered "Automatic Closed Captions".

Closed Captions  – accessibility & SEO benefits

SEO
Captioned videos increase SEO traffic by helping search engines interpret the content within the video, in addition to the title and description (injected automatically using JSON-LD).
Cincopa's Automatic Video SEO takes the video's transcription or captions and automatically optimizes them for search engine indexing, resulting in a hands-free SEO boost.
Video Accessibility
Web regulations and ADA compliance are mandatory for companies utilizing online videos for customer-facing content, as well as internal organizational uses, such as training and educational videos.
Cincopa's array of features and solutions helps your business comply with regulations, and to do so without spending valuable time and resources.
Editing, downloading & deleting captions 
In order to edit the captions, navigate to "assets" and select the required video.
Under the "Closed Captions" tab, you'll find your uploaded captions, or captions which were generated automatically.
Click on the pencil icon to edit the captions.
*You can also download them for archiving, distribution or delete them.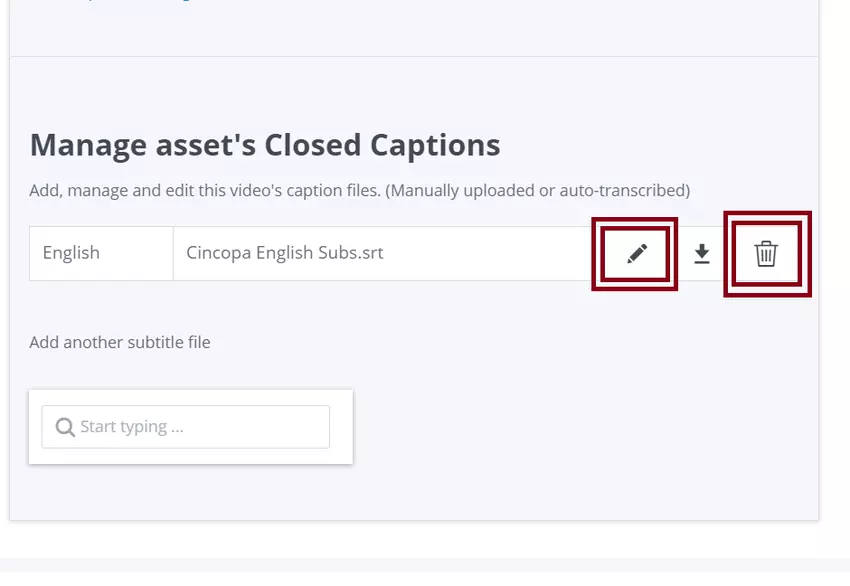 Editor functionality & overview
In the next screen, users will see the caption on the left and the video on the right.

Users can also add new captions by right-clicking the current caption item and then selecting Insert after/Insert before.
When you right-click a row item, the following options are available:
Delete Line: Deleting an item.
Insert before: Inserting a new empty line after the right-clicked item.
Insert After: Inserting a new empty line before the right-clicked item.
Merge with next: Merging the existing item with the next item on the table list.

You can add the new text or edit the text already created by the system below in the Edit Text Box.
Additionally, you can adjust the caption in the video timeline by moving the grey block to match the text with the video/audio.
Extending or shortening a segment duration
You can shorten or extend the duration of each captions segment by clicking, holding and grabbing the end or start of each gray section.

Saving your work & continuing later
You can save your work by clicking "Save for later" if you've done some work but don't feel like its ready to go live yet, or feel it requires an additional pair of eyes to review it and publish.
Publishing captions
Once you're ready to publish your changes, click "Publish Closed Captions".