3D Gallery
Follow 3 Simple Steps and Enjoy a Photo Gallery 3D Style
3D gallery templates are the jewel in the crown as far as image and video presentations are concerned. The dynamic layout and the diverse transitions and special effects attract the human eye and will influence visitors to spend a few more seconds on your page. It creates interaction and promotes discussions and enables you to display an infinite number of media files without using much space.
Cincopa multimedia platform provides you with everything you need for easy and fast establishment of your 3D photo gallery or 3D video gallery, including hosting and delivery services, full protection for your files, multiple customization options and endless upload sources. A simple wizard functions as your guide through the brief procedure; so, there is no need for prior knowledge. It is a very plain recipe: you bring the media files; Cincopa brings the skills, and the outcome is a stunning gallery 3D style.
3D Gallery Templates
You can easily customize the template using the advanced settings or with CSS edit.
How to Create a 3D Slideshow Gallery

1Choose a Gallery 3D Template
Select 3D video gallery template or 3D image gallery template. Set the template's basic attributes to match the 3D gallery with the general style of your site. Preview the template on a separate window.

2Upload Media Files
Upload images, video and audio files to Cincopa cloud-drive and arrange them in your personal folders. Cincopa software automatically performs needed conversions, file compression and resizing of photos. Upload files from any device or web URL.

3Insert the Generated Code
Choose your webpage method (HTML, specific CMS or numerous social channels); the simple wizard generates a line of code that suits the method you have chosen. Copy the code, and paste it in the desired location on your page. Notice: if you choose a CMS such as WordPress, Joomla or Drupal, you must install the appropriate add-on before you complete the process. The different plugins are free, fast and easy to download and install.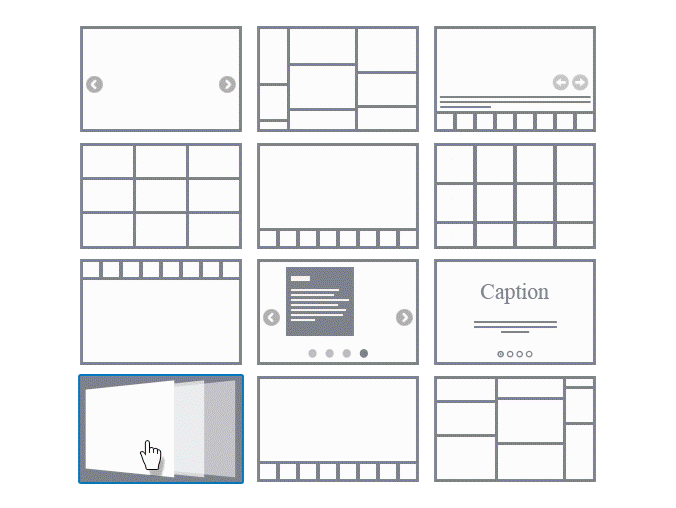 Why Choose Cincopa 3D Gallery Creator?
Cincopa provides an inclusive solution for your video or photo gallery 3D style and all other rich media widgets. The all-in-one solution consists of special extensions for all content management systems, 3D gallery templates, Cooliris view, generous hosting space that is not limited to your server quota, advanced delivery system and complete protection for your files.
The 3D image gallery has multiple customization options and transitions and is compatible with all mobile devices and major browsers. Cincopa allows you to upload as many file as you want from any device or web URL; it grants you with a remote access and automatically performs all technical actions.
Creating the 3D gallery is a matter of a few minutes, and managing it is exceptionally simple and fast.
Photo Gallery 3D Main Features
Compatibility with portable devices
Multiple templates
Automatic backups, and storage and traffic reports
Remote access
Full scalability
Great documentation
Automatic conversions and image resizing
Complete support for mobiles
Free hosting and delivery services (limited to 400MB of storage and 200MB bandwidth per month)
CDN
Supports most audio and video formats
Complete security
Plenty of features and customizations options (size, background color and music, intro animation, number of rows etc.)
Professional plans are available