Como incorporar vídeo players nas suas páginas web, usando a Media Platform da Cincopa?


Adicionar vídeos nas tuas páginas exprime uma total confiança, tanto aos teus visitantes como aos motores de busca. Os vídeos, tal como quaisquer outros componentes de media, trazem um toque pessoal, leveza, interesse e estética aos blogs e websites. Contudo, adicionar um vídeo player para website, exibindo vídeo clips curtos e tutorias acrescente um valor e uma interatividade que normalmente não existe em imagens e música.
O maior denominador comum entre os diferentes tipos de media que podem ser incorporados via Cincopa é o assistente que te permite efetuar as ações necessárias. O procedimento é inesperadamente curto e simples mesmo para quem não tem conhecimentos de programação.
COMO FUNCIONA
1Escolher um tema para o vídeo player
2Faz upload de múltiplos vídeo players
3Inserir código
INCORPORA UM VIDEO PLAYER EM APENAS 3 PASSOS
1
Escolhe um tema para o vídeo player
A Cincopa oferece vários tipos de temas, das mais diversas formas e estilos. Cada tema escolhido tem opções que podes modificar ao teu gosto e necessidades. Experimenta alguns que podes visualizar numa janela separada, para poderes ver de qual gostas mais.
2
Faz upload de ficheiros de vídeo
Faz o upload de vários ficheiros para a tua "cloud" drive, organiza-os nas pastas Cincopa. As conversões e a codificação dos vídeos serão feitas automaticamente pela Cincopa. Não te esqueças de que podes sempre adicionar, editar ou eliminar a galeria de vídeos.
3
Inserir código
Depois de selecionada a linguagem para as tuas páginas web (CMS, HTML, etc.) a Cincopa irá gerar o código apropriado inserir no teu site. Note-se que antes de copiar e colar o código tens que fazer o download da extensão (plugin, o módulo, etc.) Podes inserir o vídeo em qualquer parte da tua página, bastando colar o código no sítio que escolheste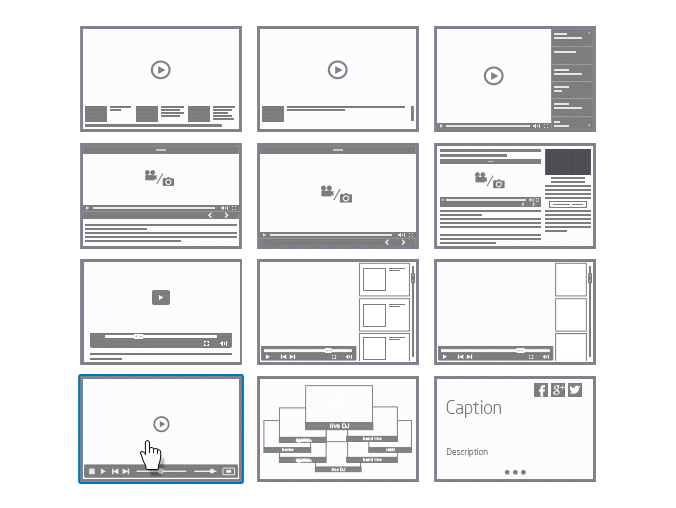 Dá uma espreitadela aos temas e demos da Cincopa
You can easily customize the template using the advanced settings or with CSS edit.
A Cincopa não fornece apenas as ferramentas necessárias para adicionar vídeos, também garante uma solução para todas as tuas necessidades, tais como alojamento e entrega seguros. A Cincopa assegura a qualidade e a compatibilidade dos teus vídeos e suporta todos os formatos de vídeo mais populares.
Conforme mencionado anteriormente, para inserir vídeo players em plataformas CMS, deves fazer o download da extensão adequada. Pode ser o plugin da Cincopa para Wordpress, se tiveres um site Wordpress, pode ser o módulo para Joomla ou para Drupal dependendo do sistema de gestão do conteúdo. As extensões são gratuitas e muito simples de instalar. São extremamente flexíveis e contêm toda a documentação.
Incorporando vídeo a partir de qualquer URL
Criar um vídeo player através da galeria de vídeo da Cincopa é bastante simples. Tens de te concentrar em escolher os vídeos que irão realmente melhorar o teu site e não apenas decorá-lo. Cria o teu próprio vídeo ou utiliza os incríveis recursos que a Cincopa disponibiliza, os quais te permitem fazer download do vídeo a partir de qualquer URL. Com o recurso ao URL tens um completo controlo sobre a aparência e sobre o contudo do vídeo, coisa que os outros simplesmente não têm.
Os serviços, produtos e ferramentas da Cincopa são gratuitos para a maioria dos usuários. Abre uma conta gratuita, cria a tua galeria e insere vídeo players em qualquer página HTML ou abre uma plataforma CMS como Wordpress, Joomla, Drupal, Blogger, Ning, Typepad ou outra.