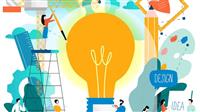 A visual branding language (VBL) is a framework that provides a connecting visual structure. It consists of carefully selecting shapes, colors, images, typography, and other elements to suit your particular brand.
The more content you produce, the more important such a framework becomes. You want to create visual branding your customers recognize, whether you're making a video, writing a blog post or creating an infographic.
Pick a color palette

Consumers respond to color and you need to choose a color palette that illustrates your brand. Brands that use great color schemes don't come upon them by accident. They clearly identify their company goals and know what they want to convey.
Understand your goals
You need to have a clear idea about your brand mission and vision when selecting colors. Coca-Cola, for example, uses red to convey energy and vibrance. Virgin Active uses red to evoke boldness and confidence. Tech brands like HP, IBM, and Intel all use blue to symbolize intelligence, trust, and progress.
"When choosing colors, it helps to understand the psychology behind it, to help convey the desired emotions. Warm colors like yellow, orange and red convey energy and excitement. Cool colors like blue and green have a calming effect."
Experiment
You may have to experiment with different options before you find the right color palette. It helps to use a mood board and place certain colors together to see what impression they create. Principle designers often use the 60-30-10 rule. You choose a palette of three colors, using 60% of one, 30% of another and 10% of an accent color.
Analyze the competition
You shouldn't analyze your competitors to copy them; rather, you should strive to gain more of a feel for what they are doing right. This color tool gives the hex codes of colors some well-known brands use in their palettes. Look for brands in your industry and you may get some inspiration about the type of colors to use.
Choose one call-to-action color
Your call-to-action has to stand out but it must be complementary to your main brand colors. It could be a color that comes from the opposite side of the color wheel. For example, if you use a cool blue as your main color, you might choose orange as the color for your CTA. The key to using this color effectively is to be strict about using it only for your CTAs.
Pick a style
To be effective, your brand style must be consistent. If you're using a variety of styles without considering your target audience's expectations , you could be losing business. A style guide contains all the information necessary to create everything from an infographic to an advertisement.

Logo size, color, positioning, etc.
Your logo is an extremely important component of your visual branding language. Instructions on how to create it and use it must appear in your style guide. For example, the hex codes of the colors should be in the guide to ensure consistency. If your logo looks different wherever it appears, viewers won't instantly recognize it as your brand logo.
Fonts
The fonts you choose should reflect your unique brand identity. With the plethora of fonts available today, there are plenty to choose from to reflect every type of brand – conservative, elegant, fun-loving, etc. Using too many fonts won't do your brand any favors. Select some suitable brand fonts and include them in your style guide with instructions about when to use them.
Icons
Iconography can also help to distinguish your brand. It helps to link specific sets of icons within your guide.
Some brands have style guides that stretch to 100 pages, whilst others may have only one page. It depends entirely on what's suitable for your company.
Use the right type of images
Many people can identify a brand simply from the images it uses. The images you pick strengthen your branding. We are visual beings by nature and we are attracted to content that contains rich images we can relate to. If you choose the wrong images, it can affect the whole impact of your brand.
" The look of your images must be consistent with the feel of your brand. They should blend seamlessly into the overall viewer experience. Also, your audience should recognize your visual identity. "
Does the chosen imagery compliment your brand colors?
It makes sense to select images that have similar or complementary colors to your brand color palette. If you've selected a warm color palette of red, yellow and orange, photos in muted, softer colors of rose and violet may clash.

Does the image suit your target audience?
An image that relates to your target audience will result in more engagement. For example, if your brand is providing financial advice to millennials, keep your visuals clean, fresh, and bold. When coming across your content, it will grab their attention as the image's visual language is relevant to them.
Image title and alt tags
The title and alt tags associated with your image can drive traffic to your website. Use a title that summarizes the image and its use in the context of your content. 
Where can you find images?
Ideally, you should only use original content, that you created in-house. This will definitely set you apart and deliver a unique experience. However, this is quite costly! Just make sure to be selective and stick to the rules when using stock photos.
A popular stock photo site is Pixabay which offers thousands of free images. Another is Shutterstock which requires a subscription but offers access to over 100 million photos, icons, and illustrations.
A final word
Picking the right color palette, creating a consistent style and using quality, relevant images will increase consumer engagement. Brands that build a visual branding language offer consumers a cohesive, visual experience and keep them coming back for more.
Originally published on May 9th, 2019
, updated on April 16th, 2020