Wouldn't you know it…
We spend a great deal of time preaching about the importance of keeping your website fresh looking, up-to-date, search engine optimized and ultimately engaging through the use of gorgeous and responsive photo galleries, customized video skins and great-sounding audio players.
In fact, we're currently running an entire campaign revolving around the premise of giving your own website an augmentation or two. It's important that all of us keep up with the fast-moving website development and design trends of the coming new year. Staying relevant is not a matter of choice. It's a matter of survival.

As we prepared and launched our campaign, aimed at helping our fans and customers to "save-face" by encouraging them to make necessary enhancements to their sites in preparation for the coming new year of web trends, we stopped… thought… and said, "Hey! What about our own site?!"
It's funny how we sometimes forget to help ourselves when we are so busy trying to help others.
Behold! Cincopa has given itself a bit of a facelift, and we targeted our own homepage as the perfect candidate for a much-needed augmentation.

Meet Jacob. He's our new spokesperson. And we think he tells our story perfectly. Listen to Jacob describe Cincopa entertainingly and informatively in the video below. As we always say, video is one of the most powerful forms of communication available to us on the web.
Video should be used as much as possible on your own website or blog.
Let me turn it over to Jacob for a minute…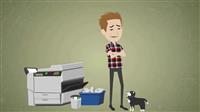 There you have it. What do you think? Does Jacob do a good job of describing the products and services Cincopa offers you and our clients?
Let us know. We'd love to hear from you.
Originally published on December 23rd, 2014
, updated on March 17th, 2019