Channel Syndication allows you to take all the content of one channel and seamlessly place it in multiple Tubes.
CincoTube is an all-in-one secure video arena where teams and creators alike can upload, manage, collaborate and publish their digital assets all the while, being able to create dedicated workspaces and channels. With CincoTube's new feature ; Channel Syndication, you can place your channel onto another Tube, making it easier to showcase specific content to a wider audience, all the while keeping content up to date. Whether you're a content creator, digital publisher, marketer or business owner, this feature will help you reach more viewers and increase engagement.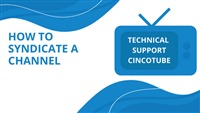 Let us give you an example of Using Channel Syndication :
Let's say you are a content creator that utilizes your Tube by creating multiple channels with educational videos, training videos and onboarding that you frequently share with your customers. You can now streamline the process by using Channel Syndication to offer these channels to multiple customers by adding it directly to their tube. This will allow them to view the videos you have in your channels on their own time and without requesting it from you.
Why Do You Need Channel Syndication?
One of the biggest advantages of Channel Syndication is that it allows you to share your knowledge with members of your team, industry marketplaces, clients and other opportunities. By easily adding a specific channel of your choice to other Tubes, you can ensure everyone receives the same up-to-date information.

Additionally, you get to keep all of your channels up-to-date with new automatically uploaded content. Whenever you add new videos or other content to your channel, all of the Tubes that feature your channel will be updated automatically. This means that your viewers will always have access to the latest and greatest content, without having to switch between different Tubes.
Another benefit of Channel Syndication is that it can help you increase your audience reach. By placing your channel onto multiple Tubes of your partners or marketplaces, you can expose your content to a wider range of viewers, increasing your chances of attracting new subscribers, followers, and customers. The best part? You get to see all the analytics behind the scenes, so you can get the whole picture as to who's seeing what, when, and how much they are watching!
In addition, Channel Syndication can help you save time and effort when it comes to content distribution. Rather than having to manually share your content across different channels to different users, you can simply syndicate your channel to other Tubes and let the system do the work for you. This means you can focus more on creating great content and less on distribution.
Channel Syndication is built for you to streamline your process, showcase your channels and get your brand out there to the masses! All the while ensuring everyone that has syndicated your channels has the most up-to-date information.

Originally published on March 16th, 2023
, updated on March 24th, 2023