The CincoTube + Zoom Integration will help you manage all of your videos by automatically uploading them directly to a channel of your choosing.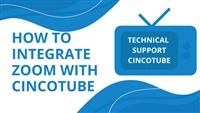 Zoom is a popular platform that many CincoTube users use to communicate with their team online, host meetings, town halls and webinars. CincoTube is an all-in-one secure video arena where teams communicate, publish and manage their digital assets. With this new integration, we have created a power couple for meetings and video management. Having an abundance of meetings can come with the challenge of not allocating enough time to upload them to your Tube.
CincoTube's Zoom Integration allows you to manage your video content and effortlessly push all of your Zoom-related recordings directly to a channel of your choice. This can be a private channel that is only available to your specific departments to ensure unauthorized viewers don't get their hands on it, or a public channel where you can push your Zoom recorded Webinars to the world for boosted engagement with your audience.
Why Integrate CincoTube with Zoom?
For seamless integration and management of course! By connecting CincoTube to Zoom you're able to save time on manually uploading your recordings and let the integration automatically do the work for you.
Once you have connected your CincoTube to your Zoom and chosen which videos go where, you never have to worry about lost meetings. CincoTube's Zoom Integration also helps your video management, making it easier than ever to find your videos. Gone are the days of tedious video management, we're making content management easier for teams, and this is one of the first steps that will streamline your workflow. 
This integration can help to streamline your workflow and communication between your organization but also help you publish to your audience for a broader reach. Here are a few examples of how you can make the most out of your new integration :
Host a Webinar and have it automatically uploaded to your Tube!
With your new integration, you don't have to worry about manually uploading your webinars and live events when using Zoom as your recording platform. Your webinars will be automatically uploaded to be readily available to those you want to see it.
Keep Meetings in a safe place for later access
We have all been there, wishing we could turn back time to take extra notes during our meetings or maybe someone said the perfect line to use in your emails that you had forgotten. With CincoTube + Zoom integration, you're able to record all of your meetings and have them automatically uploaded for easy finding.
Here are a few different meeting types that could benefit from this new integration :
Sales Meetings


Have recorded meetings with your prospects and clients and have them automatically uploaded to a Tube channel that you share with your clients.

Marketing Meetings


Record your marketing team's meetings from brainstorming to execution for them to look back on for more insight, inspiration and more.

Townhall Meetings


Make the most out of your Townhall meetings and keep them in a place that is easily accessible, such as a dedicated channel for 'CEO Meetings'. Additionally, you can even choose who sees what with CincoTube's private and public channel and workspace settings.

Onboarding & Customer Success


When working directly with clients, you want to give them the best experience possible. So why not share your recorded sessions with them from a specific channel for them to look back to for additional help or understanding.

HR & Recruitment


Streamline your hiring process by recording candidate meetings to review later with your team in order to determine if they are a good fit to your organization.
CincoTube's Zoom integration is also great when employees are sick or on vacation, when they get back to work they are able to stay in the loop by watching meetings they were supposed to be apart of. Whatever you choose to use CincoTube's Zoom integration we are confident you will find your organization more streamlined.

Easily find content faster with filters and search
Now begins the fun part, once you've successfully integrated CincoTube + Zoom give it a try! Record a short video and watch the magic happen.
Now that you'll be uploading more content, you're going to need to find that content when you'd like to watch it. With CincoTube's filtering and sorting you're able to last updates, alphabetically, most popular and other criteria making it easier for you to find things faster. With CincoTube's search bar, you're able to search the title of a video and get the results in no-time.
Now that you have all the details, go and have fun with your new Integration!

Originally published on March 16th, 2023
, updated on March 24th, 2023