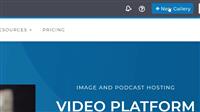 In an age of rapidly emerging and declining trends, this much is abundantly clear:
Video reigns supreme.
With Netflix and Amazon Prime having defined the way we consume it, companies are looking for a  business equivalent of those streaming giants.
Let's dive deeper:

Customers AND employees: Everyone gets to play
Companies, especially B2B Saas providers, looking to empower their customers to optimize the use of their products and services, know that video will more than likely guarantee that.
Forward-thinking businesses capitalize on this approach by channeling it internally.
The emerging trend of organizational being encouraged to share knowledge and insights with their colleagues  yields considerable ROI. And, in that regard, video has proven a game changer, as well. 
With the right tools, team members can easily record short video tutorials, share important insights and offer 'cheat sheets' to properly approach demanding tasks.
Where and how
These videos need a home.
Customers should be able to engage with them in an immersive environment; one that is consistent with your brand and site, drawing them and encourages them to binge on the videos most relevant to them.
Alternatively, employees need to be provided with an easy, intuitive platform through which they can share their videos. Of course, for team members to be drawn to engage with them, it would be best for these videos to be presented in a cool, fun environment. 
Cincopa's Online Video Course was developed with both use cases in mind.
Businesses can collect existing videos, or record new ones using RecTrace, and create a unique video destination; a place where both customers and employees can flock to learn and develop skills.
Introducing bingning to business
The same approach that revolutionized video consumption online was extended toward the way we consume videos at large.
Video streaming platforms have shaped the way all of us engage videos. We have reached a point where we, by and large, are only truly comfortable in video environments similar to Netflix or Amazon Prime.
Cincopa Video Course is a corporate extension of the latter.
Check out the following example:
Notice the menu on the right?
The blue lines represent how much of a given video a viewer watched.
The gaps are the parts they skipped over.
Employees and customers can navigate between videos knowing exactly which parts they missed out on. Later, when they think that one of those parts contained info that can help them, viewers can jump back right where they left off.
Your videos, your site
When you're on Netflix, you know it.
You're engaging with the platform's unique content within a brand-consistent environment.
Have we mentioned that Cincopa Video Course is the business equivalent of the streaming giant?
You can customize your video course to appear completely native to your site and brand. 
Font, colors and overall UI can be modified to fit your specifications to a tee.
Cincopa Video Course's extends customers' and employees' time on site. With videos hosted on Cincopa, there are no pesky ads or recommended content enticing customers to click on. The content customers and employees are met with, is yours and yours only.
Click here to build your own Cincopa Video Course!