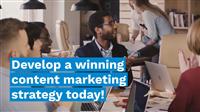 Trends come and go at a fast pace, but if you're a marketer, it's important to stay on top of trending content as it can give you an edge.
If you're constantly producing or sharing quality content that your audience cares about, people are more likely to listen to what you have to say, follow you and buy your products or services. With 2 million blogs posted on the internet every day, you need to find the most relevant content ideas and follow the best practices to make it 'trending.'
This is where automation comes in. Many tools are available to help you find trending content relevant to your target audience and to make the most of trends.
Free ways to find trending content
Google Trends
Google Trends is a good resource for finding stories on the rise and some of the biggest daily headlines. It's easy to use and examines searches carried out for a keyword against a total number of searches over the same time. The most popular stories are ranked in order of popularity, and you can click on stories to find out more about why they're trending.
Use Google Trends to find out exactly when a trend started, its peak of popularity and whether popularity is tailing off. Ideally, you want to identify a recurring trend that people actively search for all the time. Go to the 'rising' tab, and you may be able to identify a trend early enough to get ahead of your competitors.

Reddit
Check Reddit out to discover content that reflects what people from all over the world are finding interesting in real time. It is not the most intuitive, user-friendly platform and to get the most out of it you need patience and practice.
Content submitted to Reddit is prioritized on freshness and subject to up and down votes by Reddit users. You need to identify subreddits that align with the interests of your audience and subscribe to them.
Buzzfeed
With approx. 120 million visitors a month, Buzzfeed is massive. That's mostly because of the shareworthy content that they produce.
If you're trying to find ideas for content, BuzzFeed offers plenty of material on almost every topic. Whatever is the buzz at the moment, you will find it on BuzzFeed. It doesn't just show topics in a specific industry but also about what is happening in pop culture.

Twitter Trending
Take a look at Twitter's trending box. This will give you an idea of what's trending in a particular location. You can look at your city or go broader. Another option is looking at trending content based on who you follow and location to give you a slightly more niche perspective.
Facebook Trending
The sidebar on the right side of your Facebook page can help you find out what everyone is talking about. With the number of users Facebook has on a monthly basis, this can be helpful when looking for trending content.
Quora
Quora is basically a question and answer community but the questions asked are intriguing and diverse, and users put detail into their answers. Create an account, choose relevant topics, and enter your areas of expertise.
You will get a personalized information feed and be encouraged to answer questions in the area of your expertise. Quora can be a source of inspiration for content ideas, but it's also useful to find out what topics are trending for a particular interest or industry.

Free content analysis tool with paid options
A report states that the median number of shares per post on social media has declined from 8 in 2015 to only 4 in 2017. This is where a BuzzSumo can come to the rescue.
BuzzSumo, a content analysis tool, is very popular. It will identify content for any given search term or URL by tracking social shares.
BuzzSumo has a 'most shared' function to help you identify what has proved popular in the past. Knowing this allows you to find the best performing pieces of content for a similar past trend in the past and to use this as a platform for further development of the ideas.
The 'trending now' function helps you to find out what has been shared the most within the past two hours. This will give you a quick idea of what stories are currently trending throughout the world.
Streamline your search efforts by using filters such as date, country, language and content type. The only problem with BuzzSumo is that because it's so popular, you will find the same trending content as every other digital marketer.

Useful paid social media tools with free trials
Ahrefs: Content Explorer
A 7-day free trial allows you to test Content Explorer which is quite similar to BuzzSumo in its functionality. Put in any keyword or website into the tool, and you get a list of the most popular articles based on social shares, organic search traffic and referring domains.
You can filter by language, domain rating, backlinks, social shares and more. Filter your search by dates to find what has been trending most recently.
While BuzzSumo focuses on social shares and backlinks, Content Explorer allows you to explore trending content by traffic. Details such as organic keyword, ranking position, amount of traffic and more are revealed for each post.
You can also discover new link opportunities by using a feature called "highlight unlinked domains" – it will show you which domains have never linked to your website.

Hootsuite
Hootsuite is a tool for managing your social media accounts, but it can also help you find new topics your audience will enjoy. It has a new Suggested Content feature. It will bring you content based on topics you've interacted about on social media etc.
For example, it analyzes your Twitter post history and will recommend relevant content based on what you and your followers have liked.
Sprout Social
Sprout Social allows marketers to run successful social media campaigns and its strength lies in the customer-focused integrations it offers. Direct messages from social channels are routed to your dashboard.
The monitoring feature allows you to follow mentions and it has various analytics to help you understand more about your audience demographics and group trends. You can use it to find trending topics across social media platforms like Facebook and Twitter.

Tailwind
Tailwind is a popular Pinterest analytics tool that helps manage your engagement on Pinterest. It can help you track trends in engagement and followers and analyze your audience. If you're a brand that uses Pinterest as one of your top engagement channels, this tool is very helpful.
Narrowing it down to your target audience
Finding trending content is not enough – you need to know how to use it to appeal to your target audience. A new feature called Popular Tweets in Brandwatch Audiences lets you take a look at what's trending within your audiences. You can compare what's trending in different audiences, identify trends to turn into content and find influencers.
For example, if you're creating content for teachers, you would trending tweets in an audience made up of teachers, such as inspirational quotes from teachers. You can see popular hashtags used within a given audience.
It would be easy to jump in on a popular story without really knowing that this would resonate with your audience. If you have audience panels set up in Brandwatch Analytics, you're able to very quickly search for a topic to see what your audience is saying about it.

Brandwatch, together with BuzzSumo, can give you a solid solution for finding content that's trending within your industry and that appeals to your audience, no matter what the topic.
TrendFeed
TrendFeed is a content discovery and curation tool. Choose from hundreds of industry and topic feeds, share to social channels and collaborate with team members. Search trending content by keyword or topic. With this tool, you can save and curate content. You're able to favorite and manage content, customizing your feeds.
eMaze
This platform has an explore feature to search for popular presentations about a topic you're interested in. You can find inspiration and ideas for writing content and creating your own rich media (such as presentation slides). The platform allows you to create your own slideshows and presentations.

Spike
NewsWhip is a social media monitoring service, and it includes Spike as a paid upgrade. It covers content for thousands of specific topics, niche interests, cities, regions, and countries. It offers a real-time view of posts and stories that are engaging audiences, offering a way to discover breaking content and helps predict performance. The way it does this is by monitoring social media channels and analyzing data.
ShortStack
ShortStock is a social media contest app that offers performance analytics. If you want to grow your following quickly, contests are great, but you need to do it strategically, or you will give away freebies without anything to show for it. With ShortStack you can analyze the performance of your contest, see metrics for engagement and identify which type of contests work best for your audience.

Conclusion
Even if you're already successful on social media, there's always room for improvement – especially when trends come and go, and change is the norm. Discovering trending content your audience will love can keep you a step ahead of the competition and make you even more successful. Many tools and tricks are available to help you discover trending content, but you need to make the content you develop appeals to your target audience.
Originally published on November 29th, 2018
, updated on February 24th, 2021