Share your hosted videos, channels, galleries, and media using your company's branded SharePage (ShareLink) to use on your email campaigns, social posts, product marketing, and secure internal communications.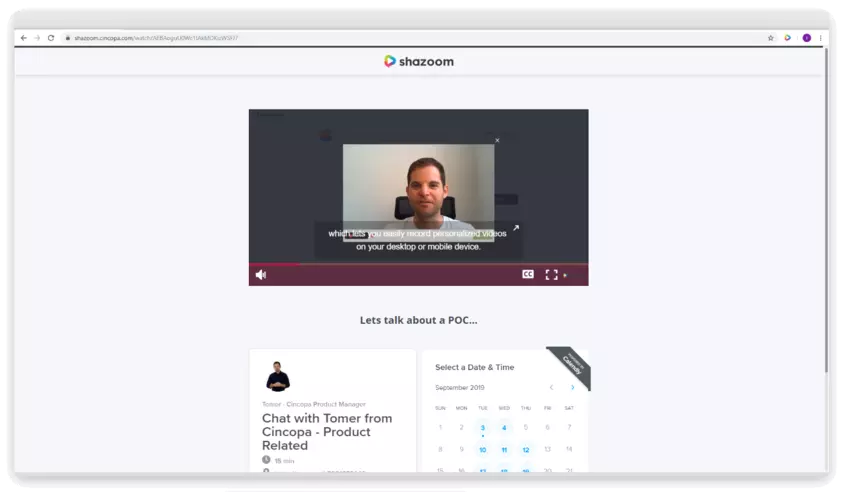 Introduction
SharePage is your company's branded page which frames players, videos, channels, galleries, and Cincopa's UGC Uploader-Recorder widget to automatically generates a ShareLink.
No longer do you need to embed videos on a landing page or bother with creating pages on your CMS, application or landing page platform to share them with your audience for marketing and email campaigns or for secure internal video sharing.
On-Brand, every time
You only get one shot at a first impression.
It may be a cliche, but that does not make it any less true. Any marketing or communications professional can attest to that.
Providing a professional, consistent brand experience is something every business, no matter large or small should aspire to.
|

So how does SharePage delivers?
Following our goal to deliver the most intuitive, customizable video solution, SharePage lets you easily configure your logo and brand colors, use in-page embeds (such as calendars) and add custom code to add navigation and visuals which are identical to your website.
|

 A branded page, not a silo
SharePage lets you add tracking codes for Google Analytics, marketing automation platforms, and any product analytics platform.
Last but not least, every view is registered to our video analytics.
|

 Secured SharePage For Internal Videos
Just like Cincopa's Video Portals, SharePage can be integrated with your company's Single-Sign-On (SSO) solution to further utilize Cincopa as a secure internal communication and knowledge sharing tool by ONLY providing access to viewers within your organization.
|

For teams and companies that require even more control,
 

we offer:

✔️Custom Footer & Menu to replicate your marketing site experience and navigation.

✔️Custom CSS to maintain your custom fonts and styling. 

✔️Marketing Automation tracking code integration.
That way, you can instantly generate a video email embed, track viewers and register SharePage visits as page views.

✔️Analytics Platform tracking code integration to connect viewing with your product analytics and understand the entire customer journey.

✔️Single-Sign-On Integration for secure video-sharing inside your organization.

✔️JS and Restful APIs to create and manipulate SharePages.