HTML5 Gallery
Upgrade Your Site - Add an HTML5 Gallery
If you are a blogger, an artist or just a wise online marketer you probably understand the value of having attractive images on your site. Embedding an HTML5 photo gallery is a lot more than adding a few nice looking images. Cincopa, multimedia platform, has developed a highly efficient HTML5 image gallery, which is offered in diverse templates, sizes, special features and transitions. It is highly impressive, yet much easier to create and handle than individual photos manually uploaded. Cincopa's advanced software assures your files are completely secured, and your new amazing HTML5 portfolio is fully responsive so everybody can view it.
Cincopa HTML5 Gallery Templates and Demos
You can easily customize the template using the advanced settings or with CSS edit.
Add HTML5 Photo Gallery within 3 Simple Steps
Make a few creative decisions and let Cincopa application perform all technical tasks.

1Choose an HTML5 Photo Gallery Template
Choose one of Cincopa's stylish templates. Modify basic attributes to suit your webpage and requirements. You may try a few HTML5 portfolio templates and preview each on a different window to make sure you are satisfied with the result.

2Upload Photos
Upload as many images as you like to Cincopa cloud-drive. Organize the media files in your folders and add titles and descriptions for your viewers and SEO purposes. Cincopa automatically performs any required conversions and photos resizing.

3Insert the line of code into your webpage
The simple wizard generates a simple line of code, which you need to Copy & Paste anywhere on your webpage.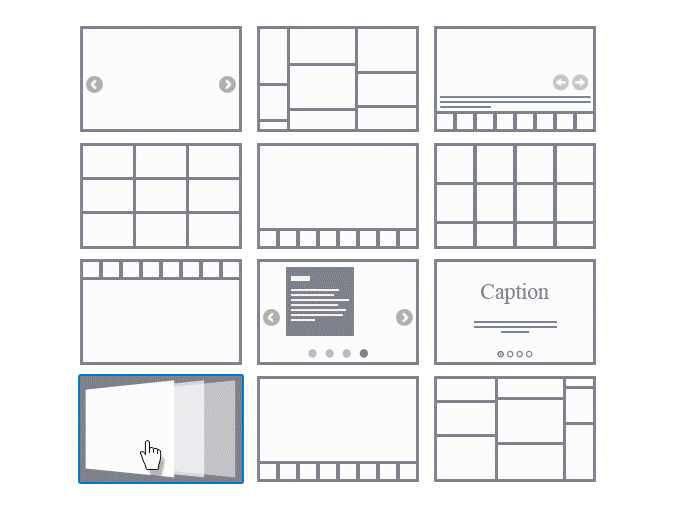 The Advantage of Using Cincopa's HTML5 Gallery
Cincopa provides you with a complete solution that answers all your HTML5 gallery needs. Besides the template selection and customization options, you are granted with free hosting and delivery services, meaning you are not limited to your server quota. HTML5 gallery files may be uploaded from your desktop, portables and Picasa and Flickr accounts or directly from your webcam. Moreover, you may publish your HTML5 portfolio or HTML5 photo gallery on any other CMS based site or promote it through hundreds of social networks with no additional effort on your part. Cincopa's simple wizard automatically resizes photos, directs you in every step of the process to make sure nothing is neglected and allows you to update and edit your gallery from any device via a click of a button.
Cincopa HTML5 Gallery - Main Features
Compatible with all major browsers
Multiple templates
Upload unlimited media files
Professional support and full documentation
Backups and reports
Remote access (cloud computing)
Responsive design
Automatic conversions and image resizing
CDN
Multiple customization options such as size, domain lock, Cooliris view, tooltip, opacity, background color and more.
SEO optimized
Free hosting and delivery services
Pro upgrades are available