jQuery Video

jQuery Video Player - a Great Way to Improve Your Site Appearance and Performance
Implementing a video player in your webpages is a fantastic way to engage your visitors, add relevant content and enhance your search engines results. A jQuery video widget does not only bring a stylish and fresh look to your site, but also provides you with a powerful tool, through which you may interact with your visitors and deliver your messages in a friendlier, easy to digest manner. Using Cincopa's simple wizard, in order to create, embed and manage your jQuery video galleries and presentations, is one of the most simple and fast methods that do not compromise the quality, technology and security levels of your files. Cincopa multimedia platform provides you with free services and products that allow you to establish an attractive video displays, reliable hosting and delivery and grants you with a full control over your content and appearance with no need of any prior skills.
Cincopa's jQuery Video Templates and Demos
You can easily customize the template using the advanced settings or with CSS edit.

1Select jQuery Video Player Template
Try a few of the jQuery templates; set your customizable options (size, control bar, transitions etc.) and preview in a separate window, before continuing to the next step.

2Upload multiple video files
Upload as many video files as you want into your Cincopa cloud drive and organize them in your jQuery video gallery folders. Cincopa application automatically converts and compresses your raw video files. The advanced software used by Cincopa multimedia platform ensures a full compatibility, smooth and fast delivery and the best protection for your files. Notice that you may modify any of your choices whenever you wish.

3Embed Cincopa's simple code
Cincopa simple wizard automatically generates a short line of code, which you need to implement in your webpages. You may display your jQuery video player in any location on the web. The wizard will ask you to choose the suitable method to the widget desirable location, such as WordPress, Joomla, Drupal, HTML and so forth. In order to complete this step you must, first, download and install the appropriate extension.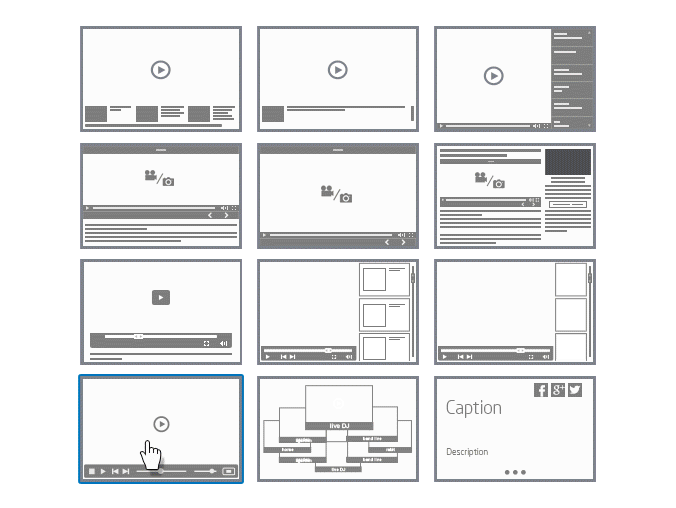 Why Choose Cincopa's jQuery Video Player?
Cincopa media platform uses the most advanced software and technologies such as CDN, which ensure your content security, compatibility and scalability. Cincopa offers attractive jQuery video presentations that can be displayed on any webpage based on HTML, WordPress, Joomla, Blogger, Drupal, TypePad, vBulletin, Ning, MediaWiki, Weebly, MU and Buddy Press or upload it as an RSS feed. Create a free Cincopa account and enjoy plenty of free services and products such as unlimited hosting, fast, reliable and secured delivery, customizable options and much more.
Cincopa jQuery Video Player Additional Features
Remote access - from any computer or portable device.
Simple, friendly wizard to perform all tasks.
High scalability.
Download videos from any URL.
Pseudo-streaming - ensures fast uploads with no buffering.
Automatic backups
Many different templates.
Add playlists and menus.
SEO friendly.
Full support for mobile technologies
Full documentation and reports
Make modifications any time
Automatic transcoding and conversions
Support all major video formats
Pro upgrades and free trials are available