Adicionar música no teu Website

Então, decidiste adicionar música ao teu website! Bom. Vieste ao lugar certo. Há várias maneiras de fazer isto, as quais não requerem muitos conhecimentos de HTML e não precisam de muitas linhas de código. A maioria dos browsers reconhece e reproduz ficheiros de áudio (.wav, .mp3, .mid, etc. ) e fornece um player simples com controles básicos.
Cincopa permite-te adicionar música no teu website com facilidade, bastando incorporar um music player dinâmico diretamente nas páginas e adicionar menus, playlists, e até mesmo álbuns de arte (ou adicionar as tuas próprias imagens). Tanto músicos como apreciadores de música podem beneficiar com os progressos tecnológicos em áudio e internet, com downloads de música altamente compressíveis e um áudio interativo.
DÊ UMA OLHADA AOS TEMAS DE AUDIO E PODCAST PLAYER (DEMOS):
You can easily customize the template using the advanced settings or with CSS edit.
COMO ADICIONAR MÚSICA NO TEU SITE OU BLOG.
Se quiseres apenas adicionar música de fundo no teu website quando o site carrega, podes simplesmente incorporar uma galeria de áudio algures na tua página. Podes optar por acionar o autoplay para teres a certeza que o áudio começa a tocar quando a página carrega.
PLATAFORMA MEDIA DA CINCOPA – IMPLEMENTAR UMA SOLUÇÃO DE MÚSICA PARA O TEU WEBSITE
Com a music player da Cincopa, podes escolher um tema, podes fazer upload de ficheiros, e permitir que a Cincopa crie automaticamente o código que produzirá um maravilhoso, interativo Flash music player virtualmente compatível com qualquer website ou blog. Basta colares o código onde queres que o player apareça, e está feito.
Podes criar, gratuitamente, um music player autônomo em qualquer website, simples de instalar e de configurar no teu próprio website ou blog. A Cincopa armazenará e enviará os teus ficheiros a partir dos seus próprios servidores, para que não te preocupes com o espaço e a largura de banda necessários no teu alojamento. Adicionar um media player totalmente dinâmico para o teu site pode ser feito em três simples passos:
COMO FUNCIONA
1Escolher um dos nossos extraordinários temas
2Faz upload do teu media Cincopa
3Obter um código simples e colá-lo no teu website
1
Escolhe um tema para o teu music player
A Cincopa tem sete temas de media player gratuitos, de vários tamanhos para escolher. Personaliza o tamanho do teu music player assim como da playlist. Pré-visualiza a tua music player numa outra janela antes de te decidires por um tema. Adiciona um álbum de arte ou das tuas próprias imagens. Oferece a tua música para download ou protege-a. Os usuários Premium podem remover a marca Cincopa das suas music players ("Powered by Cincopa") e escolher entre várias opções como autoplay, loop, repeat e muito mais. Basta escolher o tipo de tema e prosseguir para a próxima etapa.
2
Faz o upload dos teus ficheiros de música
Há três maneiras de fazer upload dos teus ficheiros de música para a "cloud" drive da Cincopa
Para fazer upload de múltiplos ficheiros de qualquer tamanho, use a página de upload da web.
O Windows Desktop Media Agent irá permitir-te sincronizar os ficheiros diretamente no teu computador com o server da Cincopa
Fazer upload de ficheiros diretamente do URL ou do Facebook, Instagram, DropBox ou do Google Drive.
3
Copia o código gerado e o cola no teu website
Assim que escolheste o tema e fizeste o upload da tua música podes escolher a sua implementação. Existem várias opções, dependendo de onde queres que o leitor de música apareça. Podes optar por exibir a tua música praticamente em qualquer site ou blog ou como um feed RSS. Escolhe uma opção e a Cincopa irá gerar o código necessário para copiares o teu leitor para onde quiseres.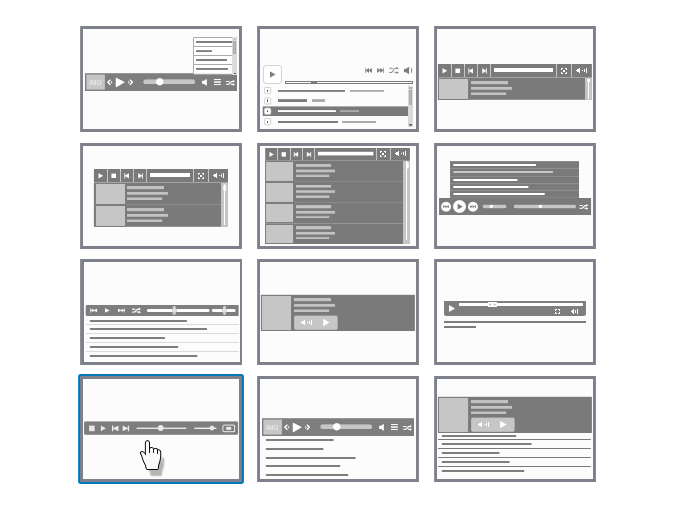 Podes fazer upload de novas músicas sempre que quiseres. Não terás de passar por todo o processo de criação de um novo player ou gerar um novo código. Basta fazer o upload dos ficheiros e eles serão incluídos no player já existente. A partir do momento em que estás ligado à tua conta Cincopa, podes adicionar ou remover ficheiros em qualquer momento, em qualquer lugar com qualquer PC, dispositivo móvel ou PDA. Adiciona música em qualquer uma das suas CMS Blogs ou Websites.
Uma das melhores características do music player da Cincopa é que pode ser colocada, literalmente, em qualquer lugar da web. Assim que o music player é criado e é feito o upload dos ficheiros, o assistente cria o código HTML/Tag necessário para o colocar em qualquer página web. Se o teu site ou blog foi criado através de um Content Management System conteúdo (CMS), como o WordPress, Joomla ou Drupal, adicionar um music player é tão simples quanto adicionar uma única linha de código nas tuas páginas.
WordPress Music e Audio Player Plugin
O plugin da Cincopa para WordPress é grátis e fácil de usar. É, também um dos mais populares pois foram feitos mais de 400.000 downlods! Está muito bem classificada na comunidade WorPress pela sua simplicidade, elevado desempenho e um nível de suporte de topo. Assim que o plugin está instalado, podes aceder à tua conta Cincopa e controlar diretamente do painel de administração da WordPress. Adicionar leitor de música ou posts nas tuas páginas é tão simples quanto carregar num botão na barra de ferramentas do WordPress. Para editar uma página ou post, basta clicar no ícone C na barra de ferramentas e colar o shortcode que te foi dado aquando da criação do leitor de música para a caixa pop-up e está feito.
Joomla! Extensão do Music Player
A extensão Joomla da Cincopa é muito fácil de instalar e está disponível através do Joomla Extension Directory (JED). Basta fazer o download do ficheiro .zip no teu PC e fazer o upload para o teu site Joomla usando FTP ou diretamente a partir do teu painel de administração Joomla. Assim que a extensão é ativada aparecerá um botão Cincopa na parte inferior da janela. Clicando nesse botão, abre o assistente para te ajudar a criar uma music player através do processo de configuração: seleciona o tema, faz upload do teu media e gera uma shorcode a qual será inserida na tua página.
Módulo Drupal Music Player
A Cincopa também facilita a criação e instalação de um music player no teu site Drupal através do painel de controlo. Cria um novo 'site/all/modules/'folder (a pasta módulos padrão no nível superior da instalação Drupal é reservada apenas para módulos Drupal), faz o upload do ficheiro .zip da página principal da Cincopa e ativa-o com uma única linha de código criado pela Cincopa. O teu music player Drupal pode ser criado, publicado e apresentado ao vivo no teu site em poucos minutos.