Add Chapters to your Cincopa Videos
---
As a general rule of thumb, videos should be short and sweet. We all know this. In fact, study after study suggest that online videos be less than 30 seconds in length to maintain engagement and account for the gnat-like attention spans us human media consumers tend to have.

Video continually ranks as one of the most effective means of communication online. Video is an essential component of the marketing mix, but it must be done correctly to work. Videos need to be compelling, professionally produced, and brief.
But what if you're an educator or an online e-learning platform whose tutorial videos are essential to providing your followers, students and customers with invaluable information? Do these videos need to be 30 second snippets to be effective? And if so, how can they possibly be useful?  What if you're a photographer or an artist who uses video to beautifully display your work? Is a 20 second video long enough to capture the essence of you and your body of art? And what about musicians and concert promoters? Should these live performances be limited to a simple 30 second portion of just one song?
The answer is obviously no. And that's why all of us here at Cincopa are thrilled to announce the release of our new Video Timeline skin.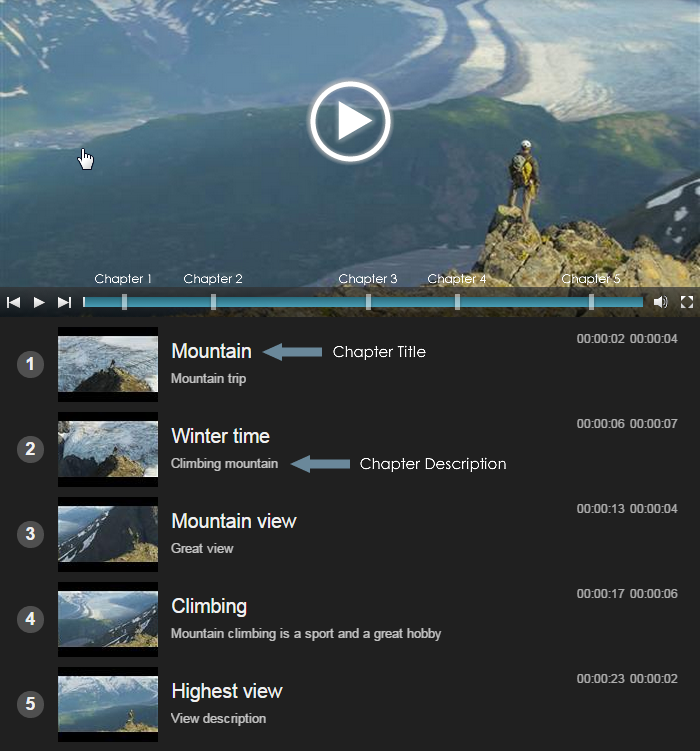 Our Video Timeline skin virtually eliminates the concern over video length by allowing you to divide your video content into specific chapters, with titles, descriptions and time markers. Viewers of your videos can now jump directly to the section of the video that is most important and relevant to them. By marking specific chapters in your video and creating a structured list of content, you could literally upload a three-hour long masterpiece and give viewers the ability to jump to specific chapters most relevant to them.
Imagine forwarding a video to a colleague and having the option to direct them, numerically, to chapters in your video. The possibilities are endless!
With Cincopa's Video Chaptering skin, you choose the size of the video gallery and thumbnail images. You can alter the color, pagination, sharing and downloading features, and provide usability buttons like auto-play, repeat and shuffle. You are in control of nearly everything the Video Timeline skin has to offer.
This is simply one of the most exciting skins we've released to date!
And if you're not sold yet, check out these additional features:
VIDEO CHAPTERING – MAIN FEATURES:
Fully responsive – excellent viewing experience from all mobile devices
Mark chapters on the video and create a content list
Add a title and a description for each annotation/label
Featured control bar includes: Auto-hide, Previous and Next buttons, Play/Pause button, Full-screen button, volume slider and track's time control.
SEO friendly
Touch support and full scalability – your video will look great on any screen size
Set video gallery size
Set thumbnail maximum size
Supports all popular video formats
Compatible with all HTML pages and CMS based sites
Compatible with all major browsers
Automatic conversions and photo resize
Pseudo-streaming – assures a smooth viewing experience with no buffering
Reliable Content Delivery Network – advanced video streaming technologies
Remote access to the video gallery
FREE trial for 30 days
FREE hosting and delivery services limited to 400MB storage and 200MB bandwidth per month
ADVANCED FEATURES:
Edit main CSS files
Add title and/or description to video items on the main display
Enable Auto-play and/or shuffle options
Set pagination options
Set hover action and color (choose info box background color, titles color and descriptions color)
Take advantage of six social sharing icons
Set watermark position (top left/right, bottom left/right, no watermark) and add the watermark URL
Advanced security options
Activate loop and/or shuffle options
Add iframe
Google Analytics integration – to monitor your video performance
Add search box
Add Auto-hide control bar
Allow download – determine whether users may copy your files and in which version, original or resized
Domain lock – make a list of the domains entitled to display your gallery
Have a look at this skin in action, here.
Thank you! Any other feedback?