Online videos are quickly becoming the most popular way to access content online. According to a recent Adobe report, people watched 38.2 billion free videos online in the second quarter of 2014. This is up 43% from the same quarter, year over year. More than half of those views were on a Smartphone (we know you love Cincopa's responsive video gallery skins.)
What does this mean for you? Clearly, it means you need to get video up on your site!
In this post, we want to focus on what video can do to increase conversions on your product pages.
Video is the closest you can get to showing your product virtually to future customers. It's simply the best way to showcase your merchandise, while at the same time promoting your brand. A video offers a more "honest" look and represents an excellent depiction of your product. As such, it's no surprise that the use of video on product pages ultimately leads to an increase in click through rates -something we know you want a lot of.
Here's one of our favorite examples of how video is currently changing the world.  Remember this picture?  This shows the difference between the inauguration of the Pope in 2005 versus 2013: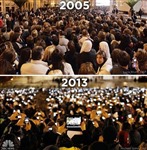 Mega-online retailers like Zappos, Toys R' Us and Ariat use videos on their product pages and have been reaping the rewards for quite some time.
At the end of the day, most people don't really like using their imagination when shopping online. Plus, reading a product description takes a whole lot more effort than watching a video. That's why using videos to showcase products can go a very long way.
According to Econsultancy, Zappos benefited from a 6-30% increase in sales for items that had a product description video.
Product Videos on Zappos
A recent Animoto survey reported that video increases the likelihood that buyers will purchase a product. They surveyed 1,000 US consumers and found that 73% said they were more likely to purchase a product or service if they could first watch a video that explained the product.
Here are some facts from the same survey that we found most interesting:
93% (!!!) of people found videos helpful when comparison shopping.
87% of people say that they find videos to be helpful when researching additional items from the same brand. (Loyalty AND stickiness! Woot Woot!)
71% of people found that watching videos produced by a business left them with a positive impression of that brand and company.
58% of people found that companies that produce videos were more trustworthy than companies that don't. (Think brand loyalty , trust and engagement, people!!)
People want to see more video content about electronics (57%), restaurants (39%), travel (34%), and exercise/fitness (33%).
Want to Maximize Conversions?  Of Course You Do.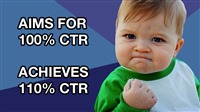 Here are some more tips from Invodo Research and Treepodia:
Place your video above the pagefold
ALWAYS embed video rather than just providing a link (this more than doubles the view rate!)
Present the more important information first, leave additional details for later.
Make videos nice n' short. Aim for 30 seconds – never go over 2 minutes.
Do you use Cincopa for your product page videos? Got a great success story? Tips to share? Let us know your thoughts in the comments below!
Originally published on December 4th, 2014
, updated on March 17th, 2019