As a creative publisher, you strive to present online multimedia content in the most appealing and user-friendly way. It's not that easy to arrange multiple video and audio files on your website so that your users can enjoy the playback with no hitch. Luckily, there's a great option introduced by Cincopa – a beautiful media player that can serve both as a video playlist and music playlist to your website audience. It's called Billboard Video Playlist.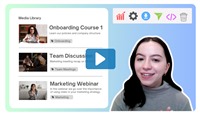 This is a brand new video player with playlist with easy navigation and attractive design that's best to publish video clips and songs on your website. Users can easily navigate through the playlist and find videos or music that they like.
Design your Billboard Video Playlist
Billboard video playlist is a great solution when you need to organize a big number of songs into a single video and music player with playlist. You can combine video clips and audios making them look like a beautiful mix. Billboard player allows your users to switch to the next or previous composition, so they can quickly find their favorite song.
Cincopa gives you full control over Billboard Video Playlist design. Tune your playlist template using advanced settings: choose navigation control style, background palette, arrow color, add your logo, watermark, and much more. You may also take advantage of Cincopa's marketing features like social media integration, SEO-friendly settings, Lead Generator, VAST Video Ads, and Video Analytics. These options can make Billboard Video Playlist an integral part of your marketing strategy.
Embed Video Playlist to Your Website
When you have finished designing your Billboard Video Playlist, you're probably thinking of how to embed it on your website. Cincopa makes this process as easy as you can imagine. All you need to do is get the HTML code from the gallery embed page, which includes built-in SEO fields. One thing that's left is only to copy and paste the code to any web page you want – and your awesome Billboard Video Player will start working live.
Cincopa provides integration with multiple website content management platforms. The embed code will work just fine on any custom-built website. However, in case you're using one of the most popular CMS solutions, such as WordPress, Drupal, Joomla, Wix, Blogger, and others, you can take advantage of Cincopa Media Plugin and install our module for your platform to be able to manage the Billboard Video Playlist from your website dashboard.
Originally published on October 17th, 2016
, updated on March 17th, 2019