YouTube and Vimeo are popular video hosting platforms designed to meet the needs of a those attempting to attract a broad audience. However, there are a few distinctions between them.
Initially, Vimeo was sought out primarily by the artistic and film community. As such, it looks less "pedestrian", offering more customization features than YouTube. Conversely, YouTube towers over Vimeo by it being a far bigger video database. It is, after all, the world's second largest search engine.
The number of monthly active users on a video platform also matters when your primary goal is to reach as many people as possible:
YouTube has over 2 billion MAUs, while Vimeo has 90 million MAUs.

Here's where video hosting platforms come into the picture.
Platforms, such as Cincopa, are better optimized for embedding video to websites and landing pages, using video in email marketing campaigns and sharing it across the variety of social media networks.
More and more businesses and marketing specialists have begun preferencing video platforms. They offer advanced marketing features and complete customization capabilities; the kind that are NOT provided by YouTube or Vimeo.
There are several key reasons why you may opt for an alternative to YouTube or Vimeo; one that would better fit your website and video marketing needs.
Let's compare YouTube and Vimeo to Cincopa and see how they measure up:
Features comparison:
| | | | |
| --- | --- | --- | --- |
| FEATURE | CINCOPA | VIMEO | YOUTUBE |
| Video Hosting | ✔ | ✔ | ✔ |
| Embedded Video Player | ✔ | ✔ | ✔ |
| Domain Lock Security | ✔ | ✔ | X |
| Ad-Free | ✔ | ✔ | X |
| Analytics | ✔ | ✔ | ✔ |
| Advanced Analytics | ✔ | X | X |
| Customizable Video Player | ✔ | X | X |
| Hundreds of Templates | ✔ | X | X |
| Podcast/Music/Picture Hosting | ✔ | X | X |
| Video Annotations, Labels and Notes | ✔ | X | ✔ |
| Video Timeline & Chaptering | ✔ | X | ✔ |
| Video Campaigns | ✔ | X | X |
| Marketing Automation Integration | ✔ | X | X |
Analytics
Vimeo's and YouTube's video analytics are limited.
If you can live with total view counts and like to dislike ratios, than YouTube and Vimeo may suffice.
However, it seems almost laughable that a video should not be able to yield the kind of in-depth analytical data a blog or email can. When the latter are engaged with, you know how and who does so.
YouTube and Vimeo do not provide analytics pertaining to individual video viewers.
Conversely, Cincopa's analytics provide you with a complete and exact look into how your videos are being engaged with by each viewer.
When someone watches a Cincopa-hosted video, you will know who he or she is, where in the world he or she are watching from, his or her email and the device used to watch the video.
Just as importantly, you will see how  a viewer engaged with your video.
You will know whether a viewer completed the video, or dropped off at some point. Don't worry- you will know the exact point your viewer bounced, and when he or she returned.
Cincopa offers a variety of additional analytical features. Heatmaps, for example, provide you with an aggregated view of each video's performance. Picking up on viewing patterns, such as points that suffer major viewer drop offs, can help you optimize. You may choose to cut your video shorter or extend on the themes explored a few moments prior  to the big drop off.

Customization
Maintaining brand consistency is something most companies invest a lot in, and with good reason. With an overwhelming majority of companies sticking to defined brand guidelines,
not being able to dictate the way your videos are presented seems inconsistent.
By relying on YouTube or Vimeo, you are essentially forfeiting your right to have your videos appear synonymously with your unique brand and site.

Vimeo and YouTube enables you to have your videos appear in a single way:
Using each platform's player.
Vimeo Pro may offer (limited) customization options for their video players, but they fall short compared to the wide array customization features available on Cincopa.
With Cincopa, you can select your video player's color, the font used for closed captioning, annotations and chapters, and add your logo to specific players.
Cincopa provides a wide range of rich media templates for basically all business needs: Video playlist templates, video portal templates, grid templates for images and videos, image & video slider templates, background video player and HTML slideshow templates, Facebook-style templates and many more.

Your own site as a video destination
The way we consume video content today has been greatly influenced by video streaming platforms, such as Netflix, Hulu and Amazon Prime.
Viewers don't just want to consume videos by binging on them; they expect a video platform to facilitate such an experience.
This need is felt by all of us. Even when consuming corporate, business-oriented videos, we expect to be able to binge on them, in a familiar, engaging and immersive video environment.
Cincopa Video Channels are perfect for this.
Unlike on YouTube and Vimeo, you can create a unique video environment devoid of any distractions; be it related content or competitors' ads.
Here's how a Cincopa Video Channel looks like: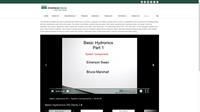 More than just a simple online video host
YouTube and Vimeo allow you to publish only one media type – video.
If your business is in need of hosting more media formats, you will need a more complete digital asset solution.
Cincopa is a comprehensive DAM– digital asset management and hosting solution, that supports all forms of media:
Videos, podcasts, general audio files audios, music, images and slideshows.
If you're looking to leverage your video for SEO purposes, you will be falling short with YouTube and Vimeo. When hosting videos on Cincopa, your videos will automatically rank on search engines and will lead to higher organic traffic. Additionally, with features such as CTAs (calls to action) and on-video forms, you can leverage video engagement towards further marketing initiatives.
YouTube and Vimeo offer no such features.
If you are a business seeking to take your video marketing to the next level, start your free trial with Cincopa today and discover the power of dedicated business video hosting.
Making Videos is Fun. So Why Not have Fun Layouts?
See Why Having a Video Channels Templete is Great for Business
Originally published on December 23rd, 2016
, updated on November 17th, 2020