Call-to-action (CTA) plays a highly important role in video marketing. These tools help a business to encourage video viewers to undertake actions leading to conversions. This can be a sign-up for newsletters, a landing page visit, a product purchase, or whatever is set as a marketing objective.
With Cincopa's new call-to-action feature, you can easily engage viewers, boost lead generation and sales, adding an attractive call-to-action message.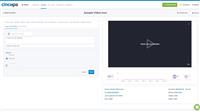 How to create a call-to-action in your video
Cincopa allows you to create, customize and add calls-to-action to video assets in a few simple steps. Go to your asset, write a short message to capture viewers' attention, create pre-roll and post-roll CTAs. Alternatively, you can specify the exact time for a CTA to appear in the video. Don't forget to add a custom link which will direct viewers to the desired web page on your website or a landing page. They will see a clickable call-to-action text on top of the video either having to click on it or to skip it in order to continue viewing.
JSON-LD SEO built-in
Video CTA is only good for increasing lead generation and driving sales. Annotation and CTA text are indexed by search engines, which helps to get your video discovered online. Cincopa's video embed code is optimized with JSON-LD, it works faster and decreases web page load time. Along with other smart SEO features provided by Cincopa, these tools are vital for improving the presence of your video content in web search.
Originally published on December 8th, 2016
, updated on April 30th, 2019