As a wedding photographer, your website will define how clients see you and whether they're likely to contact you for a quote.  While you may be able to create compelling photographs, this may not translate into an ability to design a creative, functional website.
Benefits of using a template
It's expensive to ask a website designer to create a website from scratch.  Fortunately, there are now creative website providers offer all-in-one portfolio pages, with powerful tools to build pages and a vast array of templates. Some of these are better than others, and you need to go for professional options, rather than poorly designed 'free' ones. Many of the arguments against using templates are outdated. They offer you a thoroughly-tested, responsive design that's easy for clients to navigate. You can also quickly update them with your latest work.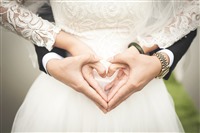 Keep your client in mind
In the design of your site, your client's needs need to be considered first. Easy navigation, large, clear images and quick answers to questions all help. It's not good to have a sophisticated, intriguing website if clients can't find what they are looking for.
Create a meaningful 'about me' page
A good 'about' page will tell clients more about you without getting too wordy or sentimental. They don't want to know about the model of camera you used when you first began taking photographs. They do want to know what you're good at, how experienced you are and why they should hire you.

Create galleries
You must include extraordinary galleries of wedding photos on your website. You have the advantage of doing wedding photography where the whole occasion is ideal for the taking of photographs. Everyone is dressed in their best, and the atmosphere is one of celebration. People want to remember every detail, from the preparations, the ceremony and the reception. You shouldn't have more than about 30 images in a gallery, and they should all have a distinctive name. They should be easy to navigate and not affect the performance of your website.
Make gallery creation easy
Cincopa can help you to create your galleries, taking many of the frustrating and time-consuming technicalities out of your hands.  It offers a wide array of options such as skins for your photographs and a combination video/photo slideshow application. All you have to do is set up an account, choose from one of the available skins, add content and embed the code you receive on your website. You add your photos to the "cloud" by dragging them to chosen folders, and all the technical problems such as resizing and conversion are done for you.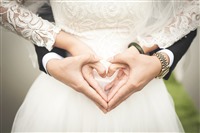 A moving image slider gallery is just one of many options. You can also have a classic picture gallery and a video streaming option, with live footage of the couple and guests. Adaptive streaming delivers the best quality video to any device with no buffering.
All those technical details get handled for you, and all you need to do is take your creative content, upload it and see prospective clients respond.
Originally published on July 21st, 2018
, updated on April 23rd, 2019