What live streaming does best is give brands a direct channel to engage with their audience. It pierces the corporate veil and enables genuine connections. In fact, 80% of people say that they would rather watch a brand video rather than reading its blog.
When creating a live video, spontaneity and creative freedom are critical.
However, there are a few proven, structured steps you can follow, to really drive your point through.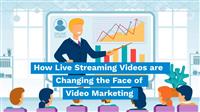 Why you need live video marketing
In a nutshell, live streaming yields significant ROI.
We all know how popular video content has become. When you broadcast a live video, it has the added benefit of giving your audience an opportunity to interact. People don't want to miss out (FOMO) and they love being able to participate. There is a great currency in a very real, two-way exchange.

Live streaming can be successfully orchestrated by any organization, regardless of its size. It can be a great equalizer for small brands. It does not require a huge investment in production or technology, but it will require a willingness to take some risks and trust others.
The beauty of engaging with live streaming is that it enables brands to discover what prospects really want. They can use the information to sharpen their content marketing strategy.
They can build content around questions raised during streaming, for example,
Best live streaming platforms
With all the social media platforms out there, you need to choose one or two that best support your business needs. If you focus on one or two, you can share quality content without having to stretch yourself too thin.
Instagram Live
With about 1 billion users, Instagram is one of the best platforms to use for live videos. Using Instagram Stories, you can create a video that sits at the top of a news feed for 24 hours.

Facebook Live
Facebook Live is extremely popular.  Millions of users stream live on Facebook from all over the world every day. When you begin to write your status, you will see various options pop up with one for creating live video.
A broadcast can last for a couple of hours and as well, and it offers some analytical features, through which you can see the number of viewers, reactions, comments, and shares. When the broadcast ends, the video appears on your Facebook page. You can organize all your live stream videos into a single playlist in the video section of your Facebook page.
Most successful types of live-streaming

You should never go live just for the sake of it.
Be clear about your purpose for creating live video, and you're more likely to be successful.
Once you've established your strategy, it's easier to select the ideal format.
Several popular formats to choose from are:
      Q&A sessions

      Behind-the-scenes

      Interviews

      How-to and unboxing videos

      Event videos (includes presentations, talks, conferences, concerts, and tours

      A product or service reveal
During a Q&A session, the main purpose is to allow the audience an opportunity to ask questions. Experian uses live video for chatting with clients about ways to improve their credit scores and to answer  questions regarding debt and credit.
In a behind-the-scenes video, the audience gets a sneak peek into the development of your latest product. It shows how transparent and open your brand is.
The Tonight Show uses it to show behind-the-scenes footage of the show. Target uses it to give fans a look at design partnerships and to promote fashion week.
One of the top brands using live streaming is the Ultimate Fighting Championship (UFC). It features Q&A Sessions with ring girls prior to matches and also streams behind-the-scenes weigh-ins.
Auto brands are using live streaming to launch their latest cars. General Motors was the first to live-stream the roll-out of its Chevy Volt EV on Facebook. Apple live streams the launches of its latest products.
Preparation for broadcast
Brands that embrace preparation and yet are willing to be flexible are more likely to be successful when it comes to live-streaming.
Think about a catchy title to entice viewers to join the conversation.
You don't ever want to read from a script; however, it doesn't hurt to memorize three to five bullet points you can deliver naturally and fluently.
Promote your broadcast in advance
Facebook has the option of broadcasting a coming event. You can also create ads and boost them as well as promote on other platforms. Other creative ways to attract a broader audience are:
      Create and post teaser videos

      Write blog posts on the topic you intend to cover

      Send out emails informing recipients of the date

      Create hashtags for the broadcast

While broadcasting
Once you're busy broadcasting, you have to be able to go with the flow and engage with your audience. You'll need to stay on track and stick to your purpose. However, you'll also need to be willing to respond to your audience. You only have a short while to capture people's attention and make it count. Tell them straight away what they'll be able to get out of watching.
If you feel that your strategy is not succeeding, you may have to switch gears and go where the participants want to go. If something goes wrong on the technical side, you should let your audience know in a light-hearted way.
A good icebreaker is to greet viewers by name as they join. Ask them to type their location in a comment and when you mention it out loud, others may respond. Be as natural and authentic as possible.
After your broadcast
Once your live video is over, you can extend its shelf life. Post it on your website or other social media channels. Include it in a blog post so people who missed the live broadcast still have an opportunity to watch. It's not quite the same, but they still get the general message.
The bottom line
Brands can use live streaming to create conversations, provide customers with important information and announce new product launches. Share behind-the-scenes live videos to make fans feel part of your brand story. Part of the success of live streaming comes from having a plan and knowing when to ditch it. The more you do it, the better you will get at doing it, and the more your audience will expect from you. When executed correctly, it provides a new way to widen your reach, encourage your fans, inform new content ideas and create a valuable experience for viewers.
Originally published on April 28th, 2019
, updated on September 5th, 2019