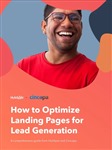 Landing pages are an essential component of any inbound marketing strategy
Well-optimized landing pages allow you to take the prospects that you attract to your website and convert them into leads. Investing the time into creating well-designed and optimized landing pages is critical because they are your means for generating leads for your business.
Without a landing page, you can't gather information about the people visiting your website, which will make it difficult to understand them, market to them, determine how fit they are for your product or service, and ultimately convert them into customers.
It's crucial that your landing pages are planned, designed, executed, and always working correctly. This guide will give you the landing page knowledge you need so you can start boosting your site conversions today. Ready to get started? HubSpot and Cincopa are here to show you the ropes.

What you'll find in the eBook:
What are landing pages & why are they important

How to design an optimized landing page

How to A/B test your landing pages & why it matters

How to measure success of your landing page with metrics

How to leverage videos to generate qualified leads
Originally published on September 24th, 2021
, updated on February 17th, 2022