Coupled with automatic and uploaded closed captions, Cincopa's In-video Search allows viewers to search inside your videos for any word or term, and jump straight to when it is mentioned within the video.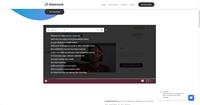 Available both on desktop and mobile, Cincopa's In-video Search can be used when watching a video played on an embedded player, and within Cincopa Video Channels, SharePages, or Video Portals.
Chapters + In-video Search = Killer Combo
Take internal and educational videos to the next level and save employees and students a whole lot of time. Enable them to binge on the parts they need without having to comb through long videos. Mark the important parts using Chapters, and let them explore further using In-video Search.
Activating In-Video Search
1.Create a new Player or Channel
2.Done! 😊
Yes, it's that easy.
*For existing players, simply navigate to the customization page and click "save" to update the settings and activate In-Video Search.
Disabling In-video Search
If you want to disable the feature on a specific player, simply uncheck the option "In-Video Search".
This is found under the control tab on your player's customization page.

Originally published on September 1st, 2019
, updated on April 23rd, 2020