Today you don't have to be a professional videographer to screen record a marketing video that resonates with a specific audience.

You can use screen-recorded videos to promote your products or services, increase engagement on social media platforms, and educate your audience.
Some screen recording software lets you capture a webcam video of yourself talking along with your screen recording, which adds a personal touch. The personalized video you create will feel authentic and allow you to connect with an audience.
Why personalized video matters in the sales process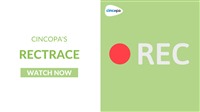 If you just serve the same video content to all visitors, it will not have the impact it can have when you offer them what serves their specific needs and position in the customer journey.
Personalizing your video assets is central to your marketing success. This means building a video content strategy that offers personalized marketing suiting each stage of the customer lifecycle.
One of the benefits of screen recording a video is that you can capture just about anything from spreadsheets and webpages to PowerPoint presentations. This offers you many creative options to enhance your marketing campaigns. 
Using an external microphone can offer you better audio quality as bad audio will put off viewers.
Webcam footage can build credibility because it means your audience can see who you are and look into your eyes so they can relate more easily to what you have to say.
Here's why screen recording with a video hosting solution matters –
Personalized videos can help at each stage of the sales funnel
You can create top of the funnel introductory videos, webinars, case studies and offer product demos as consumers move further along in their journey.
Your viewers will appreciate an in-depth explainer videos as they come closer to making a purchase. Post-sales onboarding information videos can help customers to get the most out of their purchases.
Create a connection and build trust
Video provides a visual medium for you to showcase products or services but it also allows you to establish a meaningful rapport with potential customers as you showcase your personality.
Prospective customers who are used to seeing your face at each stage of the funnel come to feel as though they already know you even though they haven't met you in person.
There is a connection that the tone of your voice, facial expressions and body language builds with viewers that helps to create trust. Sales videos should never be too 'salesy' but build audience trust instead as prospects won't want to buy from you if they don't trust you.
Capture attention, educate and drive conversions
According to Animoto, 64% of customers indicate that watching a video makes them more likely to buy.
Consumers want to see more videos from brands than any other type of content. Videos capture a customers attention, educate them, drive conversions, and offer insightful video analytics to see what's working.
Integrate with marketing automation platforms and drive sales
When your video-based solutions integrate with your CRM and marketing automation platforms, it enhances the synergy between marketing departments and sales reps.
Your marketing campaigns can be more comprehensive as a result.
Marketing campaigns also can offer prospective customers the right video at exactly the right time with the help of marketing automation platform integration.
People prefer to interact with visual content and marketers can personalize content to generate a better return on investment.
Keep your screen recordings safe
If you want to keep a video private because you want to use it as a lead magnet, you can upload it to a private video platform.
Private video hosting sites allow you to adjust privacy settings, add watermarks etc., to keep your video recordings safe. For added security, you can also link permissions and ensure that recordings are only shared with intended recipients.
How screen recording with a personalized message can develop sales qualified leads
You can screen record from just about any device, such as a computer or mobile phone. If you're looking for added functionality, such as editing or multiple recording options, there are many different screen recording software applications or tools. 
Record yourself and deliver personalized videos to prospects. Sales reps can use a webcam, look right at the screen and start talking. The result of a screen recording and webcam video is usually far more authentic and effective than an expensively produced video.
Here are the ways personalized video can create sales qualified leads (SQL) –
Segment your audience
Segmenting your audience according to their interests or where they've arrived from. This segmentation will determine which videos to show your prospects.
For instance, if they're looking at men's suits, you obviously will not want to create a video showcasing casual wear. Deploying the right video from your library will help to engage your prospects and move them forward in their journey.
Use AI and machine learning
You can use AI and machine learning to understand customer behavior in real-time and personalize their experience to meet their needs.
Using data-driven personalized content like video analytics to automate serving video content takes out the guesswork and drives a higher conversions. 
One-to-one videos in the prospecting stage
One-to-one video can be very effective in the early stage of the sales process.
This is when you're most focused on getting attention and building trust.
A generic video that you copy and paste into an email and send out to a number of people won't be effective but a specific video made for a prospect will work.
Telling your brand story
Telling your story is a critical part of promoting your brand and you can record your brand's solution using a webcam recorded video format to give it a personal touch.
Screen recording often works well for walking clients through your website while showing them the value of your product or service to their individual needs.
Introduce a new product
Surveys show that people would rather see a video than try to decipher text describing a new product or service.
Hubspot reports that 97% of marketers say that videos help users to understand more about a product or service.
A screen recording can give a teaser to a new product, an explanation of the product, the benefits to consumers or how to use it. 
Walking through a design
Give clients context by offering layouts and explaining your thought processes.
This can help them get a better picture of a design.
Easily share your sales video in emails
Personalized videos can be very powerful when you incorporate them into your email campaigns. They can boost click-through rates by a significant amount.
A personalized video incorporates data into the video that is tailored to the recipient. This captures the recipient's attention and creates a warmer connection with your brand. 
If you use a video hosting solution that integrates with your email marketing platform, you should have easy access to your video library and all the videos you've uploaded. This makes it easy to find a video and click to insert it in an email. 
You should be able to customize the thumbnail size, add a title and description, copy the embed code and paste it into your email template. You can also see video analytics that saves stats from your email recipients so you can see who opened a video in an email campaign and much more. 
Why a video landing page is important for a sales lead

Video landing pages can capture attention and create conversions.
Video drives 86% more conversions, so they are a powerful way to get visitors to take action. When visitors have a clear idea about your brand from the start, your chances of driving a lead or making a sale are higher.
Each video landing page needs a different approach
What you want to achieve with your page will play a role in the design of your landing page and the content you include. Do you have an ecommerce page selling a physical product? Is it a page persuading people to sign up for a free tech product?
Each type of landing page will require a different approach. 
Explainer videos are a great choice on a landing page if your product is unfamiliar or complex. Giving visitors a high-level look at how your product solves their problems can help to convert them. 
Embedding videos on your landing page should be easy
Adding a video to your landing page should be fairly straightforward.
If you build a WordPress video landing page, you have to embed the video on your page using a video block.
If you select a landing page software and you use a video hosting platform, you need to make sure they play well together, as this can make the process of embedding video much easier.
A good landing page needs a call-to-action (CTA)
A good landing page must have a call-to-action (CTA) which may be a lead generation form or a sign-up, buy now, download button etc.
Your landing page video should help to drive the action. Video hosting platforms allow you to easily add an interactive CTA directly into your video. 
Conclusion
In an ever more competitive market, video personalization can help your company to stand out and garner trust with consumers.
Integrating personalized video into your marketing will help you to increase engagement, drive more conversions and increase your revenue.
Cincopa is a video asset management solution that provides secure video hosting to content creators and enterprise publishers alike. Find out how our Rectrace and Screen recording solutions can help you optimize your sales and marketing video content management.
Originally published on October 27th, 2021
, updated on February 17th, 2022