Professional sports franchises have perfected the art of monetizing live game broadcasts. Syndicated content contracts are by far the strongest pillar of income for the global sports industry.
But, as sports media consumers increasingly migrate online, sports organizations have struggled to keep up. Sports brands now need to create a steady stream of digital content – like podcasts, video, and imagery – on a constant basis.
Most sports content producers have taken a fractured (and all together non strategic) approach to rich media hosting. They use YouTube for video, SoundCloud for podcast audio, and a solution like Imgur for image hosting.
This creates a fragmented media landscape that impacts the end-user experience in unexpected ways:
YouTube auto-suggests new content based on user preferences, so your users bounce off to watch completely unrelated content. And that's just the tip of the iceberg when it comes to YouTube embeds' problematic nature. YouTube's ever-shifting brand guidelines make it difficult to consistently make money on the world's second most popular website.
SoundCloud doesn't allow content creators to automatically import existing podcast episodes. It's upload allowance is incredibly limiting for podcast creators, and it does not offer IAB-compliant analytics.
Imgur doesn't accept the popular .PSD file format, and doesn't offer an easy way to protect intellectual properties. It also offers no analytics.
Even if each of these three platforms (or their alternatives) were to create solutions that meet sports organizations' needs, the user experience would remain disjointed. You'd have three separate platforms, with three separate accounts, driving website visitors in at least three different directions without offering any unified insight into their on-site behaviors.

Integrated Digital Asset Management (DAM) for sports organizations
Most sports organizations' libraries are overflowing with thousands of hours of video footage. A single sports match can generate dozens of hours of recorded footage, including secondary commentary and analysis.
Yet with such a fragmented media landscape, most sports organizations only have a few individuals who actually know where all the images, videos, and audio files are stored. This leads to expensive delays creating content for fans.
As a result, sports leaders are increasingly turning towards comprehensive DAM solutions that integrate images, videos, and audio in a single media hosting platform. This empowers every member to access the media they need on a self-serve basis without sacrificing data privacy and security.
Let's break down the benefits of switching to all-in-one media management for sports organizations:
Dynamic video layouts enable a Netflix-like user experience
This is something that is incredibly difficult to achieve with YouTube. Most users who dream of giving their website visitors an immersive media experience hire developers who can create it from scratch or spend valuable time and resources building custom layouts.
Dynamic content layouts let you optimize website design for your specific audience. Without a personalized approach, there is no way to achieve an optimal design for anyone except the purely theoretical 'average website user'.
Personalized content presentation is possible only with advanced digital asset management and hosting solutions in place. This allows sports organizations to dynamically reorder content and product categories in an enclosed media environment, free from external distractions and advertisements.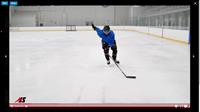 A business alternative to YouTube,
Cincopa Video Channels are a go-to solution for sports organizations looking to transform their own sites into a video destination. 
Searchable indexes can streamline revenue-generating opportunities
It's no secret that sports teams and franchises make a significant percentage of their income from corporate sponsorships and commercial endorsements. Even small, local organizations that rely on grassroots support need to monetize that support with merchandise.
But these initiatives rely on content. Fragmented media storage makes it incredibly difficult to find and share content with corporate partners and merchandise manufacturers. Again, the responsibility usually falls on the one person who has access to all the media content.
What if your sports organization could open up your media storage archives to corporate partners in a secure way? DAM technology makes this possible, allowing specific users to search through your entire repository of image, audio, and video files securely.
This will let you capitalize on revenue-generating opportunities in a new way. Your partners can immediately access approved content. Both your media syndication and product manufacturing processes will become far more efficient.

Omni-channel assets expand fan engagement
Sports fans are the fuel that keeps your organization running. Increasing their enthusiasm directly leads to improved attendance and revenues.
Sports brands that build an omni-channel media presence are able to capitalize on multiple platforms to engage with fans. Your media assets are just as important on Instagram as they are on live television – and you can't format your content reliably for both without an advanced DAM solution in place.
Think of your digital assets as emotional connectors between fans and athletes. Capturing the most astounding and impressive moments of a match is just the first half of the battle. The final part is using those captured moments to build a bridge between the athletes and their fans.
Self-service content access helps make it easier to quickly find, format, and share this kind of content on multiple channels. It gives sports organizations a single point of reference for every media channel they are invested in. This amplifies the results of every placement made in the process.

Closed environments give sports brands total control
As a sports organization, your brand is incredibly important. When you give up control of the way your content is presented to fans, you lose countless opportunities to stoke their enthusiasm and monetize their viewership.
As a sports organization that serves fans and athletes alike, you need to be able to dictate who advertises on your web properties. Every time you let a YouTube video suggestion drag one of your viewers away from your website and onto YouTube, you've failed to make a sufficient impact. That user isn't interacting with you any more.
DAM solutions offer a 'closed garden' experience where users cannot leave your website unintentionally. You control every item of media that shows up, reducing bounce rates and improving your monetization efforts – including your value to advertisers.
Closed media environments also let you gather data on user behavior at unprecedented scale and depth. You can generate reports on viewership data, and even see which parts of your videos are being skipped over. These video heatmaps can help you optimize video content to be more engaging and, ultimately, more valuable in the future.

Showcase media within a matter of few clicks and without having to embed them first
using Cincopa Account Site.
Cincopa: A DAM made in sports heaven
Cincopa is an advanced video hosting solution that combines state-of-the-art analytics with the best digital asset management features for sports brands. Sports organizations rely on our technology to gain total control over the way they present content to fans, earning greater revenues and more valuable partnerships as a result. With solutions such as Cincopa Account Site, field marketers and other non-technical personnel can present videos, images and podcasts to a select audience, at any time, from anywhere, with no need to tinker around with embed codes and web editors.
Originally published on October 6th, 2020
, updated on December 8th, 2020